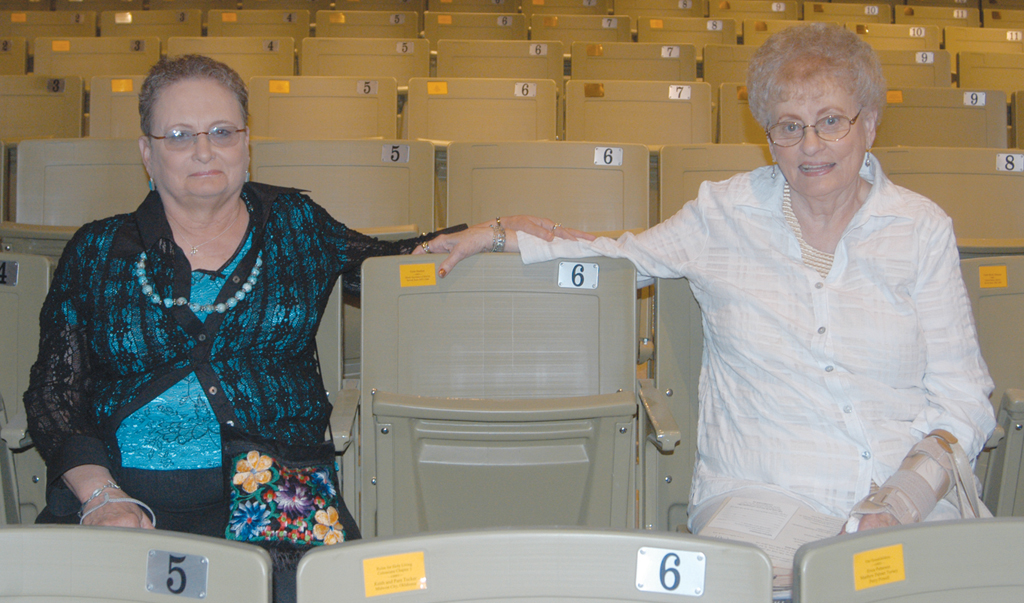 It was a "pass the tissues" day. And a day when adjectives were not adequate.
As people walked into the massive new Falls Creek Tabernacle for dedication ceremonies, some had their mouths open in awe. Most craned their necks to take in the view. And many were shedding tears.
"We didn't visualize this when we saw it under construction last summer," said Sidney and Georgene Rhame, members of Oklahoma City, Northwest. "We were overwhelmed when we walked in. We hear people say they were awestruck all the time, but today, we can truly say that."
Michael and Pat (Vansickle) Hovastak came from Atlanta, Ga., for the dedication. Michael is the attorney for R.A. Young, who gave the initial $5 million for the start of the Tabernacle. Pat grew up in Ringling, and said she came to Falls Creek in 1961, the year the hymn, "Victory in Jesus," was introduced at the camp.
"The song has always had a lot of meaning for me, and when I walked into the Tabernacle today, the choir was rehearsing 'Victory in Jesus,'" she said, trying to explain the tears rolling down her cheeks.
Pat said she was totally speechless. "Words won't describe the beauty and all that's going to happen here in the years to come," she said. "It is truly wonderful."
Tony and Judy Basalo, on the Falls Creek campaign leadership team and members of Oklahoma City, Northwest, said they had been walking around with their mouths open.
"We are in awe of it. It's far more than we expected," they said.
Don and Jimmie Dunn, Chickasha, First, were found before the dedication, sitting in the seats they purchased for their children and grandchildren, and said they didn't expect the Tabernacle "to be this nice."
"If teenagers don't appreciate this, they won't appreciate anything," Jimmie said. "It is so different than what they've experienced in the past. This is a day we've been looking forward to all year."
Also in the chairs they bought for themselves and her parents were Jerry and Marquietta Sosebee from Ratliff City.
"This is where Jesus is," said Jerry. "This is the temple where God will intercede and people will receive salvation. This is God's gift to us. He's an awesome God. The world needs to come and see what God has done here."
"It's beyond my comprehensive mind," said Marquietta. "It is so beautiful. It's beyond our expectations, anything we dreamed of."
Searching for the four chairs they purchased for their two daughters, parents and themselves, Sandra and Steve Grodecki from Middleburg Church, described the Tabernacle as amazing, but with a closeness.
"You feel like you're a part of the action from anywhere in the building," they said.
Walking down an aisle with a handful of tissues, Willa Ruth Garlow said she hadn't stopped crying since she got there.
The daughter of Sam Scantlan, former Falls Creek business manager for whom the cafeteria is named, Garlow said her dad would be so proud.
"I hope he's looking down from Heaven," she said.
Garlow said her first memory of Falls Creek was hearing "Saved, Saved."
"When I first came, I was too young to go to the worship services, but I remember hearing that song wafting through the trees," she said.
About that time, the choir began rehearsing that famous Falls Creek song, bringing another watershed of tears from Garlow.
Someone commented, "There's no way your dad's not hearing this."
The widow of long-time Falls Creek music director Gene "Uncle Gene" Bartlett, said she was teary-eyed all day.
"This is a magnificent facility, so much bigger than I imagined," said Emmagene Bartlett. "I think Gene would have been pleased with it. I know his prayer would have been that the spirit of Falls Creek never changes, no matter what facility is used."
Bartlett directed music longer than anyone at Falls Creek, from 1954-79.
"I was just praying all day that God would let Gene see what was happening," Bartlett said. "He never wanted a lot of attention, but I'm sure he would have been delighted to be up there leading the singing."
It was a heavenly day, and one could only hope that others, who made Falls Creek what it is today, were seeing and hearing the "sounds of Falls Creek."