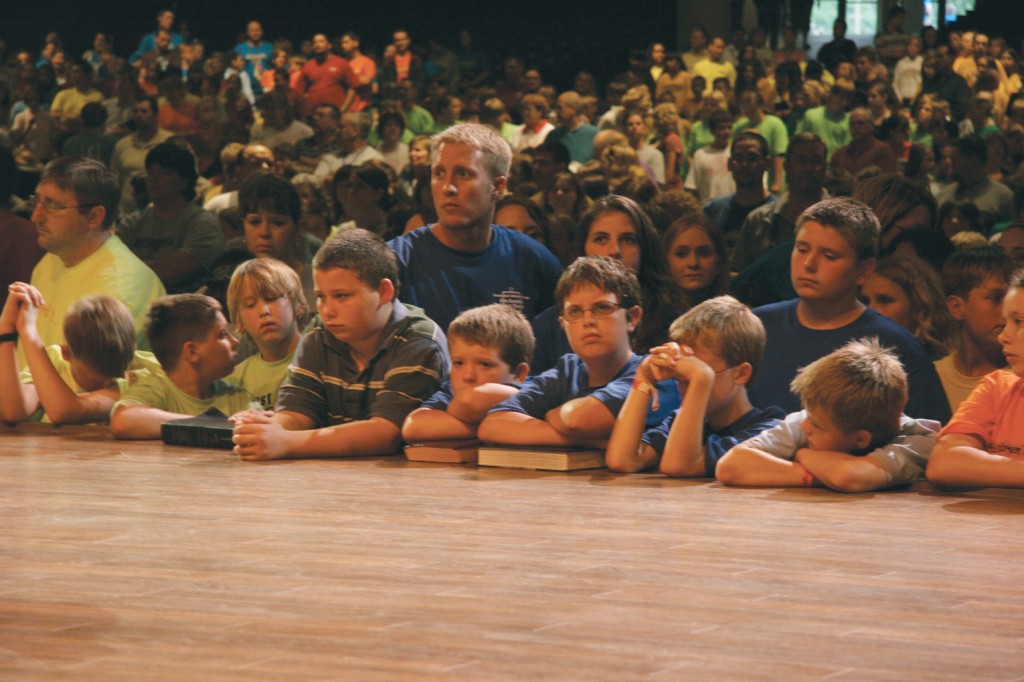 The week started out with Memorial Day. Many schools were still in session making up for missed "snow" days. And then the floods came. What else could happen? A lot, and all good.
More than 6,000 young campers showed up for two sessions of Children's Week at Falls Creek, the first group to worship in the new tabernacle. During the first public invitation in the new facility, 102 made professions of faith.
"We learned that God is faithful in the midst of what we classify as real difficulties," said camp director Russell Cook, director of missions in Pottawatomie-Lincoln Association. "We were a little too hard on the Lord, thinking He surely couldn't do this with all the rain, Memorial Day and school out late."
But the response was phenomenal, Cook said. During the first night of the second session, 175 children came forward to receive Christ. Total professions of faith for the week was 663. In addition 75 came for assurance of salvation, 317 to rededicate their lives and 60 making other decisions.
"We usually figure 10 percent of the registration total will make first-time professions of faith, but we surpassed that this time," said Cook. Total registration was 6,037.
One of the big stories of the week was the salvation of 11 campers brought by Carney, First. The church, led by pastor Joe Merrell, raised money for several weeks before camp so children in the community could attend.
Merrell's wife, Pat, on Thursday, shared with Cook's wife, Marsha, that in the Wednesday evening service, six of the children they brought gave their hearts to Christ.
"None of the children had ever attended Falls Creek," said Marsha Cook. "At home in Carney, Pat had taught these children about Christ and had prayed for them to come to know Him as their Savior."
At the end of the Thursday night service, as Marsha was walking out of the Tabernacle, she saw Pat, who was sitting in her seat, tears running down her cheeks and a stunned look on her face.
She told Marsha the rest of the 11 children went forward during the invitation. "All of them have been saved," she said. "All of them."
Cook said because of meeting in the enclosed tabernacle, they had a longer morning session which included a flag ceremony, missionary speakers, gospel entertainment by Bubba Wright from Metropolitan Church in Houston, Texas and a 45-minute worship service.
"We gave them a 15 minute break, which was a scary time," admitted Cook. "They were running everywhere, but they were back in their seats on time."
He said the new tabernacle created an environment for the kids to be more attentive.
"They sat still, listened, paid more attention," Cook said.
Cook said both preachers, Matt Smith from Blackwell, Immanuel, and Hance Dilbeck, from Oklahoma City, Quail Springs, said it was 10 times easier to preach in the new tabernacle.
"Many times, while Hance was making a point or giving an illustration, you could have heard a pin drop in that building," said Cook. "And these are kids. When you want to get quiet, you can get quiet, without trucks or buses driving by."
Cook said, although there were a few glitches because it was the first week of use, the technology was a tremendous asset.
"The technology is fantastic," he emphasized.
Cook also said the young campers filled the 365-seat choir loft every night. In fact, during the first session, Ken Austin, music minister at Duncan, Immanuel, who was in charge of music, had to turn away singers. During the second session, the choir was limited to fifth and sixth graders, but was still full every night.
"It was amazing to see the choir loft filled," said Cook.
God showed Himself strong during the two camping sessions, Cook said.
"God did what He did because of prayer," he said. "Lots and lots of people were praying."