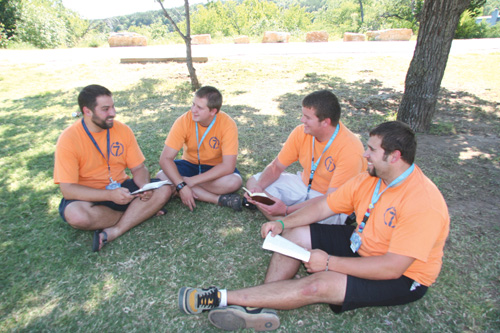 DAVIS – The administration and day-to-day operations of any organization require careful staff planning. Without it, the core mission remains at risk due to incapable leadership.
According to a recent study by the Harvard Business School, this is true for businesses, schools—even non-profit organizations. For a place like Falls Creek Baptist Conference Center, which hosts nationally known summer programs for youth, the center's summer staff is the critical link for the overall experience of thousands of people. Job assignments range from the lifeguard or office assistant to the more specialized technical service producer and video production manager associated with the evening worship services in the newly constructed tabernacle.
Though working in a Christian environment, it is actually quite possible for the staff to remain spiritually distant from the very truths the campers are learning each day. To combat such a circumstance from taking root, a specialized discipleship emphasis was created and piloted last year which has now become a key component in the discipleship ministry required for all Falls Creek summer staff.
The entire concept emerged when Falls Creek program director James Lankford discussed the possibility with John Strappazon, collegiate ministries specialist of the Baptist General Convention of Oklahoma, Lankford's associate at Falls Creek, Tambra Nowel and Randy Bates at the conference center. Their research resulted in a gospel-centered curriculum and spiritual development program complete with key resources and experiences to help staff members grow as disciples of Jesus Christ while serving at Falls Creek.
The initiative was led this summer by Tony and Melissa Tuck, who serve on the ministry staff at the Baptist Collegiate Ministry at Oklahoma State University. As the discipleship coordinators for Falls Creek staff, their entire summer was invested in discipling summer staff, maximizing every opportunity for biblical instruction and genuine spiritual growth.
"Our hope was to foster community among the staff and help them grow as disciples of Christ by connecting them with God's Word and one another," Tony Tuck said.
The entire staff resided at Camp Nunny Cha-ha and "their day began with their own personal time with God," he said.
Following personal devotions in the morning, they listened to the camp pastor who was to preach that evening.
"Each day, the staff got to hear God's Word taught in ways which helped them see the practical wisdom and help given in the book of James. Our prayer was to help them live practically as Christians growing in their understanding of God's Word," Tony Tuck said.
Small groups were a key component in the overall emphasis of living in community with one another.
"These groups provided accountability, encouragement and prayer," Melissa Tuck said. "The small group leaders played a crucial role in helping the staff dig deep into the Bible and really work through some issues the book of James taught. The interaction that took place in the small groups provided the right balance between teaching and discussion so everyone could process what had been said and grow in their understanding of the Bible."
Both Tony and Melissa were involved in organizing the staff Sunday evening corporate worship service where various guest speakers would come and teach the staff. By coming together in worship "the staff was brought to a better awareness of God's Word and its power in their lives," they said.
For Tony Tuck, one of the most memorable teaching times came when Ben Stuart, Executive director of Breakaway Ministries, taught the staff from the text of James 1:13-15. In speaking of sin and temptation, Stuart stated that what people think about, they actually care about, and what they care about, they will chase after with all of their hearts.
"This was a powerful word," Tuck said. "It brought the truth home to us and helped all of us understand just how powerful filling our minds with the Bible's truth can be. Without it, we will go after things that ultimately cause us to sin."
Each year, Falls Creek hires summer staff. More information about serving on the summer staff at Falls Creek can be found online at www.fallscreek.org beginning in October.