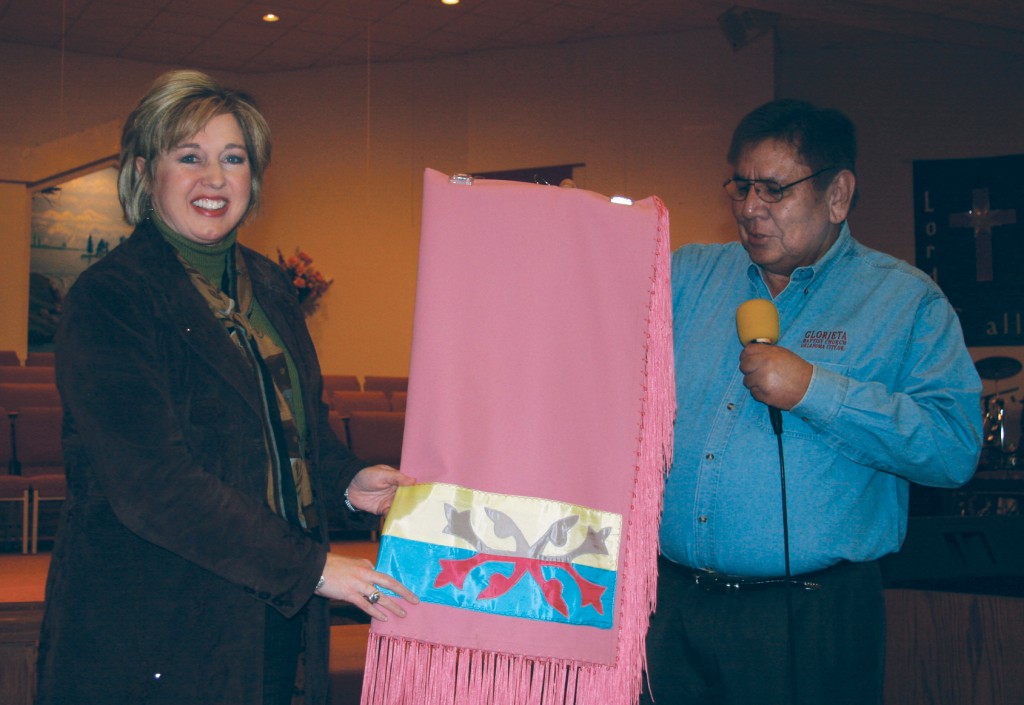 We need to get on ball or we're going to die as native Christians, Native Americans were told at the Indian Evangelism Conference at Oklahoma City, Glorieta.
"After 500 years of evangelism, only 4 percent of us call ourselves Native Christians," said Andy Anquoe, pastor of Sperry, First. "We've lost our focus. We are focusing on building new buildings, getting larger crowds, bigger budgets, developing more programs. But God's heart is for souls-souls who are headed for eternal separation."
Anquoe said the greatest tragedy is not tornados, earthquakes or terrorism, but standing sinful before a Holy God.
He said America is the fourth largest Christian area in the world, behind Latin America, Africa and China.
"In Africa, 25,000-30,000 new believers are added to the church every day; in Latin America, 10,000 and in China, 35,000," he revealed. "Why can't we see that happening among Native people?"
Anquoe pointed out that America has more trained ministers, more Bible colleges, but no Holy Spirit fire.
"Is God moving elsewhere because of our hardened hearts in America?" he asked. "We can't let that happen."
John Avant, pastor of West Monroe, La., First, reiterated Anquoe's points, saying the lost population is outpacing Christians in America, but in China, where Christians are still persecuted, Christianity is growing like wildfire.
"Ninety percent of our churches are not experiencing healthy growth, aren't reaching lost people," Avant divulged. "And in 2004, 55 percent of Southern Baptist churches baptized no youth. That is a recipe for suicide."
Avant also shared that 53 percent of pastors haven't shared Christ with anyone in the past six months.
"If your pastor doesn't visit you in the hospital or counsel with you when you want him to, he is fired, but if he doesn't lead anyone to the Lord, no one knows. Let your pastor be free to be the missional leader of the church," Avant urged.
Avant said to turn around these statistics, all we have to do is become Christians again. He said he likes A.W. Tozer's definition of a Christian: "A Christian is a holy rebel let loose in the world with access to the throne of God so that Satan never knows from what direction the danger will come."
He said some have become unholy rebels let loose in the church.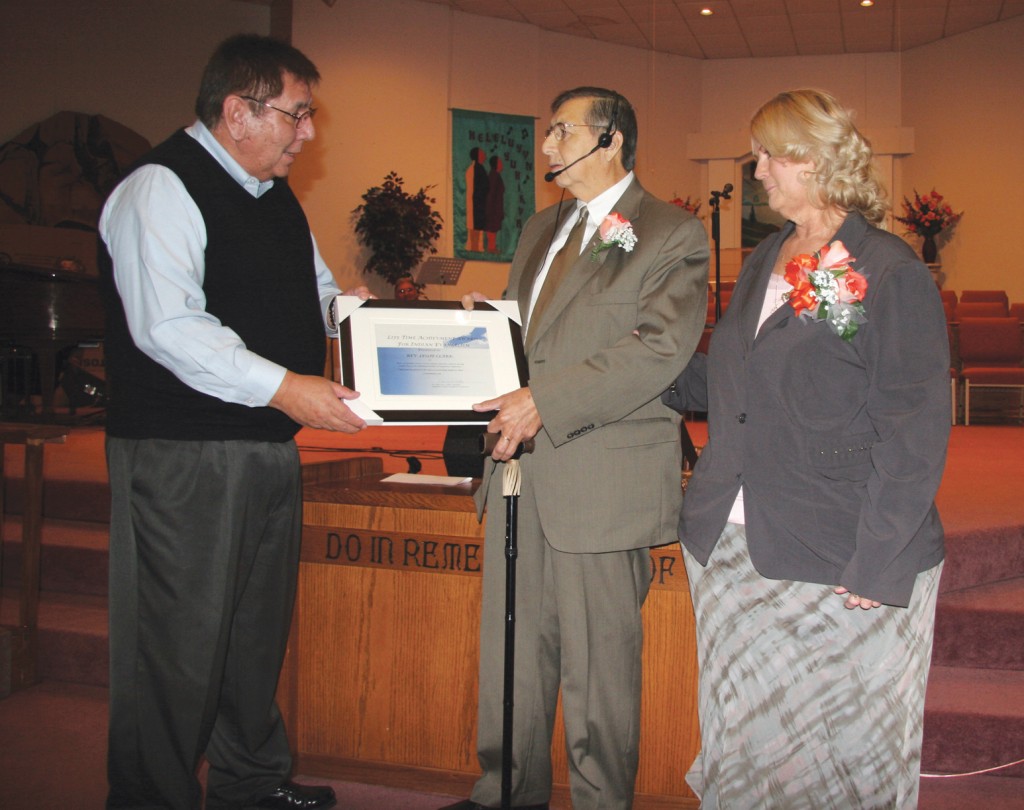 "Rebellion means being different than anyone else," he explained. "Be like Jesus, and you will be like no one else."
Also speaking was Leslie Clark, who told the attendees, "If you've got it, you know what I'm talking about."
Clark, longtime Oklahoma Indian evangelist, was the recipient of the Lifetime Achievement Award for Indian Evangelism, presented for the first time at the conference.
Speaking from Acts 26, Clark said you can be happy when you have a relationship with Jesus.
"When you live by religion, you are bound by laws, but with Jesus, you are free."
Clark, who recently suffered a stroke, and still walks with the aid of a cane, said he couldn't read, write or remember anything after the stroke, and decided it would be a good time to retire.
"Have you ever told God you're going to quit?" Clark asked. "God told me my problem was the stroke, it was pride. He said 'when you were living in sin, you learned how to do things that brought glory to the devil, and if I would give myself to Him as much as I did the devil, I would be just fine.'"
Clark said he didn't want to get up in front of people and mess up.
"I'm standing here tonight because that's what God wants me to do," he emphasized.
Clark said when he heard God's voice and saw His light, it was personal.
"When you hear that voice and see that light, you have joy because your sin has been taken, because He has called you. And if you've got it, you know what I'm talking about."
Jimmy Anderson, longtime NAMB church planter, using the text of Matthew 9:36-37, said we need to see the masses of people around us as Jesus saw the multitudes and had compassion on them.
"We are losing a generation to sin and self-destruction," he said. "We are living in a cesspool, and it is getting worse."
Anderson declared that we don't need to worry so much about the lost until the church gets right with God.
"The great journey with the Lord starts on our knees," he pointed out. "We aren't going to bring revival. It comes only from God's Holy Spirit."
He said there are those out there waiting for someone to come and tell them about Jesus.
"God has them ready, if we'll just go," he said. "As we look at our people, I pray we'll not rest until we just 'do it.'"
Also speaking was Jesus Pacheco, BGCO ethnic evangelism strategist, who showed a 12-minute video from a Guatemalan city that has been transformed by the Gospel.
The city of 19,000 was steeped in idol worship and superstitions, alcoholism and domestic violence, when a small group of believers began a prayer vigil. Today, churches are growing, lives are being changed, streets and businesses are named after biblical places, only three of 36 bars remain and all four of the city's jails have been closed. In addition, there has been a 1,000 percent increase in agricultural productivity.
"The results of the Gospel have transformed the community," said Pacheco. "Jesus Christ is the answer to transforming our communities."
Pacheco, who said he came from a broken home, where his father drank and abused him and his mother, told the audience he had a wrong image of a father.
"I had frustration, bitterness and anger," he said. "But when I met Jesus, He gave me a new heart and healed by wounds. I know my Heavenly Father loves me more than I understand. And He wants us to love each other. It's a commandment, not a choice."