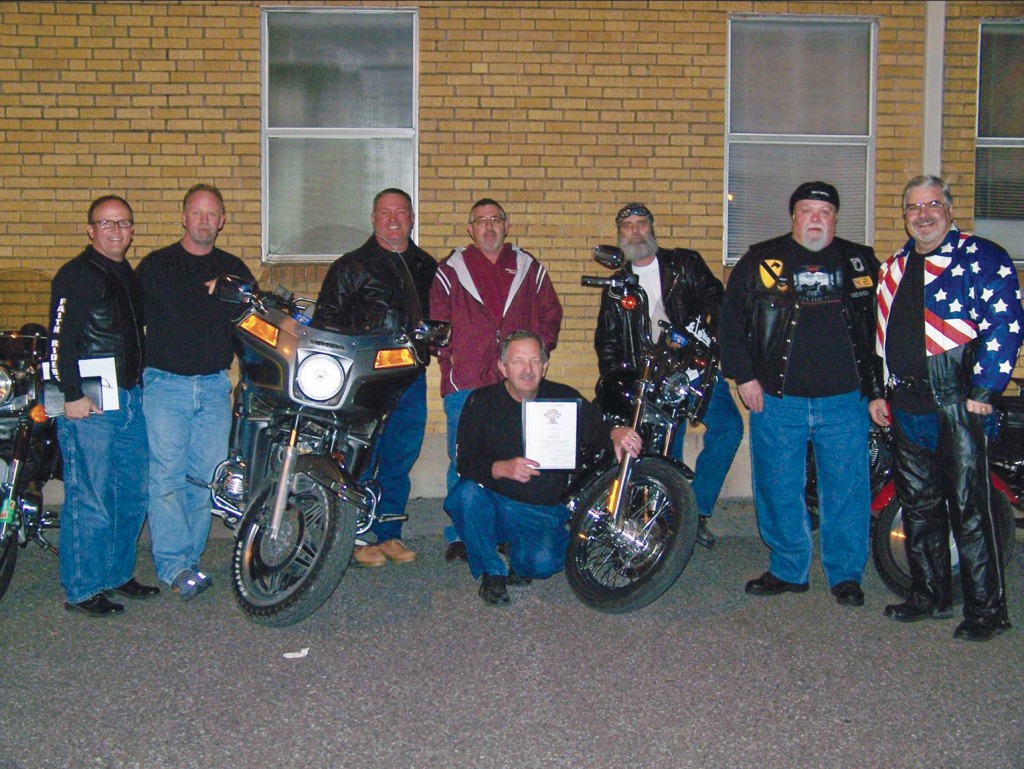 For most males from 5 to 105, the sound of a roaring motorcycle engine is music to the ears.
And, Keith Burkhart, family and men's ministry specialist with the Baptist General Convention of Oklahoma, knows that lost men love the sounds of a bike, too.
To that extent, Burkhart is setting the stage for motorcycle ministry to play a huge part of the annual state men's retreat at Fall Creek Baptist Conference Center, April 25-26. Buddy Newsome, Harley rider and founder of the F.A.I.T.H. Riders Motorcycle Ministry, will head up one of four special interest venues at the "Rewired" retreat.
F.A.I.T.H. Riders Motorcycle Ministry began in February 2002 as a "four-person step of faith," that Newsome says has evolved into a ministry of "many dedicated believers committed to the cause of Christ and to sharing the Gospel of Jesus Christ-on and with their motorcycles-to any who will listen."
Prior to this year, F.A.I.T.H. Riders had no presence in Oklahoma. After Feb. 3, that has changed dramatically, Burkhart reported.
The ministry has expanded to 30 chapters nationally-all in local Southern Baptist churches. Three Oklahoma churches recently became the first in the Sooner State to join the club. Shawnee, Rock Creek's chapter was commissioned Feb. 3, Bartlesville, Southern's on Feb. 17, and Ardmore, Trinity's on Feb. 27.
"I think Oklahoma is soon going to have more chapters than anyone else by the time we hit the men's retreat, and we'll get even more exposure there," Burkhart said. "I have eight more churches seeking to be commissioned and another three or four seeking information. I think by the end of summer, we will have 15-20 chapters."
Rock Creek Pastor, Richard Zimmer, said his church actually started its own motorcycle ministry, Rock Creek Baptist Church Riders, about 18 months ago.
"We came up with our own patch and began doing mission work and outreach and evangelistic work. Later, F.A.I.T.H. Riders gave us a way to latch up with a national group that had like beliefs," he said. "We began doing some different mission activities, and in the first 18 months we saw eight come to Christ, and we received 10 families from that ministry into our church."
Rock Creek also helped a new church start, Thunderbird Church, on Highway 9 between Shawnee and Norman, financially.
"Our motorcycle ministry will continue to support them, too," Zimmer said.
But, Rock Creek felt called to go farther.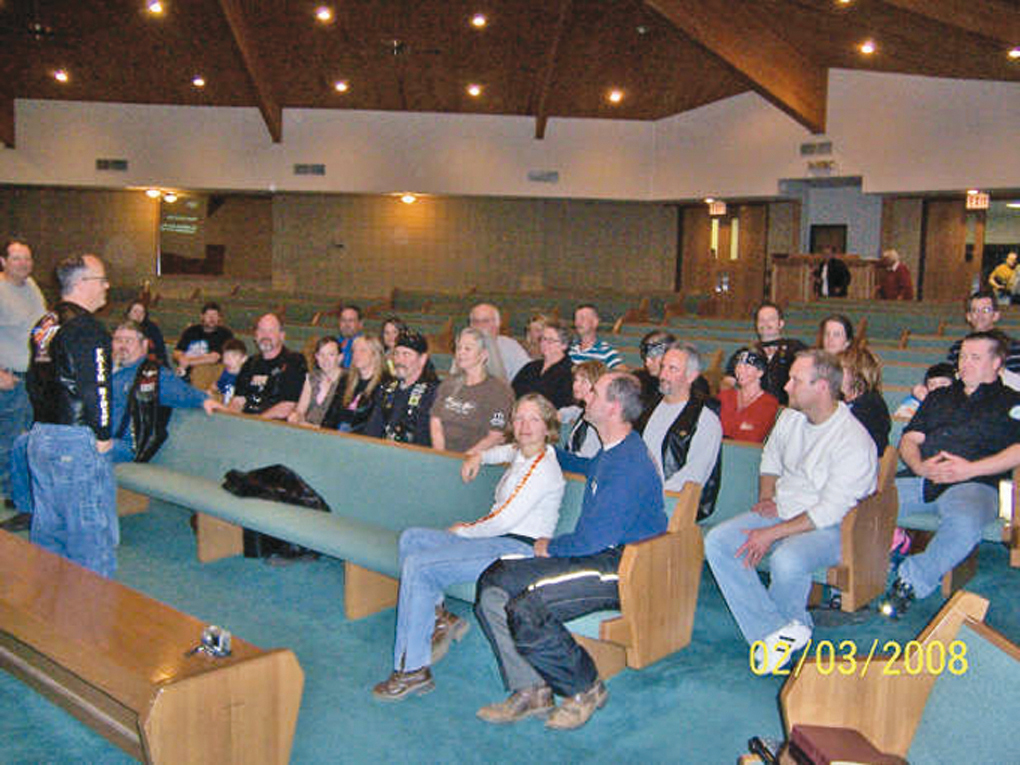 "The Lord had laid it on our heart that we needed to go a little bit farther and evangelize a group in our area that as far as we could tell had not been evangelized, and that was the motorcycle riders," Zimmer said. "We contacted the dealers here in town, and both of them gave us an invitation to conduct services at their places of business. And so the first one was at Shawnee, Honda Feb. 19. We had 40 people show up, including about 25 of our F.A.I.T.H. Riders."
On March 4, 35 people, including 25 non-church members, showed up for Rock Creek's biker church's second service at Sehorn Yamaha, Zimmer reported.
Zimmer said his church's F.A.I.T.H. Riders ministry provides an alternative to some riders who have been out of the church for a long time.
"I can think of four of them who have told us they had not stepped through the doors of a church in more than 20 years," he said. "Because they like to ride, it's what they do on their spare time, but when they get out there, everybody else wants to go to the bars or the clubs for these different rides, such as Poker runs. Our church provides an alternative."
Meanwhile, on Feb. 17 at Bartlesville, Southern, pastor Paul Rummage was surprised when his church presented him and his wife, Carole, with a new Honda VTX 1300 motorcycle as part of the church's F.A.I.T.H. Riders Motorcycle Ministry commissioning service.
Burkhart was on hand to present the charge and charter, but the obvious highlight of the service was when Rummage was surprised.
"A scheme had been developed to present Paul and Carole F.A.I.T.H. Rider T-shirts and then present the pastor with a "scooter" to misdirect him," said church member Jim Ray. "Directly after the commissioning service, the T-shirts and scooter were presented to him, and then the pastor took the scooter for a 'spin' around the sanctuary.
"As he came down the center aisle, it was suggested that maybe he would not be able to keep up with the rest of us on a scooter, and he was then handed the keys and presented with the bike."
Bartlesville, Southern is renting a small, nearby shopping center, where they have started a biker Sunday School class, Burkhart said.
Rummage said, "This is a good thing for us. The Good Lord has provided it as an open door. We have had several guys interested in motorcycles, and when we started talking about this, more started coming out of the woodwork.
"Already we've seen people start visiting the church, because they have an interest in what that's about. We don't yet know what's going to happen, but we're thankful we've got these new contacts.
"We're always looking for ways to reach unchurched people."
Ardmore, Trinity Associate Pastor Jimmy May said his church already has plans to begin a F.A.I.T.H. Riders Sunday School class by Summer.
"We have a once-a-month ride and a once-a-month meeting, both away from the church," he said. "Basically, we're trying to use every means we can to reach people for Christ with F.A.I.T.H. Riders, and to make it as unintimidating as we possibly can."
Trinity's group, which began with about 20 riders, has planned the scenic ride to be held at 1:30 p.m. Saturday during the men's retreat April 26.
"On our next ride, we're going to do a practice run just to make sure everything is OK," May said."