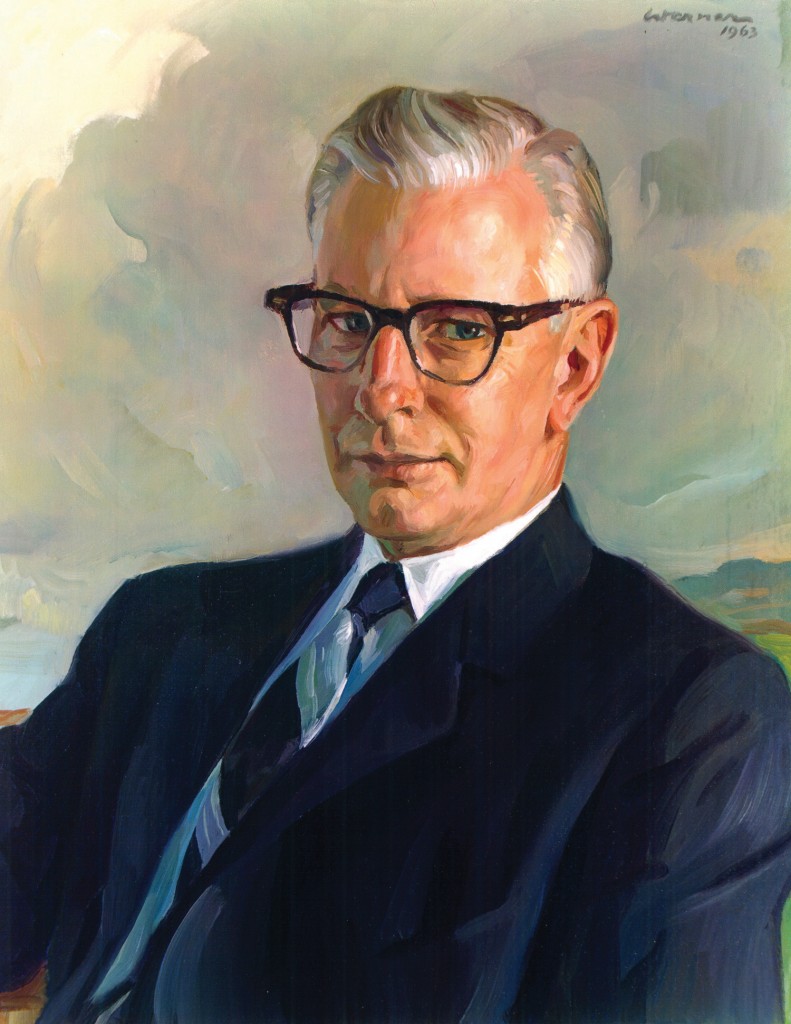 No longer will campers worship in the Moorer-Rounds Tabernacle at Falls Creek. Nor will they attend classes, missions fairs or choir practice in the B.B. McKinney Chapel, both which were named for those who played a role in Falls Creek history. Moorer and Rounds were founders of Falls Creek, and B.B. McKinney led music at the camp for many years.
But it's a new day at Falls Creek, and the new facilities have new names.
Although the Tabernacle is an overarching building, it contains an auditorium, two lobbies, a decision center and a chapel. All are named for those who have helped make the Tabernacle a reality.
Following are the recently announced names of the Tabernacle and the inside facilities:
Raymond A. Young Tabernacle. Named in recognition of Young's dedicated Christian service and his decades-long support of Baptist ministries in Oklahoma, the United States and around the world. Young, born on a farm in Stillwater in 1904, established T. G. & Y., one of the largest retail chain stores in America. He started his first store in Kingfisher, and eventually had more than 950 stores in 29 states employing 30,000 people. Ironically, Young's first job was managing the Falls Creek grocery store while a college student.
Saved when he was 15, Young became one of the greatest philanthropists in the history of Oklahoma Baptists. He chaired the first building campaign for Baptist Hospital in Oklahoma City, and served on the boards of Oklahoma Baptist University, Baptist Layman's Foundation, The Baptist Foundation of Oklahoma, Baptist Sunday School Board and Southern Seminary.
Young married Verna Newman in 1928, and they had two daughters, Karita and Carolyn, both of whom preceded them in death. Young died in 2002 at the age of 98.
John B. Bisagno Auditorium. Named in recognition of Bisagno's faithfulness to God, his denomination and his calling, the auditorium serves as testament to his favorite scripture, Psalm 37:4-Delight thyself also in the Lord; and he shall give thee the desires of thine heart.
Famous Falls Creek preacher Charlie Taylor was preaching the night Bisagno was saved, and in 1985, Bisagno tied the record with Taylor for having preached the most years at Falls Creek.
Trained as a jazz musician, Bisagno was the music evangelist in more than 100 revivals while a student at Oklahoma Baptist University. After several years as an evangelist and music director for evangelist Hyman Appleman, Bisagno accepted the pastorate of Del City, First Southern, and moved from there in 1970 to become pastor of Houston, First.
During his 30-year pastorate in Houston, the church received more than 40,000 members, including 15,000 by baptism; started 63 local missions and three schools, and sent more than 700 of its members into full-time Christian service, including 100 international missionaries.
Today, in retirement, Bisagno teaches seminary courses, continues to preach and speak across America and is writing his 26th book. He and his wife, Uldine, have three children, eight grandchildren and one great-grandchild.
Jennie V. Massey Chapel. Provided as a reflection of her love of God and love of children, the chapel is a gift to Falls Creek from her children and grandchildren.
Massey was 14 years old when her parents died within five days of each other. After living in an orphanage, she was taken in by an aunt in Boswell. She and her husband, Emmett, raised five children, had 12 grandchildren, 29 great-grandchildren and six great-great-grandchildren.
A member of Durant, First, Massey's children said she was a devoted Christian, a loving, giving, honest and caring person who always looked for the best in people.
Grandson Greg Massey said the chapel at Falls Creek is a fitting tribute to her.
"What she stood for is what Falls Creek stands for," he said.
Jack and Bonnie Humphreys Decision Center. Established in recognition of the Humphreys' desire to see others have "the wonderful discovery of knowing Christ personally and trusting Him for all their needs."
Jack Humphreys started his first business at the age of 9-selling tadpoles to neighborhood kids. The business ended when the tadpoles became frogs and began to leap out of his customers' fishbowls. A graduate of the University of Oklahoma, Humphreys was an aerial spotter for Gen. George Patton during World War II. He later established several retail businesses and began Jack's Service Company, a wholesale operation. After selling the company to their sons, Jack and Bonnie spent 25 years as Billy Graham volunteers, impacting thousands of lives through teaching "Christian Life and Witness" classes to crusade counselors around the world.
The Humphreys are parents to three sons and two daughters, and have 14 grandchildren and 17 great-grandchildren.
Gene and Jo Downing Lobby. Named in recognition of the Downings' commitment to the future of Falls Creek and to seeing the Gospel of Jesus Christ spread worldwide by those whose lives are forever changed by their divine encounters on these grounds.
Gene Downing has worked in various positions in the oil industry and in 1980 established Downing Wellhead Equipment. Through ups and downs of the oil industry and the economy, the Downings remained focused on the three most important things in their lives-God, family and their local church. Today, their company's headquarters, manufacturing and service operations are located in Oklahoma City, with five additional offices in Texas.
The Downings have three daughters and eight grandchildren.
Linda and Archie Dunham Lobby. Serves as the Dunham's personal testament to a lifetime of love for each other, their commitment to their Lord and Savior and their desire to continuously impact the lives of young people.
The Dunhams were married in 1960 after dating while living in Ada and attending Falls Creek together. It was at Falls Creek that Archie began to seriously study the Bible and where he and Linda enjoyed the teaching of "Preacher" Hallock, pastor of Norman, First.
Dunham was chairman of ConocoPhillips and retired in 2004. Since then, they have spent more time with their grandchildren, built a ranch in Colorado and continued to invest in ministries where lives are changed, including Falls Creek.
"Because we want to impact the lives of young people, supporting Falls Creek was not a difficult decision," said Archie.
The Tabernacle will be dedicated on May 26. Visit http://www.fallscreeok.org for more information.