EDITOR'S NOTE: The following is an expanded article based on the 2020 Cooperative Program Prayer Guide for Oklahoma Baptists. For more information, please visit www.oklahomabaptists.org/cp.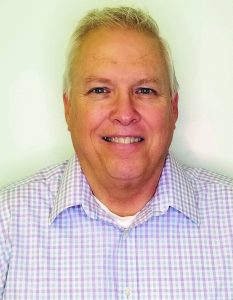 Buddy Hunt has been a volunteer chaplain for the Tahlequah Police Department for 11 years. He's been in ministry since 1981, including 1991-97 as associate director in the former Religious Education Department for Oklahoma Baptists. This year he's new as Regional Ministry Partner (RMP) in eastern Oklahoma.
RMP is a new position for Oklahoma Baptists. Those who serve in this position will minister to pastors, churches and associations "to help with personal support and promoting and encouraging church health and growth," Hunt explained.
A Shawnee native, Hunt graduated in 1978 from Oklahoma Baptist University with a Bachelor's degree in Religion, and in 1981 with a Master's degree in Religious Education from Southern Seminary. He and his wife Michell have two grown daughters and an 8-year-old granddaughter.
"I've served all over Oklahoma from one end to the other," Hunt said. He was called from seminary to be youth pastor at Clinton, First. He's also served in Shawnee, Holdenville, Duncan, Alva, Spiro, Perry and had been pastor of Tahlequah, First for 11 years before accepting the call to be an MRP.
"Oklahoma is where the Lord planted me and called me," Hunt continued, adding, "The people of Oklahoma are so friendly and have graciously served along beside me."
With ministry history that includes youth, education, denominational work and the pastorate, his multi-faceted skill set and interests prepared him for his RMP assignment. Hunt said, "This is a position that fits me very well."
He also likes spending time on both the Illinois River and Lake Tenkiller. He'll take his kayak or his Sea-doo but not his phone as he "unstresses," Hunt said. "It's a way of relaxing; it's a way to get away and decompress." While on the water, "I have fun and spend time with God."
Because of the generous giving of Oklahoma Baptists through the Cooperative Program, an amazing array of ministries are supported. This unified giving encourages fellowship with other believers all over the world. Collectively, Oklahoma Baptists are advancing the Gospel together. Learn more at www.oklahomabaptists.org/CP