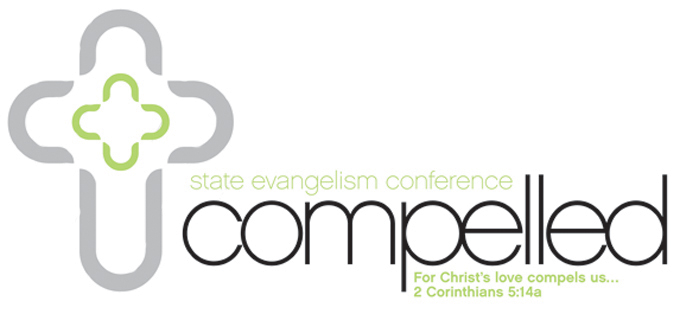 Women will learn how to put their special skills to work in developing relationships which lead to sharing Jesus during the Women's Emphasis of the State Evangelism Conference Jan. 30 at Edmond, First.
Using the same theme as the Conference, "Compelled," the women will be challenged during the morning general session and equipped in new ways during the afternoon seminars, said Kelly King, Baptist General Convention of Oklahoma women's missions and ministries specialist.
"As women, we must be compelled to share Christ to the lost around us," said King. "Whether they are moms struggling to know how to share Christ with their children, or they have a heart for Muslim women, the Women's Emphasis will provide answers for them."
Featured speakers will be Angela Thomas, author of Do You Think I'm Beautiful and When Wallflowers Dance; and Page Hughes, author of Party with a Purpose: Creative Ways to Share the Love of Christ.
Musical artist will be Kristy Starling, recording artist from Edmond.
This year will also feature the first Marketplace Evangelism Luncheon for Working Women.
"Women who work often can't take off to come to the conference," noted King. "So we are having a luncheon for working women."
Speaking at the luncheon will be Robin Marsh, morning anchor for News 9 This Morning in Oklahoma City, who will encourage women to share Christ in the workplace.
The women will be given a CD of daily devotionals, and after they have listened to them, they will be asked to pass them on to someone else as an evangelistic tool. Tickets for the luncheon must be purchased ahead of time. Only 100 tickets are available, and can be purchased online at www.bgco.org, and clicking on the Evangelism Conference icon.
The women will have the opportunity to attend two of seven breakout sessions at 1:30 and 3 p.m.
A special breakout session will be conducted for bivocational pastors' wives, offered only at 3. The seminar, titled "Reaper By the Dozen," will give 12 creative ways to reap the benefits of developing evangelistic relationships each month with families in their communities and neighborhoods.
Other seminars include "Compelled by Love . . . to Live Beautiful," led by Thomas. It will take a look at the abundant life a woman can live when she learns to see herself the way God sees her.
"Compelled by love . . . to Party with a Purpose." Hughes will introduce ways women can introduce guests to a meaningful relationship with Christ with party ideas.
"Compelled by Love . . . to Celebrate the Biggest Moment in Your Child's Life." Cindy Lankford will discuss how to celebrate a child's decision to follow Christ.
"Compelled by Love . . to Break Out of the Evangelistic Box." Deanna Huff will talk about new ways to share Jesus and make sharing Christ part of a normal conversation.
"Compelled by Love . . . to Defend the Resurrection miracle in a Postmodern World." Mary Jo Sharp will challenge those who defy the resurrection and equip women with biblical truths that can cause spiritual doubters to become spiritual seekers.
"Compelled by Love . . . to Share My Story." Sarah Rager will discuss how to love Muslim women to Christ and develop relationships with Muslims in our communities.
The Women's Emphasis will begin at 9 a.m. and conclude at 4:15 p.m.