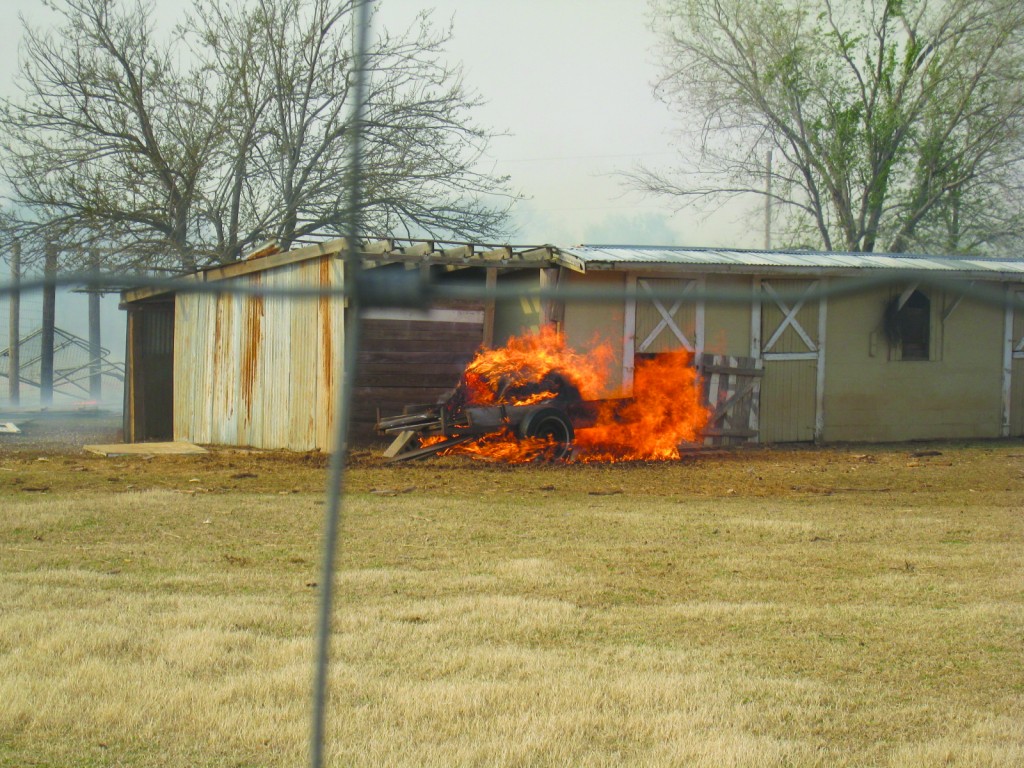 For 10 years, Sam Porter, disaster relief director for the Baptist General Convention of Oklahoma, has been responding to others' needs when tragedy strikes. In the early evening hours of April 9, he found himself in an eerie role reversal as a wildfire came within a few feet of destroying his north Oklahoma City home.
That Thursday evening was supposed to be one of celebration and reflection as Porter was accompanying his wife, Sheryl, to a banquet sponsored by the Oklahoma Public Health Association at the Sheraton Hotel downtown. There, he was to receive the association's 2009 Volunteer Service Award during the group's annual conference.
As they emerged from the elevator at the hotel around 5:30 p.m., Porter's cell phone rang several times as neighbors called to tell him that the pasture and the five-stall horse barn on his 5-acre property was on fire. Embers from a blaze that began in a field southwest of his property had been blown by high winds onto a roll of hay Porter had positioned on a trailer on the south side of the barn to feed a dozen or so fallow deer he keeps on the property.
"With the humidity down to around 10 percent, the barn and hay were just like a tinderbox and burned rapidly," said Porter, who quickly raced home along with his wife in their pickup before the banquet began.
Porter said he had a sense of calm as he drove home, not knowing if it would still be there when they arrived.
"Once I realized my house wasn't burning, I was OK," he said. "I go all over the world and see (bad) stuff everywhere but as we were driving home, Sheryl said, 'we need to hurry, it may already be on fire,' and I said, 'it's just stuff."'
They were greeted by five fire trucks in their driveway and a host of Oklahoma City firefighters, who were working to put out the fire in the barn and had doused the flames a mere 10 feet from the Porters' home.
Porter credits his next door neighbor, Chad Kerrigan, with noticing that another ember had landed close to his house and alerting the firefighters, who were intently focusing their efforts on the barn, which is about 25 yards from the house.
"They could have put it out, of course, but it would have damaged the house, so Chad really saved the house from being burned," Porter said.
"I saw they had everything under control, so we went back to the banquet," Porter said. "This was about the time all the fires were really getting started in Eastern Oklahoma County.
"After the banquet, I checked the barn one more time and then put on my D.R. shirt and told the firemen, 'you guys are doing what you're supposed to do—taking care of property—I've got to go take care of people.'"
Porter went to Nicoma Park, First, where a shelter had been set up and was on his way back home when Sheryl called around 10 p.m. and said it looked like the barn was on fire again.
"Sure, enough, it was," he said, so the firefighters came back and knocked it down again.
"The next day, I drove down to Southern Oklahoma to Velma and Fox and Ratliff City to survey the damage, and there were probably 40-50 houses burned down in that area."
State officials initially estimated that between 100-150 homes were destroyed by wildfires April 9-10 in Oklahoma and Lincoln counties in the central part of the state, and Stephens and Carter counties to the south.