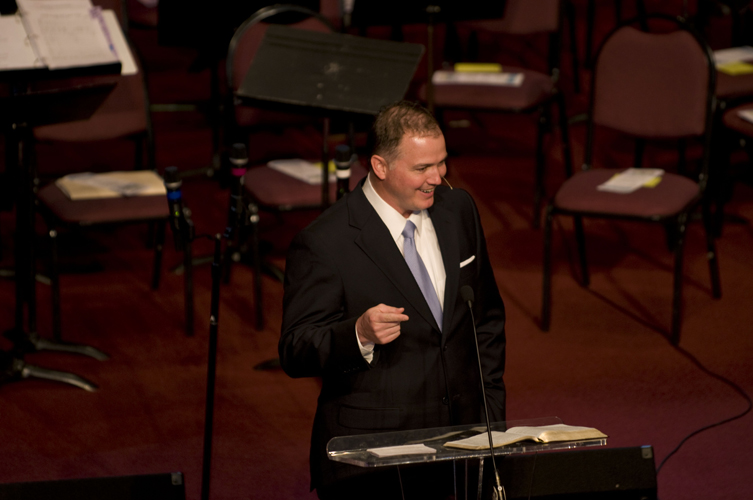 MOORE—In a world of powerful personalities, trained leaders and technological communications, Hance Dilbeck said he knows only one thing a person has to do to be successful in ministry, and that is to abide in Christ and bear fruit.
Preaching the annual sermon during the 103rd Annual Meeting of the Baptist General Convention of Oklahoma at Moore, First, from the books of Ephesians and II Chronicles, Dilbeck, pastor of Oklahoma City, Quail Springs, emphasized that if we're going to wield spiritual weapons and fight spiritual battles, we must be spiritual men and women.
He said he grew up in an average Baptist church in Osage County, and at the time, didn't see the church doing much with him.
"But the longer I live, I realize most of what I know about the Lord Jesus, I learned from those people," he said.
He said he remembered his second-grade Sunday School teacher greeting him at the door each Sunday, taking his offering envelope and saying, "Good morning handsome Hance."
And there was the youth director who sat down by him on his bunk at Falls Creek, who knew before he did God was calling him to preach.
He also recalled singing a song in children's church about marching in the Lord's army.
"We live in a time when we avoid those battle songs," he said. "But you know why we used to use battle images? Because the Bible does."
He told the biblical story of King Jehoshaphat, who was working hard to be the shepherd king God called him to be when he got news a great alliance of enemies had formed to the southeast.
"He had no hope in the face of it, but he began to pray and fast and called on his people to pray and fast," Dilbeck said. "He appealed to God's promises, His righteousness, and admitted he had not power or wisdom to deal with the enemy. A no-name priest told him it was the Lord's battle and to stand still and see God bring victory."
King Jehoshaphat, Dilbeck said, organized singers to lead into battle and soldiers fell in behind. Instead of an army waiting for them, they found dead soldiers in the valley, and marched back into the city praising God.
"This story teaches us strong truths about ministry," Dilbeck said. "We have spiritual weapons. Sometimes we overlook this truth. It is not wrong to plan and prepare, but we need to focus on the real weaponry that belongs to us—prayer, fasting, unity of God's people, proclaiming the Word of God, praising His name. The weapons of our warfare are not of this world."
Dilbeck said those in leadership understand that sometimes the most difficult thing to do is choose battles.
"We have to seek for the Lord to show us which battles are His to fight," he said. "Am I fighting because of pride, peers or pressure, or is it truly the Lord's? Are we fighting battles that will glorify us or those that will glorify the King of Heaven and Earth?"
He said we want people to say "God works on their behalf; the good hand of God is with those people."
Dilbeck compared the church with college football.
"People talk about plays versus players," he commented. "Teams can have lots of plays, but if they don't have the players to make those plays, they are not successful."
He noted the church of Jesus Christ has never had more plays.
"We just don't have the players who can discern the will of God and stand firm in the faith," he said.
"Simply abiding in Christ is all you have to do," he emphasized. "Everything else is icing on the cake, not flour in the batter."