For most Oklahomans, the month of September marks the time all schools are fully back in session and football season is underway. For Oklahoma Baptists, September is important for another reason. This is the time to promote and support the Edna McMillan State Missions Offering (SMO).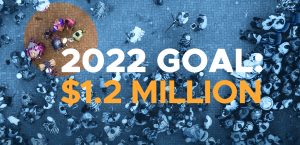 A week of prayer kicks off the month of SMO focus, Sept. 4-11. The 2022 SMO state offering giving goal is $1.2 million, and downloadable resources, church materials, missions education activities for children and Sunday School classes are offered on the website oklahomabaptists.org/smo.
Among the ministries supported include Disaster Relief, Addiction Care, Associational Camps, Associational Partnerships and Crisis Care. McMillan's involvement with SMO's origin is explained on the website. The 1939 Oklahoma WMU Board unanimously approved to have SMO named in her honor.
Todd Fisher, executive director-treasurer for Oklahoma Baptists, asked Oklahoma Baptist churches to promote the offering and individuals to prayerfully consider giving.
"According to research, some 60 percent of Oklahoma Is unchurched, which represents more than 2 million people," Fisher said. "God has called us to reach the lost and to share the hope and love of Jesus. When you give to the State Missions Offering you are supporting vital ministry and missions happening right here in Oklahoma. This helps reach many lost people for Christ with the Gospel."
The website features four videos promoting offering that all churches may download to show during a worship service or gather time. The videos speak powerfully to several areas the 2022 SMO will fund, including African American ministry, Deaf ministry and Refugee ministry. Below is a review of the new videos. To view or download these videos, visit oklahomabaptists.org/smo.
African American ministry making a Gospel impact
"I'm actually one of the younger ones here," Cheryl Maloney said when sharing about the congregation of Oklahoma City, Western Avenue. She serves as church administrator. "We were closed a little over a year and half for COVID."
Maloney shared the pastor announced his retirement soon after the church reconvened, but she knew how the church needed to respond.
"To me, it was so important that we reconnect strongly with Southern Baptists," she said. After connecting with Walter Wilson, African American ministry partner with Oklahoma Baptists, Western Avenue started the process to be on solid footing.
"As far as finances, it's been a rocky road. It's been up and down, and we don't always have the resources to cover, sometimes, just basic needs," Maloney said. "Oklahoma Baptists have helped stabilize us during our transition. We did not have to wait; we did not have to borrow or scrounge. They provided the money instantly."
Prophet Bailey is currently serving as interim pastor at Western Avenue. He shared a positive report about the church.
"They are not with Oklahoma Baptists because they have to," Bailey said. "They choose to be, and they are adamant about being connected."
Regular church activities at Western Avenue are shown in the video, of members meeting together in Bible study and in worship. There are scenes of offering giving, praying and loving each other, and both Maloney and Bailey said there are demonstrations of people coming back and getting involved with the church.
Wilson emphasized how SMO helps churches like Western Avenue be able to overcome experiences like the pandemic that affect attendance and growth.
"Out of the … (Oklahoma Baptist churches), there are ones just like Western Avenue," Wilson said. "They are small churches that are on 'life support,' and that's where Oklahoma Baptists step in and become the caretaker and pumps new life into churches like Western Avenue."
"I'm more hopeful and more joyful in the position our church is in than I ever have been," Maloney said.
Deaf ministry reaches into under-reached community
The video begins with a startling statistic: "Ninety-eight percent of Deaf people do not know Jesus."
Jinger Bernhardt is a member of the Deaf Ministry Task Force and helped viewers understand the concerning nature of the Deaf community.
"The Deaf have never seen the name 'Jesus' signed or explained," she said. "They maybe have seen a Bible, but they don't really know what it is. And so how do you ask somebody that doesn't understand sign language? It's heartbreaking."
Bernhardt explain the Deaf are a recognized people with their own language and their own social rules, traditions, values and beliefs.
"It's important to understand who they are before we can even begin to figure out how to reach them for the Gospel," she said.
Kathy Martinez is a member of Deaf Church Oklahoma. In the video, she offered further context of the Deaf community. "If you are all alone, you need a church," she said. "It's hard for Deaf people to go to churches because they need help. It would be nice if everyone learned sign language, could teach it and encourage it… We can find a way, if God will provide, to lead us and progress with that. That would be awesome. I know God can."
The video announced SMO is going to fund American Sign Language training for church members.
"We are providing the funding for churches to get that training for their members, so that when they have Deaf people walk into their churches, they see somebody with a familiar face that can speak in their heart language," Bernhardt said.
SMO also will work to help Oklahoma Baptists provide a bridge between the hearing and the Deaf.
"That's really the ultimate goal, is we want them to come together for the Gospel and to reach the Deaf," Bernhardt said. "Deaf people can reach Deaf people, but Deaf people can't reach Deaf people until they know Christ."
Todd Fisher explains further how churches giving to SMO will be a part of Deaf ministry.
"You might not have a Deaf ministry in your church, or may not have a Deaf ministry in your community, but if you give to the State Missions Offering, you're giving to Deaf ministry," he said. "So again, it's that beauty of giving and pulling together with everybody and partnering, and it enables you to do what otherwise you might not be able to do."
Bernhardt said, with SMO supporting Deaf ministry, a major impact of Gospel could happen among the Deaf community.
"Anybody can jump on board with this to help train and equip, and we want to do it well. But we can't do it without you," she said.
Refugees are shown the love of Jesus
Scenes coming from Afghanistan and of news reports open the video. It's a depiction of hundreds of thousands of people leaving the country.
"We didn't know what was about to happen there in Afghanistan, and then all of a sudden, we have this refugee crisis upon us," Fisher explained.
"They truly have lost everything," a news reporter said in a voiceover as more footage showed military planes leaving and people in a state of despair.
The video shows an Afghan man being interviewed. His face is not disclosed, but he talked about pastoring an underground Christian church in Afghanistan. Family members tortured him; police arrested him and beat him. With the Taliban taking over the country, this man could have faced execution if he were reported.
The man described how he and is family tried to escape the country when they went to the airport, but they were unsuccessful. When they went back to their home, they learned an explosion happened back at the airport, close to where they were waiting for a possible flight.
Soon after, a stranger called the man and said he could help. Two vans arrived for the pastor and 16 other Christians. That night they were on the last plane out of Kabul.
The man's son had a connection with Edmond, Henderson Hills, which he made when he previously lived in America. Members of Henderson Hills met these 16 refugees at the airport and welcomed them to Oklahoma. The church provided housing and food for them.
"It was God's love they showed us," the man said through an interpreter.
"The State Missions Offering helps us fund their basic needs to help them begin to build a life here in Oklahoma," said Mike Wall, missions pastor at Henderson Hills.
"The best way to share the Gospel with Afghan people is to show love to them," the Afghan pastor said.
The video shows how SMO is showing Afghan people love.