In the last year, Oklahoma has seen a sudden rise in the number of abortion facilities, going from two to four, with a fifth scheduled to open soon. Oklahoma Baptist pastors, however, are not taking this devastating news laying down, as many continue to speak up for the unborn, as the 2018 Sanctity of Human Life Sunday (SHLS) draws near.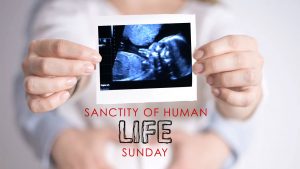 The Ethics & Religious Liberty Committee (ERLC) of the Baptist General Convention of Oklahoma, in partnership with Hope Pregnancy Ministries, has created numerous new resources, including preaching notes, a video, a bulletin insert, and prayer points that any pastor or church could use on Sanctity of Human Life Sunday, which is set for Sunday, Jan. 21, 2018.
ERLC Committee member Brent Prentice, who serves as pastor of Stillwater, Eagle Heights, helped organize the SHLS resource materials and recruited pastors to create notes and sermon outlines that any pastor could use.
"We must preach to protect all human life. To say nothing really says it all. But when we speak the truth we must do it in such a loving way that we give life a chance to flourish—both physically and spiritually." said Prentice.
The ERLC preaching guide, which can be found at www.bgco.org/shls, features notes from Oklahoma Baptist pastors including Prentice, James Biesiadecki, Hance Dilbeck, Jeremy Freeman, Rick Frie, Nick Garland, Heath Tucker and Michael Taylor.
"I'm thankful for these faithful pastors taking a stand for life, as they stand on the Word of God," said Prentice. "Many Millennials I talked to said they never had heard a sermon on the sanctity of human life. This hast to change. We must take every opportunity we can to highlight this biblical teaching and underscore the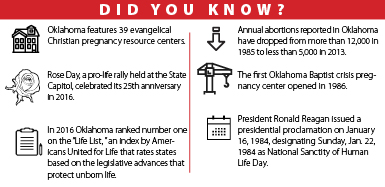 urgency of the issue, knowing life is on the line."
The SHLS resources also include prayer points, including the following:
• Pray that God would help women choose life in the midst of an unplanned pregnancy.
• Pray that God would protect children in the womb from those who would perform or encourage an abortion.
• Pray that through the proclaiming of God's word more people would be persuaded to value life at every stage.
The SHLS guide also includes a list of action points for Christians, including the following:
• Participate in Sanctity of Human Life Sunday.
• Support your local Pregnancy Resource Center.
• Pray for an end to abortion.
"Thousands of abortions happen in Oklahoma every year," said Prentice. "By Christians praying more and uniting our efforts, I believe we can see a day in Oklahoma where abortion is no more and where every life is valued."
For more information or resources, visit www.bgco.org/shls.