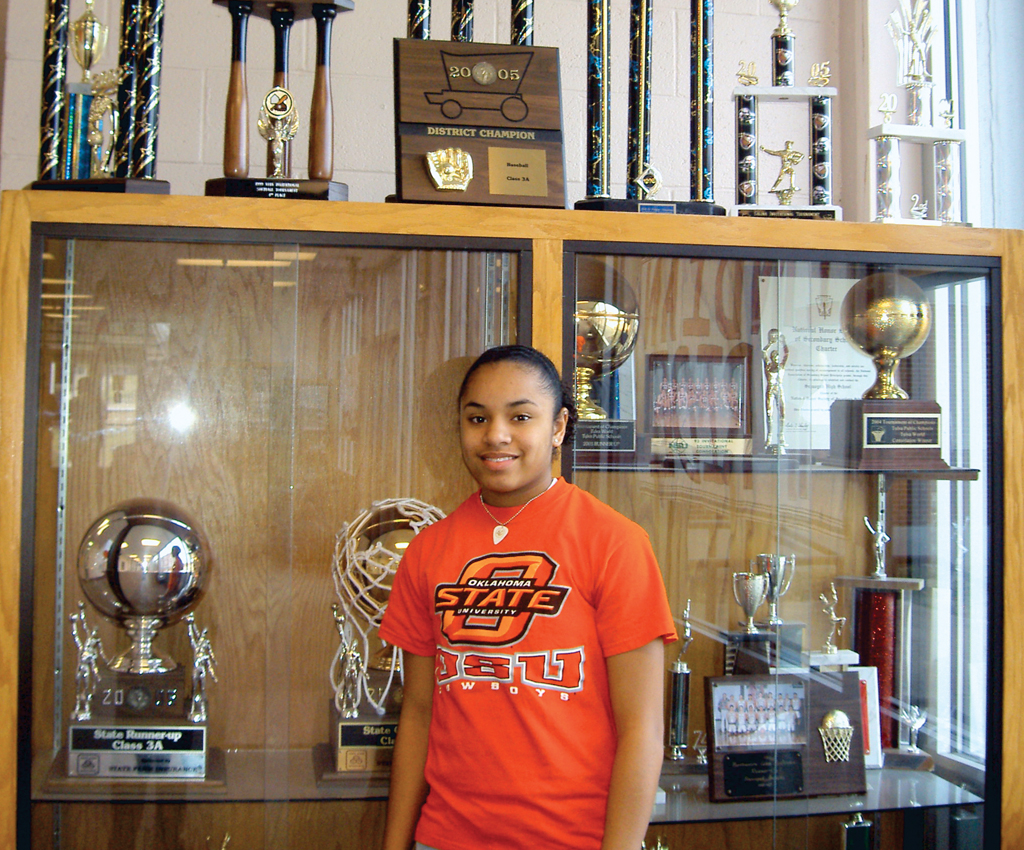 The best way to describe Angel Goodrich is with one word-humble. The 5 ft. 3 in. bundle of basketball talent, who led her high school team to three straight state championships, is reluctant to talk about what she has accomplished.
"Angel is very reserved, not outspoken and humble about everything she does," said Todd Dowty, who recently had the privilege of leading Angel to Jesus.
Dowty, who serves as volunteer chaplain at Sequoyah High School, five miles southwest of Tahlequah, said one Wednesday night, Angel and a couple of her teammates came to chapel, which serves as a worship center for the Native American boarding school.
"She comes from a church family, so I assumed she was already a Christian," said Dowty. "However, a couple of weeks later, I saw that the Lord was dealing with her during the message, and she came forward at the invitation."
Dowty said she was broken, and although she told him she had made a profession of faith as a child, she knew it wasn't genuine, and she had no assurance of salvation.
"She wanted to receive Christ," Dowty said. "She told me she needed Jesus in her life."
Dowty said he believes Angel, who is looked up to by fellow students, will have many opportunities to share her testimony.
The 16-year-old Cherokee is expected to be the first Division I basketball player recruited out of Sequoyah. The University of Oklahoma, Oklahoma State University, Tulsa University, Kansas University and Kansas State University have already contacted her.
Only a junior, she scored a quadruple double of 21 points, 10 rebounds, 10 steals and 10 assists in her second game as a freshman Sequoyah Lady Indian, laying ground for what was to come.
Since Angel joined the team, Sequoyah has brought home the first-place trophy in the Class 3A Girls State Tournament for three consecutive years. The team recently defeated Adair for the 2006-07 state title. Angel led her teammates with a game-high 26 points, scoring all 10 of Sequoyah's fourth quarter points and the team's final 13 points. The Lady Indians had a perfect 27-0 season, and are on a 39-game winning streak.
Her honors include the most valuable player in the 2006 title game, MVP award in a win over Class 6A Sapulpa in Oklahoma's best girls basketball tournament in December, offensive player of the year and MVP at Sequoyah and the Daily Oklahoman's Super 5 team in 2006. Her goal, she said, is to play in the WNBA after college.
Angel, born in Arizona, said she began playing basketball when she was in the second grade. Both her brother, Zach, and sister, Nikki, play for Sequoyah. Zach said he noticed his sister was a special player when, as a fifth-grader, she was playing against seventh- and eighth-graders.
Even through her hectic basketball schedule, Dowty said Angel has been faithful to her commitment to Christ.
"She is a new convert, and as all young converts, I see her struggling some with the new life that is in her, but she hasn't wavered in her faithfulness," Dowty said. "The week after she was saved, she brought her mother and sister to chapel, and they, also, have been faithful coming to the worship services on campus. Angel became a member of the Fellowship of Christian Athletes shortly after her conversion, and has help us with Fifth Quarters."
Dowty said the family has also started attending Dowty's home church, New Green Leaf in Tahlequah.
"Angel is not loud, and to her, talking about what she does on the basketball court is boasting, but I look for her to grow with the Lord and be more comfortable talking about her relationship with Christ," said Dowty. "Hopefully, that's what she will boast about."