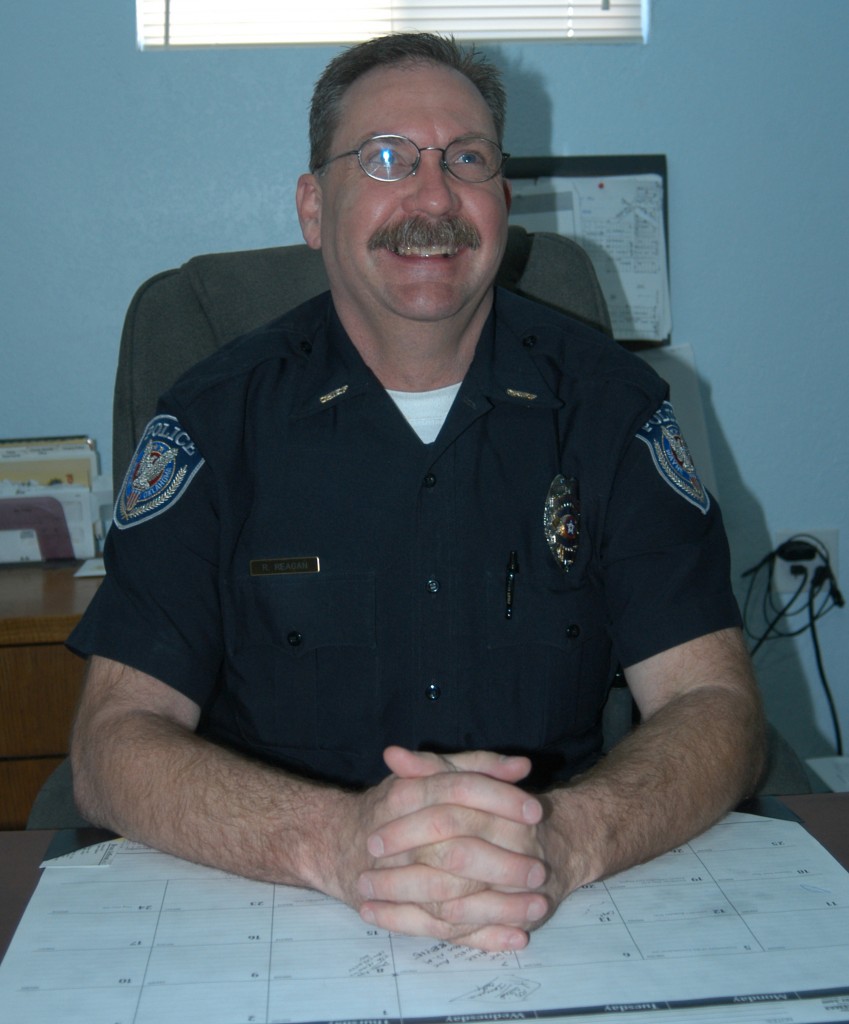 WAYNE-If you happen to break the law in this McClain County community of approximately 700 located about 30 miles south of Norman and see red lights flashing in your rear-view mirror, you're inevitably going to be confronted by a Christian police officer.
And, Wayne Police Chief Ron Reagan wants to keep it that way.
Reagan, who heads up a department that includes himself and fellow believer and Assistant Chief Bill Barton, is looking for another Christian police officer to fill out the town's full-time law enforcement roster. He and Barton routinely work 60-70-hour weeks, and are on-call virtually 24 hours a day.
Wayne covers approximately one square mile. Its population swells Monday through Friday to more than 1,000 when students from the surrounding farming area come to school.
The town's budget provides for a three-person police force. That is augmented from time to time by up to 12 volunteer reserve officers, Reagan said, adding that he now has four reserve officers on his roster.
"Clearly, during time of emergency, such as the Oklahoma bombing and the 9-11 terrorist attacks, people feel more of a need to help and want to do something," Reagan said. "At those times, we get a lot of applications for officers, but, as things get back to normal, with the economic situation being as it is, it's very difficult to find full-time officers."
Reagan said small town budgetary restraints are the main obstacle to attracting new officers.
"There is just no way we can compete with large corporations," he said. "Right now, Wayne is having to compete with the Wal-Mart Distribution Center in Pauls Valley and the new casinos coming in. When they're paying security guards more than I can pay my police officers, and offer them benefits that I can't offer, it's very, very difficult."
Reagan believes having a Christian department has made a huge difference in the town.
"We have completely turned this department around since I came here in 2003," he said. "The Lord has just laid His healing hands on this town and this department and we have turned it around from something this town was not proud of into a department this town is very proud of."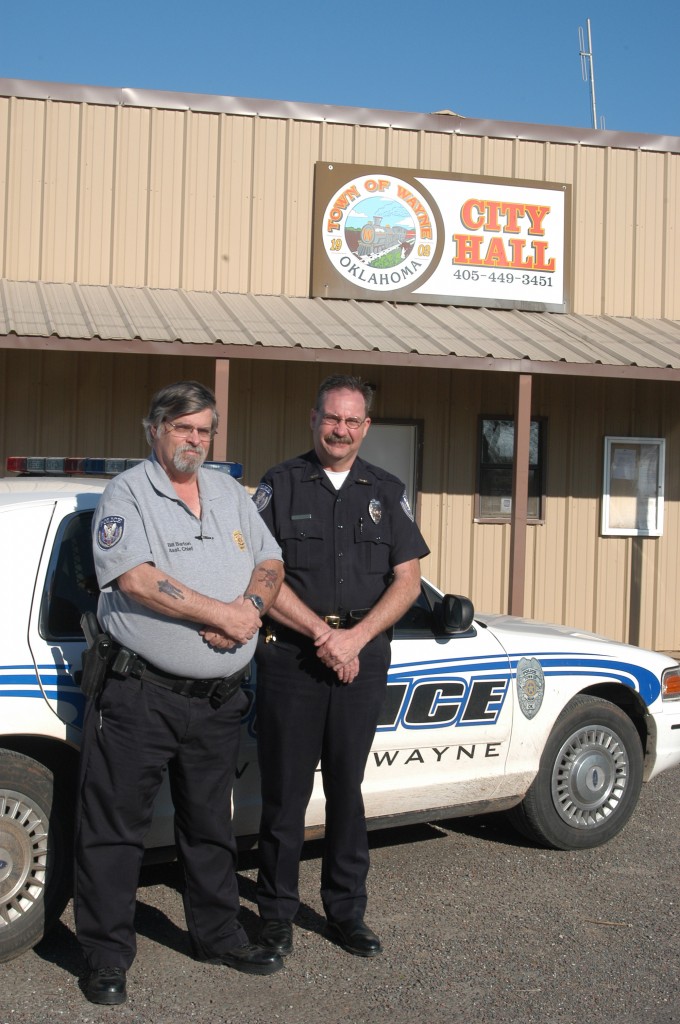 Reagan said one of his goals when he became chief in Wayne was to bring in a police chaplain.
"God intervened there, and I met pastor Kent Wooster at Rosedale, First," he said. "He's a former peace officer, and God had just placed it on his heart to be a police chaplain. We got together and he led me to the Lord in September of 2004. We started turning things around from there, and hired an assistant chief who is a Christian man.
"We feel having a Christian police officer helps set a better example for the community. A lot of times, police officers in the past have had a bad reputation for living a loose lifestyle, and that's something we're not after. We're after a good person who wants to live by God's rules, and we feel if we have a Christian organization overall, it will help us perform our tasks better and enable us to better serve the community."
But, will advertising for a Christian police officer be controversial?
"No, I don't think so," Reagan said. "We're not saying if you're not a Christian we're not going to hire you. We're saying that's what our desires are, and that's what we're praying for. Can we just come right out and say we'll hire a Christian? No. Can we hire someone who lives properly and has good morals? Yes. And, if they just happen to be a Christian, God has blessed us."
Lest one thinks being police chief in Wayne is akin to being sheriff in Mayberry, Reagan said criminal activity in the area has risen sharply in the last four years.
"When I started here in 2003, we were running 70 calls a year; we run about 700 now," he said. "It's not the small, quiet, rural community it used to be. We have been exposed to everything the big cities get as far as crime goes. We've had a homicide, armed robberies, a drive by shooting, numerous natural caused deaths and some suspicious deaths. Eighty percent of the people here are just great, great people, but there's about a 20 percent element of people who continue to give us (police officers) job security."
Reagan and Barton are not just about keeping the peace; they have shared their testimonies in churches across the state and in Texas and have ministered on mission trips to Mexico.
" We are involved in so many things in the community and church," he said. "As we share our testimonies, we get such a positive reaction from the community seeing a police chief or police officer come in and share his life with them."
Reagan, who turns 50 this year, has 28 years experience in law enforcement, including a stint as an investigator with the McClain County Sheriff's Department as a homicide and child abuse specialist.
He's grateful God placed him in Wayne.
"God wanted me to be here," he stressed. "He opened the doors, and it's definitely been a blessing to be here. It has really opened my eyes to a lot of things, given me an opportunity to meet people and get where I need to be in my Christian life."
A divorced father of five, with two daughters who are seniors at Wayne high School and a 5-year-old son at home, Reagan said, "It's a tremendous blessing to have my children with me. As I became a Christian, that's another blessing God has provided. Because my kids saw me for many years as one person, and since I became a Christian, they've seen a different type of person, a different dad, a different employer, a different human being and we relate so much better."
Named the McLain County Law Enforcement Officer of the Year in 2000, Reagan also was named Firefighter of the Year for 1991 and 1992 by the Forest Park Fire Department, where he served as fire chief, assistant police chief and emergency management director.
Reagan comes from a line of law enforcement officers. His great-grandfather was killed in 1910 in the line of duty as an Oklahoma City police officer when he confronted a suspect who got his gun away from him and shot him. And, his grandfather was a member of the civilian police force at Tinker Air Force Base for years.