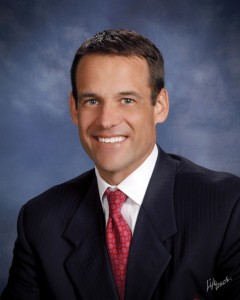 EDMOND—Blake Gideon believes the church exists to multiply. So Edmond, First, where he serves as pastor, is seeking to multiply, not only people, but avenues in which to worship. The first step began last September, when the church launched a new campus at Cheyenne Middle School with Saturday night services as well as a preschool/children's program, which includes child care and "Kids Church" for first through fifth grades.
"We hope to have at least four new campuses in the Northeast, Southeast, Northwest and Southwest areas of Edmond," said Gideon, a graduate of Southwestern Seminary, who is working on his doctorate at New Orleans Seminary.
A pilot project to help start the new campus was an eight-week event called the Gospel Project, where church families invited neighbors into their homes for Bible study and fellowship.
"We reached a lot of unchurched people through these home groups, had at least two salvations and several committed to worshipping at the new campus," Gideon stated. Sunday nights are outreach times, with members visiting in prospects' homes.
Another example of moving outside the church walls was last summer's Vacation Bible School, which was conducted outdoors on several weekends at local neighborhood parks instead of in the church building, making the event more relational and less programmed. The church partnered with seven different homeowners' associations, where a church member resided, to use each park.
Gideon, who has been at the Edmond church just over a year, is no stranger to serving his community. While at Idabel, First (2004-08) and Inola, First (2008-2012) the churches were Pacesetter (leaders in baptisms) churches. Idabel was one of the top 100 churches in evangelism and one of the leading churches in the Southern Baptist Convention in reaching 18-30-year-olds in 2007. In 2006, the church had one of the fastest growing Sunday Schools in the state, the same year Gideon was presented the Faithful Sower Award in evangelism at the State Evangelism Conference.
Gideon has also led his churches to minister in Mexico, India and Bangladesh and to plant Hispanic churches in Idabel and Broken Bow.
Reflecting Gideon's passion for ministry is the mission statement for Edmond, First—"We are a family of faith, passionately connecting to Christ, His church, His Word and His mission for His glory."
"When we're serving outside the walls of the church is when we are most like Christ," Gideon said.