BROKEN ARROW—Nick Garland can stand on the steps outside his office and look over a 140-acre campus, but the ministry of Broken Arrow, First goes far beyond his sight.
Called to the ministry at age 13 during an Royal Ambassadors' study of missionary William Carey, Garland has dedicated his life to learning to share the Gospel and teaching others how to do it.
He grew up in Humboldt, Tenn., graduated from Florence State University in Alabama and Southwestern Seminary and began preaching at age 19.
"I wasn't a good student of evangelism, but trained under D. James Kennedy, and learned how to share my faith with confidence and how to teach other people," Garland said.
After serving as pastor in DeQueen and Hot Springs, Ark., he moved to the Broken Arrow church 27 years ago.
"When I was at Second Church in Hot Springs, we had 99 people going out to share their faith through Evangelism Explosion," Garland said. "But when I came here, we struggled to find an evangelism program that would work for our people. Two things happened that changed our church."
First, he said, was the adoption of a global outreach model to reach Broken Arrow, North America and the ends of the Earth.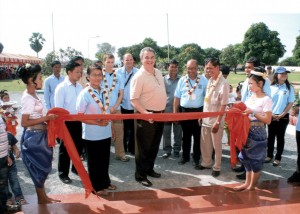 "We developed teams and partnered with things our association sponsored," he noted. "It wasn't just giving money, but touching people."
Second, the church started planting churches. Garland said older established churches get wrapped up in what they are doing and don't look outwardly. As a result, the congregation has established churches in nine countries and five U.S. cities, plus has revitalized local churches, establishing "community" churches for those who might not come to the First Church campus.
Garland said they go into an area, maybe to a struggling church without a pastor, and match a pastor to the demographics of the neighborhood. The church is now ministering in a trailer park, and hopes to move in a trailer to be used as a chapel, starting a church there.
"And we never stopped training in evangelism," Garland pointed out. "We needed something simple and came up with "The Bridge," blending things from other programs into an easy presentation people can share on their cell phones.
"These things have given our people confidence in sharing their faith and a motivation to reach the nations. It has given people a sense they can be church planters. They can be global. It's no-excuse evangelism. Our people are catching the vision of how we can do innovative things to reach people at their point of need."