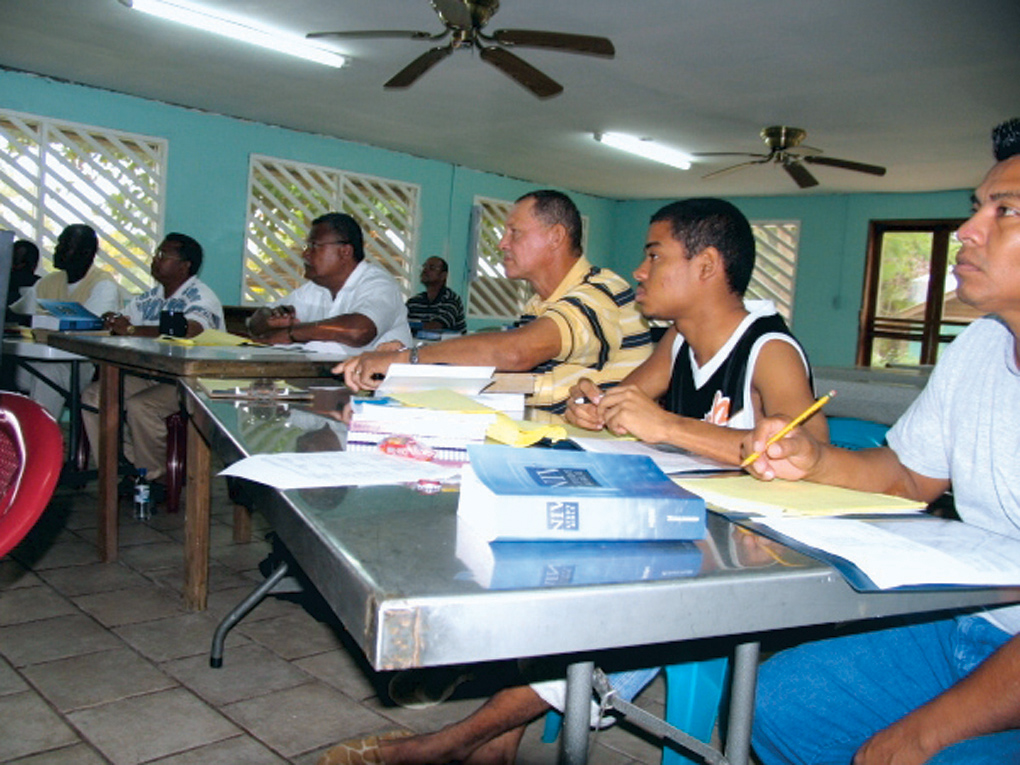 Whether it's spreading knowledge around the world, linking Christian young people with students overseas or shipping Christian literature all over the globe, many educators are doing more than just teaching in a classroom setting. The Fellowship of Baptist Educators is a service organization of more than 600 teachers, administrators, coaches, librarians and counselors who use their educational skills to fulfill the Great Commission by ". . . teaching them to obey everything I have taught you."
As public school, college or church-related educators, there are three ways the group does missions.
The fellowship sponsors a Book-Link, a voluntary ministry, which collects and ships Bibles and Christian study materials around the world to missionaries, national pastors and school libraries that can use materials in English. In a typical year, Book-Link sends out more than 86,000 Bibles, Christian books, tracts, cassette tapes, videos, maps and teaching pictures donated by churches and individuals. In its first decade, Book-Link shipped 333,693 books and other pieces of literature to 2,979 recipients in 67 countries at no cost to the recipients.
Wilfred Ongierbe, a pastor in Uganda, said the people of his church, Pakwach Baptist, have benefited greatly from the books they received.
"We never expected to receive books like this, but it is wonderful," Ongierbe said.
Bowers Jerry Idiok from Nigeria said his students were seriously in need of the materials they received, and were suffering without them.
"I am glad I am one of the lucky men of God to be in association with your ministry," Idiok wrote the Baptist educators.
Joanne Allen, director of the Nicaraguan Christian Academy, said students at the MK school are using the dictionary, Bibles and commentaries sent by the fellowship, and the new English-speaking church there is using the hymnals.
The educators also connect young people with students overseas who want to practice their English through Christian corresponders. Some 9,000 pairs of pen pals have been matched between students taking English in China and Christian students in America, grades seven through college. This gives an opportunity to provide a Christian influence where mission work is restricted. English teachers in China lead their students to write letters addressed "To an American Friend," and send them to the International Book Project of Samford University. The National Fellowship of Baptist Educators then distributes them to Christian groups who will agree to answer them.
In addition, the educators use their skills in short- or long-term missionary teaching opportunities in cooperation with the International Mission Board and Baptist conventions. Many teach English as a second language, both here and overseas, but teachers with all kinds of specialties are needed, said Del Allen, a state FBE director and board member of Book-Link International, Inc., who lives in Wilburton.
The fellowship also supports literacy ministries in local churches and associations, including teaching English as a second language to internationals, teaching adults to read and write and tutoring young people and adults. Some of this work is conducted in prisons.
Short-term or longer-term commitments, most of which are teaching English as a foreign language to college students or teaching other subjects in English, take hundreds of teachers to all parts of the world, with some serving as consultants to mission schools and missionary parents who are homeschooling their children on the mission field.
For more information on any of these ministries, contact the Fellowship of Baptist Educators, 122 Clinton St., Shelby, NC 28152, e-mail, rlamb12@carolina.rr.com, or Del Allen, P.O. Box 511, Wilburton 74578, phone 918/465-9335, e-mail delraco@cs.com.