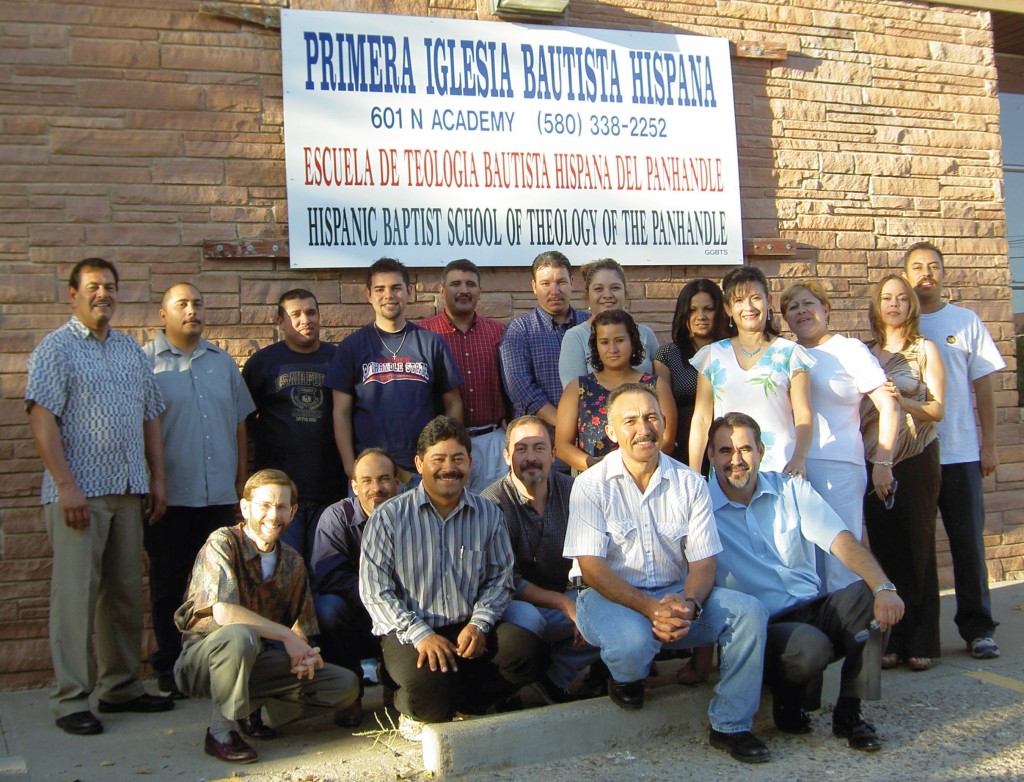 It is connected to the rest of the state by a 34-mile stretch of land. Yet the eyes of Oklahoma, especially the Oklahoma City area are focused on that 168-mile-long strip of land setting between Kansas and Texas that we know as the Panhandle.
"Even with the isolation and the unpredictable weather, God is doing some exciting things here," said Panhandle Association Director of Missions Stephen Burke.
The Baptist General Convention of Oklahoma recently entered into a three-year partnership with Panhandle Association, committing $123,000 to help with PoweringUp Sunday Schools, evangelism, leadership, media equipment and church planting, said Burke. Also, Capital Association, is partnering with the association, and has already aided in building a fellowship hall, kitchen and new bathrooms at Hardesty, First.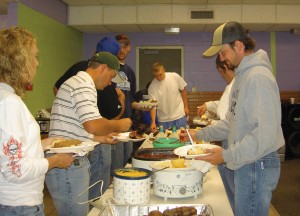 "Volunteers from Capital Association also painted the outside of the building and removed cedar trees around it to make the church building more visible," said pastor Wil Etherton.
The Panhandle has 21 Baptist churches, three missions and three preaching points. Guymon is the hub with a population of 15,000, five churches and two Hispanic missions.
An area that is growing is the Hispanic ministry, with 60 percent of the Panhandle's population now of Hispanic origin. The largest employer in the area is the Seaborn pork processing plant in Guymon, which employees 3,000, 95 percent being Hispanic.
"Most of the Hispanics are unchurched," revealed Burke. "Our goal is to have a Hispanic team in each of the three counties to help start new Hispanic churches.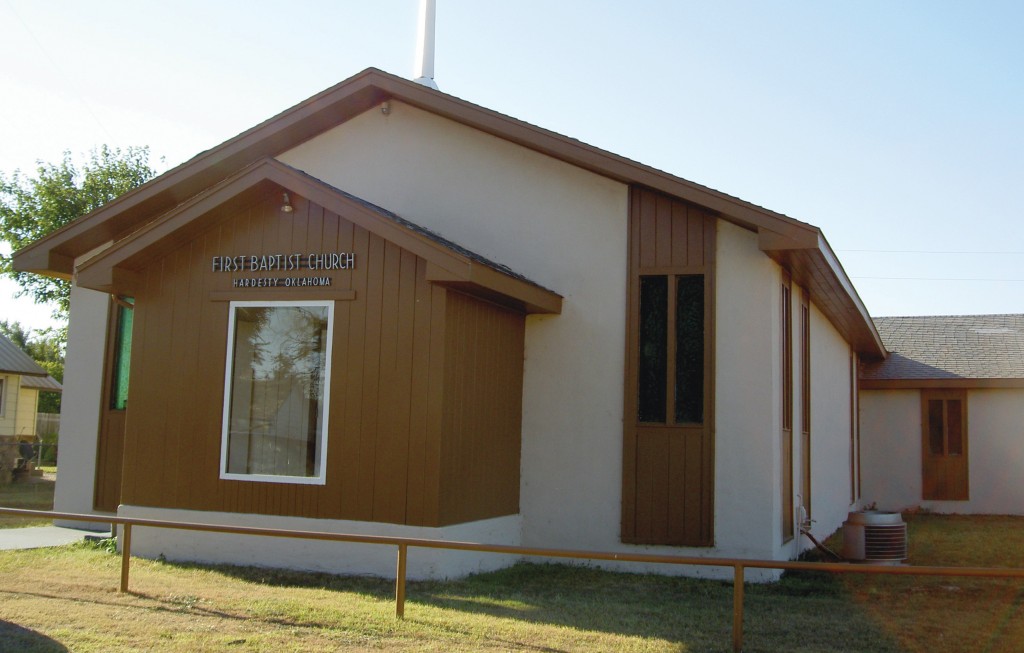 Burke, who was a missionary in Paraguay and Chile for seven years and speaks fluent Spanish, said he wants to win Latin people to Christ, train them, start new churches and then send them back to start churches in their homelands.
Refugio Villa, pastor at Guymon, Hispanic, came to Guymon after Panhandle Association led a crusade in his hometown of Delicias, Mexico.
"I came to help until they found a pastor," said Villa, who has been in Guymon 18 years.
In August, his church sponsored a Hispanic Festival, with food, games and a gospel presentation.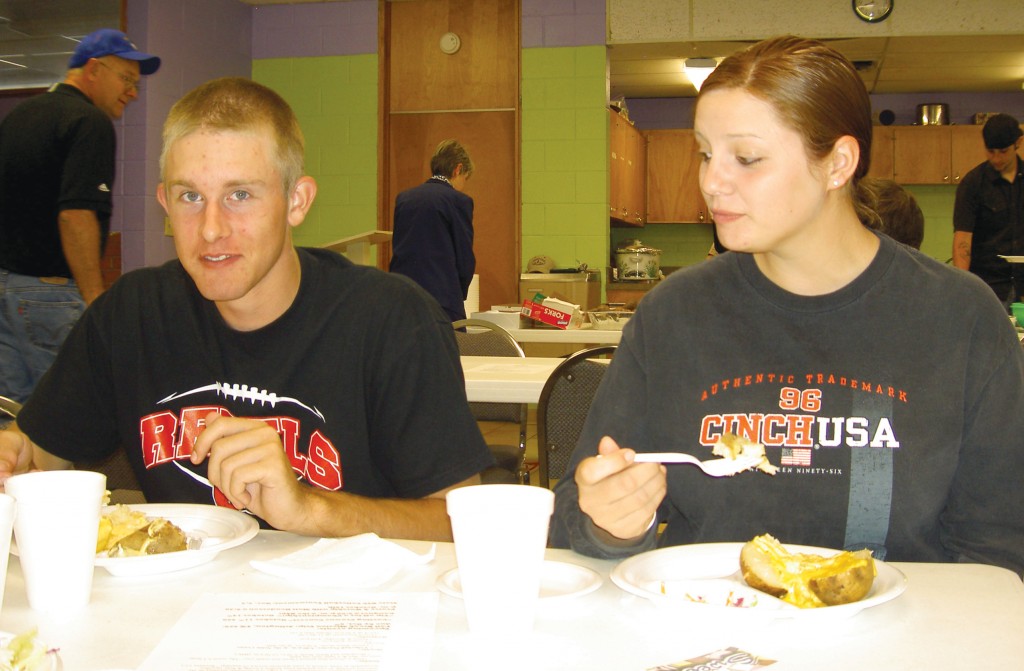 "We went door-to-door inviting people, and expected somewhere between 300-600 people," Villa said. "We had more than 2,000 resulting in 76 professions of faith.
Villa has been instrumental in an annual crusade to Juarez, Mexico, sponsored by Panhandle Association.
"This is our 15th year to go," he said. "We took 87 people, representing two-thirds of our churches, and 1,446 people made professions of faith."
The association serves 32 churches in Juarez, and in addition to the evangelistic crusades, sponsors a medical clinic and gives out food baskets.
Another Guymon church, Calvary Hispanic, has Mexican services in the morning and Guatemalan services in the afternoon. The pastor is from El Salvador. In addition to the Hispanic work in Guymon, there are also Hispanic missions in Hardesty, Hooker and Boise City.
Pastor of the Boise City mission, Guadelupe Armaya, is professor for the seminary, sponsored by the Robert Haskins School of Leadership under the auspices of Golden Gate Seminary. Classes meet Tuesday nights with 23 students.
"Goal of the seminary here in the Panhandle is to provide Hispanic leaders, not only for the Panhandle, but for the rest of Oklahoma as well as other states," said Burke.
In addition to the Hispanic work in the Panhandle, the Baptist Collegiate Ministry, under the direction of Jay Kindsvater, is also doing some international work. Although there are no Hispanics at Panhandle State University in Goodwell, there are students from as far away as Nepal, Nigeria and India.
"We are looking to make disciples of our students, and impart the character of Christ in them so they can tell the world about Christ," said Kindsvater. "Our students are beginning to invest in each other. We are telling them if they invest in someone else, and that person invests in another, they can impact thousands of people."
The BCM sponsors a breakfast every Sunday morning, praise and worship on Tuesday evenings followed by a Bible study, and a campus-wide lunch every Wednesday.
At the beginning of the school year, the BCM served more than 1,000 pancakes and 50 pounds of sausage to the school's 130 football players, and just returned from a fall break mission trip to Arlington, Texas.
It may seem strange that a disaster brings fellowship to the Panhandle, but that's what happens, said Doug King, pastor of Goodwell Church and head of the Panhandle's disaster relief unit.
"Our churches are a long way from each other, and it's hard for us to have good fellowship," King said. "The disaster unit has held the association together."
The unit was busy last winter with ice storms two weeks apart, and many areas of the Panhandle inundated with deep, heavy snow. The disaster unit was set up in Guymon, the only town that never lost electricity.
"We prepared 1,500 meals, the first of which were delivered by the military and Highway Patrol," King said. "It's a tremendous time of ministry in the Panhandle. People come out in force when someone needs help."
The disaster van has recently found a home with a new barn built and donated at Gibson Assembly.
King has also been instrumental in starting a Cowboy Church in the Panhandle.
"There are a lot of cowboys out here working feed lots and on ranches," said King. "They sometimes have trouble coming to a traditional church setting, so we are taking the message to them."
King said he is hoping the church will begin with 50 or more members and within the first six months, will reach at least 100.
"The cowboys have been waiting for this for a long time," he noted. "The Panhandle of Oklahoma was founded by cowboys, so we are returning to what we should have done a long time ago."
Gibson Baptist Assembly is another ministry that is flourishing with eight summer encampments for children averaging 100 per week. The camp is located on 15 acres some 10 miles east of Hardesty.
People in the Panhandle may have to go to Amarillo, two hours away, to shop at a mall or to eat at a nationally know chain restaurant, but there is plenty to keep Baptists busy as they minister in the area.
"There is a spirit of revival out here," said Burke, who became DOM last November. "As we celebrate our 100th anniversary, our theme is 'Planting and Growing Missional Churches.' We baptized 100 last year, but our goal for this year is 300. We are trying to narrow our focus to where God is at work rather than spreading out like in the past."
And God seems to be at work in the Panhandle.
"We are having to stretch to keep up with God in all this," said King.