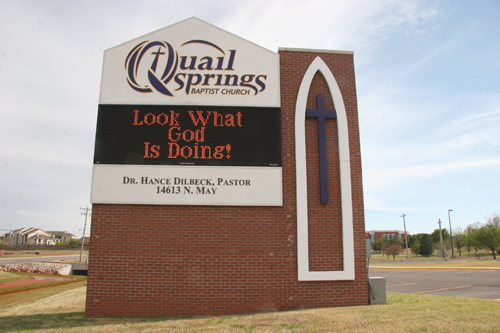 An Oklahoma church has reached a milestone in Cooperative Program giving. For the first time in the history of CP giving in Oklahoma, a church has passed the half million dollar mark. Oklahoma City, Quail Springs' CP giving for the 2008 calendar year was $523,667.22. Just a short five years earlier, the northwest Oklahoma City church gave $185,376 to the Cooperative Program.
At the same time CP giving was increasing, the church launched a $5 million capital campaign in 2006, and has added more than 40,000 square feet to its facility, as well as 300 additional parking spaces.
Although the CP percentage has gone up only .5 percent from 13 percent in 2003, to 13.5 percent today, the church has experienced phenomenal growth with an average Sunday School attendance of 1,390 for the first three months of 2009, up from an average of 620 when Hance Dilbeck became pastor in 2003. The number of staff members has doubled from seven to 14.
"The Quail Springs family is delighted to celebrate this milestone," said Dilbeck. "The Lord continues to bless our congregation, and as He prospers us, we want to grow in our faithfulness to His Kingdom work."
Dilbeck emphasized that the Cooperative Program is the church's primary vehicle for missions giving.
"Just this month, we sent a young family from our church to eastern Europe as International Mission Board missionaries," he revealed. "Our strong CP support helped them realize the strength of the IMB, and their service with the IMB in turn will strengthen our CP commitment."
Dilbeck, who is a trustee for Southwestern Seminary, said every year, Quail Springs sends students to SBC seminaries.
"Our people have a clear connection to those campuses," he said. "We currently have students from Quail Springs studying at four of our six seminaries."
Along with the church's CP support, Quail Springs has cultivated missions partnerships in Oklahoma City, southern Kansas and Armenia, and has sent groups to minister in all these areas.
Bob Shelton, director of stewardship/Cooperative Program/associational relations for the BGCO, said Quail Springs continues to model generosity in giving to missions.
"In the midst of a $5 million building expansion, Cooperative Program giving continues to increase," noted Shelton. "Quail Springs recognizes the foundational importance of the Cooperative Program in reaching our state, our nation and our world with the Gospel and is one of the leading churches in Cooperative Program giving in the Southern Baptist Convention."
Not only does the church give generously through the Cooperative Program, but the members also give generously to the Lottie Moon, Annie Armstrong and Edna McMillan Mission offerings, Shelton added.
"Pastor Hance Dilbeck is committed to leading Quail Springs to have a missional heart," Shelton said. "Currently, the Sunday School is engaged in the study Power Up Your World, which is leading the members to a more direct mission involvement through their Sunday School classes."
Anthony L. Jordan, BGCO executive director-treasurer, called Quail Springs reaching the half-million mark an historic and remarkable accomplishment.
"It is a great testimony to a pastor and people who have the world on their heart," said Jordan. "Quail Springs has demonstrated through the years a deep commitment to missions from the front door of the church to the ends of the Earth. The church stands as a great example of sacrifice and commitment to cooperative missions. I give thanks to God for Bro. Hance Dilbeck and the people of Quail Springs. May many others follow their example, if not in dollars, certainly in commitment."