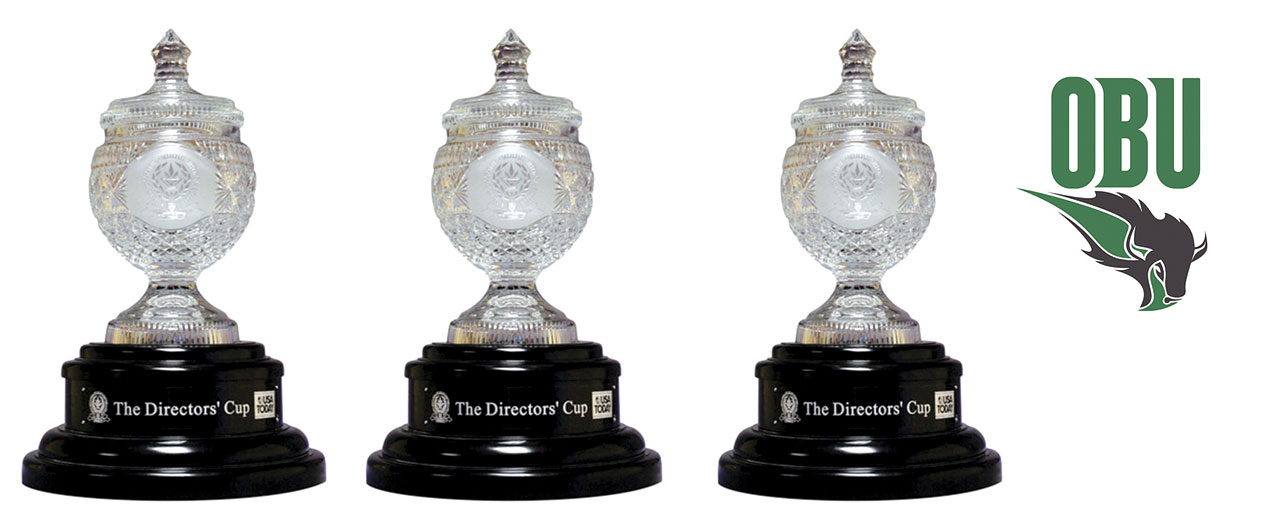 SHAWNEE—Oklahoma Baptist University (OBU) claimed its third consecutive Learfield Sports Directors' Cup as the best overall athletics program in the NAIA, the National Association of College Directors of Athletics announced Thursday.
OBU, in its final season in the NAIA, won the Cup by one of the narrowest margins in the history of the award's standings.
"It's very gratifying to get this third Learfield Sports Directors' Cup in our final year of the NAIA," said OBU Director of Athletics Robert Davenport. "Our coaches overcame a lot of new wrinkles in this year of transition and our student-athletes again posted successful seasons while carrying a grade point average over 3.0 as a department. That determination will  serve us well in NCAA Division II and the Great American Conference."
The Bison won by 31 points, which goes down as the fourth-closest finish in the NAIA standings and the closest since Azusa Pacific won by three points over Simon Fraser in 2010.
OBU finished with 854.5 points, followed by Lindsey Wilson with 823.5, Sooner Athletic Conference foes Oklahoma City (OCU) at 802.75 and Wayland Baptist (WBU) at 800, with Embry-Riddle at 787.25 in fifth.
OBU scored 326 spring points, picking up 78 points in baseball to move ahead of Wayland Baptist and hold off Lindsey Wilson and Oklahoma City.
"Winning our third Learfield Sports Directors' Cup in the last week of the season was exciting to say the least," Davenport said.
OBU becomes the third NAIA school to win three consecutive Learfield Cups, joining Simon Fraser (1997-2001) and Azusa Pacific (2005-12).
OBU is one of only seven four-year colleges to have won the award three consecutive seasons. Other schools to have won three straight include Stanford (1995-2014) in Division I, Grand Valley State (2003-10) and California-Davis (2000-02) in Division II and Williams (1999-2011 and again 2013-15) in Division III.
The Learfield Sports Directors' Cup was developed as a joint effort between the National Association of Collegiate Directors of Athletics (NACDA) and USA Today. Points are awarded based on each institution's finish in up to 12 sports—six women's and six men's.
OBU won the award with just 11 scores, collecting points in six women's and five men's sports. Scoring teams for OBU were the national champion women's indoor track, women's swimming and diving and men's swimming and diving squads (100 points each), women's outdoor track and field (90), men's indoor track and field (85), men's outdoor track and field (80), baseball (78), women's cross country (73.5), women's basketball (70), women's tennis (53) and men's tennis (25). OBU also scored in women's soccer (25), but was not able to count those points with six higher-scoring scores in women's programs.
The Bison were honored at the 2015 NACDA Convention during the Learfield Sports Directors' Cup Awards Luncheon on Tues., June 16, in Orlando. The Cup was presented there.
Also representing the Sooner Athletic Conference in the final standings, along with OBU, OCU and WBU, were Texas Wesleyan in 60th at 242, St. Gregory's in 97th at 138, Science & Arts of Oklahoma in 129th at 90.5, Mid-America Christian in 145th at 70 and Southwestern Assemblies of God in 170th with 25 points.
In the final NCAA Division II standings, the Great American Conference was represented by Arkansas Tech in 74th, Henderson State in 86th, Ouachita Baptist in 108th, Harding in 145th, East Central in 172nd, Southwestern Oklahoma State in 177th, Southern Arkansas in 209th, Southeastern Oklahoma State in 225th and Southern Nazarene in 230th.