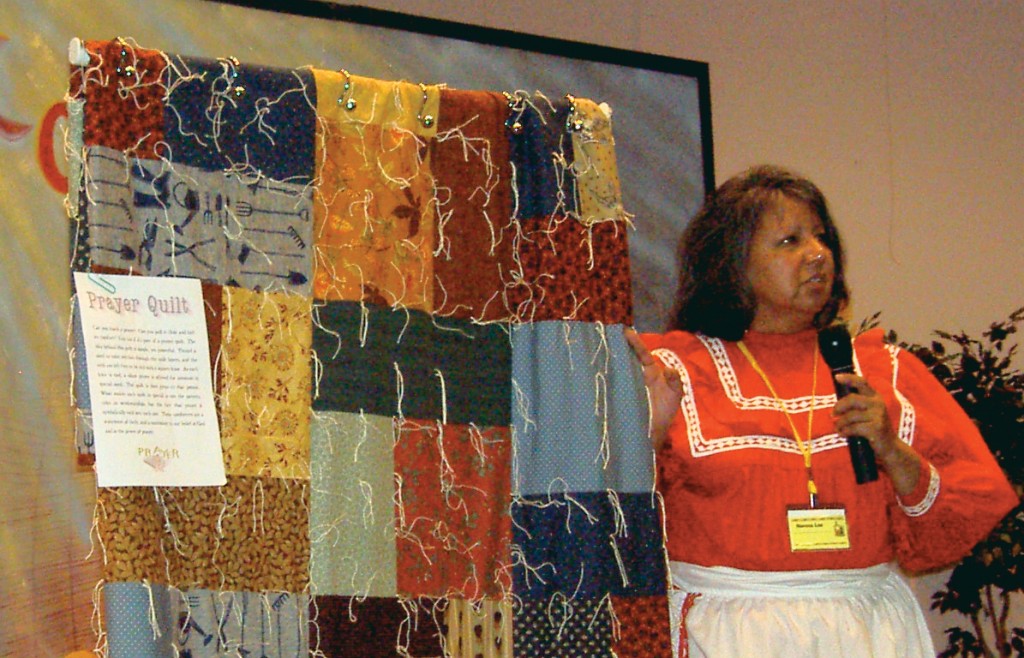 Alpha Goombi, a Kiowa Indian who was raised in Carnegie, said she grew up with a great deal of prejudice and low self-esteem and was not allowed to be a member of the white church in town. Speaking to more than 100 women at the first national conference for Native American women at Oklahoma City, Glorieta, Goombi said the Mormons were about the only people who ventured out to her family's house.
"I hated Christians, both white and Indian," she confessed. "I never saw anyone model being a good Christian; I never saw a happy Christian; all I saw were rules."
She said her family was the poorest of their tribe, and she wanted to get out of that lifestyle. She enrolled at the University of Oklahoma and began a major in drama.
"I wanted to change the way Native American women were portrayed in movies," she said. "I aspired to be the first Native American actress to win an academy award.
However, while in Norman, Goombi met Eddie Lindsey, current BGCO church planter, who was planting a church in the area, and there she met Jesus.
Today, Goombi and her husband are North American Mission Board missionaries serving on a reservation in Omaha, Neb.
"God does have a sense of humor, taking a devout OU fan to enemy territory," she quipped.
In Nebraska for 18 years, the couple just over a year ago established the first church on the Omaha Indian reservation.
"It's going to take Native Americans to reach Native Americans," she observed.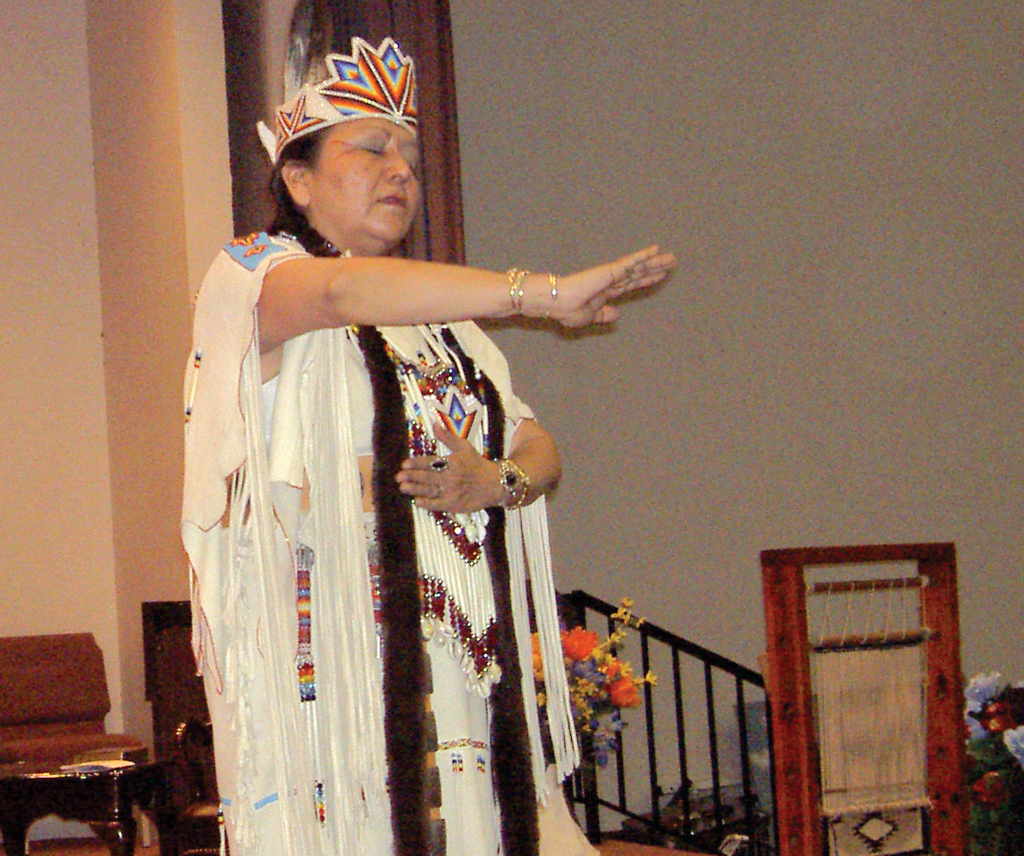 You are a powerful force, she told the women. "You can change the world by going out and telling someone about Jesus."
Goombi urged the women to help her launch a prayer against alcohol for the Indian people.
"Pray God will break the bondage of our people," she pleaded. "Prayer is so powerful, and one day, we are going to see our people set free from the bondage of alcohol. But it's going to take each one of us going out to take that beautiful story of Jesus to our people."
Kaye Miller, national WMU president, urged the women to heed the call of God in their lives.
"God calls us to a journey, and He moves us along so we can live for Him every day," she said. "He wants our lives so woven in His love that we love Him with all our hearts, souls and minds. It is that love that enables us to hear the call from Him."
Raised by missionary parents in Thailand, where her father was a surgeon and her mother a nurse, Miller said it was when her father was explaining to a leper that Jesus could heal him inside as well as outside, that she knew she needed Jesus.
As a nurse, she said God has called her to minister to those with modern-day leprosy-AIDS.
She said mission education is so important if "we are going to reach the next generation for Christ."
"God is calling us to be women of influence for Him," she noted. "Like our theme, 'Weave us together . . . in love,' indicates, God wants us to be so woven with Him, we are full of his love. And that is hard because we are interfering with the work of the enemy. But are we content to sit in the pew once we have heard the Great Commission?"
Joyce Hamblin, chalk artist and member of Glorieta, said she has lived in an Indian housing addition for six years, and realized she has not been a witness.
"It is difficult to get inside those homes," she said. "It is difficult even to make eye contact."
But she said she asked the Lord to give her a chance and within two days, a neighbor came to her door, told her her husband had left her and asked Hamblin if she would drive her to work. Then she asked her to baby-sit her children. Two days after that, another neighbor called saying she had a new sewing machine and didn't know how to thread it, and asked for her help.
"God brought these people to me," she said. "When you open your heart and become a clean vessel, He will lead you to people. God can use you."
Augusta Smith, from Cedar Tree Church in Tahlequah, did the theme interpretations during each session.
"Native American people are struggling to retain their heritage, their language," she said. "As Native Americans have assimilated into society, there is less weaving and more unraveling."
She said these are acts of Satan and a commentary of what can happen when strong chords are disconnected.
"It will take people like us to weave back together our Indian nation," she commented. "We want our families back. God can restore our people."
In addition to the general sessions and workshops, the women were involved in mission activities across Oklahoma City, including prayerwalking, making prayer blankets to be given to persons with special needs, cutting out "positive bags" for women who test positive for pregnancy at the Hope Pregnancy Center, conducting a block party, organizing and packing hygiene items to be given to people who come to the Baptist Mission Center, and cleaning, doing yard work and planting flowers at the Mission Center.