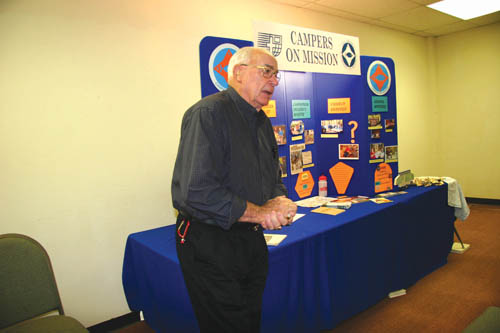 If the nation and the world are to see a spiritual awakening, it will come as a result of people volunteering for missions, said Mickey Caison. Caison, adult volunteer mobilization team leader for the North American Mission Board, told a group of prospective mission volunteers at the Explore Conference at Oklahoma City, Quail Springs, Feb. 7, that there is a staggering need for people to link up with missionaries to reach the world.
"Missionaries alone can't do it," Caison declared.
Caison, who was national director for disaster relief until 2001, now heads nine ministries.
"Last year, 475,000-500,000 people took mission trips," Caison revealed. "But that is still a small number compared to what is going on in our world today."
Conference participants were there to learn how they can be involved in missions, what avenues are available, how to get started and what kind of training is needed. They learned about volunteer mission opportunities at home and around the world, recreational missions, how women can be involved, student evangelism, how to share Christ in every mission situation, resort and leisure ministries, Falls Creek volunteer opportunities, volunteer builders, jail and prison ministries, church planting, who to engage in disaster relief ministries, sports missions, campus ministries and church renewal.
Caison told the group there is a powerful example of what volunteers can do in the Book of Acts.
"The New Testament church was an extraordinary church, but endured great persecution," he pointed out. "We have no persecution, no boundaries, the opportunity of going anywhere we want and sharing the Gospel, yet Southern Baptist churches are plateauing or dying.
He said many volunteers can relate to the unschooled, ordinary men described in the Bible.
"They may not be scholars, but they can run a chain saw, or they can cook," he said.
He noted the people Jesus trained were men of compassion, men of conversation and men of commitment.
"They saw the compassion of Jesus in a unique way," he explained. "The economic need of today lends itself to a great possibility for missions. People can't pull out their pocketbooks and take care of the problem. They need God, and you're going to represent God."
Caison recalled how more than 1,000 volunteers stepped up to clean apartments at Ground Zero after the Sept. 11, 2001 attack in New York City.
"Over and over, people asked who these people were and how much they were getting paid," Caison disclosed. "The people in charge told us they wanted the apartments cleaned by Southern Baptists because 'we know you are going to talk to them.' After 647 apartments were cleaned, there were (formerly) lost people in the kingdom of God. Our conversations should be about Jesus."
Caison said Jesus' disciples heard his conversations—with Nicodemus, the woman at the well—and watched Him teach for hours.
"He told about the Father's love, one on one, in large crowds, in parables," he noted. "He taught them through conversations. "People without Jesus will be spending eternity in Hell. I don't think you believe that. What do you talk about? Does your conversation demonstrate you believe that?"
Jesus' commitment never wavered, Caison said.
"Jesus' obedience shows His commitment to God's work," he said. "His followers were faithful men and women. We need to be faithful men and women. Can people tell you've been with Jesus?"
Caison observed that it is hard to tell those inside the church from those outside.
"Eight-seven percent of Americans say they believe in God, but only 36 percent say they should live by God's principles," he disclosed. "Believers don't seem to have the moral and spiritual rudders they used to have."
He acknowledged that sin does not seem to bother people today.
"We live in it, tolerate it, even embrace it," he said. "We aren't sensitive to sin. When it affects our morals, we change our morals. What one generation tolerates, the next generation embraces. Only God can make us sensitive to sin."
He pointed out that when we are face to face with God, we see a lost world.
"As a volunteer, you may be the one who goes into a community, provides the Word that sustains people, that gives them life," he expressed. "You'll always hear God say, 'Who will go?' If you are free of sin, you'll say, 'Here am I, send me.' You've heard about ministry, how you can be involved. Are you the kind who is backing away or the kind who is terrified God is going to choose someone else?
"There is no excuse to just sit and watch as the world goes to Hell. Are you going to take a step back, or are you going to say, 'Here am I?'"
Randy Adams, church outreach team leader for the Baptist General Convention of Oklahoma, said people who God has used in incredible ways are those who sense they are living in critical times—not the end of time, but a critical moment.
"Paul had a sense that his life counted, that what he was doing was significant," Adams said. "Whatever happened was going to promote God's redemptive plan."
Adams noted that for years Southern Baptists went to where people said, "Y'all come."
"It was only about 20 years ago that we developed a strategy to get people into Iran, Iraq, Afghanistan, going where governments haven't invited us. We now have a sense we should not let danger keep us from sharing the Gospel."