MEDFORD—When you have just about as many volunteers turn out for a city-wide clean-up project as your average Sunday worship attendance, it's bound to revitalize your congregation.
And, in fact, that was the whole idea behind ReVitalize Weekend, May 1-2 in this town of just more than 1,000 in Cherokee Strip Association as members of Medford, First led Mission in Medford (MnM), the first of what the association's director of missions, Matt Spann, hopes is many more such efforts.
Jonathan Gilliland celebrated his second anniversary as pastor of Medford, First (May 1) during MnM, which entailed work on eight residences in the city, distribution of at least 100 "care packages" to residents at an apartment complex and an RV park and culminated with a Block Party at the local Lions Park May 2 that attracted 150 people.
Work projects included clearing brush from around homes, chopping weeds and mowing overgrown lawns, trimming trees, hauling trash and debris and painting houses. Also, thousands of aluminum cans in plastic bags were removed from one homeowner's garage and prepared to take to a recycler.
While MnM was a term specific to the project in Medford, Spann said ReVitalize Weekend, "Is a general term the association is using for these kind of events. We hope to use the T-shirts at least a couple of times a year when we're working in other parts of the Association. When we go to another city, they'll call their project something specifically related to that city."
Cherokee Strip Association has a Ministry Team headed by Bryan Laramore, pastor of Ames, First. ReVitalize Weekend was birthed by the team, Spann said, modeled after nearby Ponca City's "Great Day of Service."
Volunteers wear charcoal-grey shirts, emblazoned with the words, "ReVitalize Weekend" on them mostly in white, with the word "Vital" in fluorescent green, and the "V" stylized similar to what is seen on an electrocardiogram.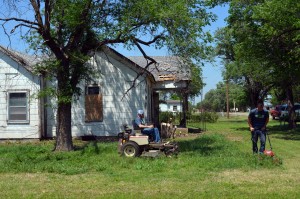 "The idea is volunteers will be encouraged to keep the t-shirt and then come and work in other places when those work days are scheduled," Spann said.
"I'm amazed by the turnout from Medford, First," he added. "They have really owned this effort. Jonathan just took the bull by the horns. We suggested this idea, and he said, 'OK, we'll be the guinea pig.'"
The Block Party began at 5 p.m. to a slow start, but picked up steam later.
"People came late. The first hour, it was mostly the volunteers," Spann said. "The church members had canvassed the area, and felt like people eventually would come, so that was great. They connected well with folks, and were very intentional with making them feel welcome. It was an encouraging culmination of the day. I think the church was revitalized, as the theme says."
Gilliland affirmed his congregation was energized by MnM.
"Our married adult Sunday School class was nearly doubled in size Sunday," he said. "Everybody is very excited and wants to do it again. Some new relationships were formed, and there was some strengthening of ties among our people. It has sparked a fire in our church, and in a couple of other churches in town, too."
Other churches with volunteers involved in MnM were Enid, First; Enid, Emmanuel; Ames, First; Garber, First and Enid, Liberty Southern. Members from Covington, First participated in the training Friday evening.
"We hope to do another ReVitalize Weekend  in the fall. Folks are talking about going down to Garber," Spann said. "A lot of the folks from Medford, First were wondering, 'When's the next one? We want to go help another church.' We had hoped that would happen."