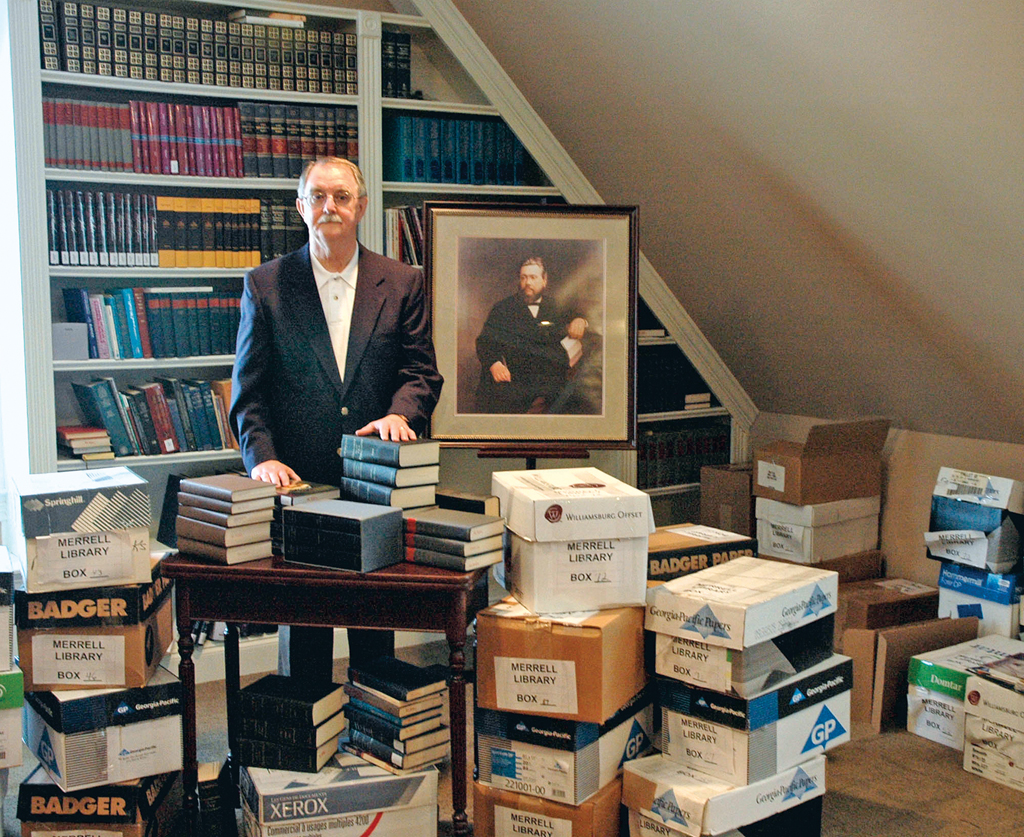 NORMAN-Bill Merrell spends his days working on the computer, reading as much as he can, keeping up with current affairs and praying for Southern Baptist Convention leaders and pastors. That sounds like a busy day for most people, but for type A personalities like Merrell, it doesn't compare to what he used to do or still wants to do.
Merrell was struck by a debilitating stroke Sept. 27, 2003. At the time, he was vice president for convention relations with the SBC Executive Committee in Nashville, Tenn. When the stroke occurred, he and his wife, Sharla, were headed for a much-needed vacation with friends in Florida.
Bill, who was driving, said he felt a weakness come over him and knew he was having a stroke. Sharla was able to get him to a hospital just under the three-hour time limit for giving clot busters, which sometimes reverse the damage of a stroke, but doctors were afraid the medication in this case would give Merrell blood clots, so it was not administered.
Within a period of five months after the stroke, Merrell experienced blood clots in his arms, legs and chest and suffered a heart attack-things that would put most men under. But through therapy and determination, today Merrell can do about anything if you give him enough time.
"Some people may think I am retarded because I speak slowly," he said.
But Sharla says she continues to see improvement in his condition, although it is much too slow for Bill.
He has abandoned his eye patch for double vision; although he says he still has the double vision, without the patch, his depth perception is better.
Because the stroke left him unable to perform his duties at the Executive Committee, Merrell is on long-term disability. He and Sharla moved back to his home state of Oklahoma last August.
"Two of our three children live in Norman along with five of our nine grandchildren," Merrell explained as one reason for the move. "And my roots are here. I have a lot of friends here plus my two brothers and sister live in Oklahoma." The Merrells have joined Norman, Bethel.
Because Merrell tires easily when he reads, he decided he didn't need his extensive library of more than 5,000 books.
He said he gave about 1,000 books to ministers who couldn't afford to buy books, but he spent a lot of time in prayer about where the other volumes should go.
"I have degrees from two seminaries, but most seminaries have good-sized libraries, so I decided to give the collection to Union University," Merrell said. "It has less of a donation mechanism and is true to the Word and its mission."
It turns out Merrell's gift is the largest book donation ever made to the university's Ryan Center.
"We are deeply grateful for the generosity of Bill Merrell to Union University," Union President David Dockery said. "This book collection will help students and ministers throughout this region for years to come."
Ray Van Neste, director of the Ryan Center, said the library contained books ranging from great literature and poetry to classic and contemporary works of theology, biblical studies and pastoral ministry.
Van Neste described Merrell's library "as a model of the sort of books one ought to have and read. Here his books will continue to be a blessing to the students, pastors and Bible teachers who use the center's library."
Merrell said he realized the resources he donated probably would not be used again unless he gave them to some institution that was true to the Gospel.
"I wanted to be a blessing, and I wanted the books to be a blessing to pastors in the area and to students who were called to preach the Gospel of Christ," Merrell said. "It's investing in the work of the Lord."