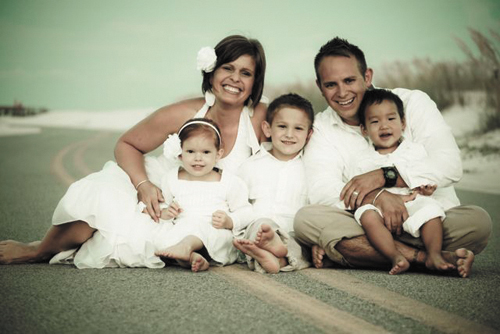 EDMOND—Those who have known Micah Kersh for any length of time know that thoughts of his family are never far from him. Whether at work or play, his wife and children are intentional parts of his day in ways that still make others take notice of his priorities. As a young pastor of worship at Henderson Hills Church, his schedule is often filled with rehearsals, planning meetings and research to investigate new options for corporate worship each week. Yet, in spite of his hectic schedule, Dennis Newkirk, the senior pastor of Henderson Hills, is quick to state that seldom has he seen a man more committed to his family than Kersh.
Trace his life back to his college days at Oklahoma Baptist University, and there is a certain characteristic all who knew him still remember about him—an openness to listen and learn from anyone about most anything. Even now as he embarks on his second year of service at Henderson Hills, an animating force in his life is the recent adoption of his son, Jude, from South Korea.
Eleven years ago when he and his wife, Sunny, were first married, they both knew adoption might be in their future. Kersh's sister was adopted, and the way his parents cared for her and invested in her life made a deep impact on him.
"We knew from the beginning that God might be calling us to care for orphans, and as we grew to understand the biblical concept of God's care for the orphan, we grew in our desire to adopt a child," he says.
They already had two biological children—Creed and Rinn. The timing for their adoption seemed to converge soon after Kersh returned from a mission trip where he worked among the orphanages in Haiti.
"While I was away, Sunny was already looking at the Web sites of adoption agencies," he said. "When I came back, God confirmed the call, even though at that time we weren't financially at a place to do it."
Soon after their decision to adopt, they contacted the Dillon Adoption Agency in Tulsa.
"What we learned through this process is that the agency is critical as you progress toward adoption," Micah said. "You must have a comfort level and feel good about the agency or else things may not go well."
Both Micah and Sunny recount their growing understanding of God's sovereignty throughout the entire process and "that realization both guided and comforted us in the process." Kersh is quick to warn anyone thinking about adoption that unless there is a commitment by the couple to see the process to its conclusion, the steps involved could prove daunting.
"We knew God controlled the life of our child, and we learned to rest in that fact," he said.
About a year into the adoption process, they learned the identity of the little boy that would soon join their family. When they first received the picture of him, they confessed that "God was supernaturally working to bring to us the child that He desired to give us."
When they travelled to Korea to take him to his new home, they were able to visit the orphanage where he first resided as an infant ,and then on to the foster family who cared for him during his first few months of life.
"We were able to spend time in the places and with the people where he first lived, and we know that not everyone who adopts a child receives that opportunity," Kersh said.
Their prayer is that as their son grows, these first experiences will help him as he develops his own identity and role in their family.
When the time came to name their son, Kersh had just finished a class at the church where he had studied the book of Jude in the Bible. Verses 24-25 grounded his idea to name his son Jude because of the promise of God expressed in a doxology of praise to God for his protection and future promise to all believers.
"We pray the prayer of Jude 24-25 over each of our children, but ultimately they rest in the hands of God," Kersh said. "We simply must learn to trust him, and we gave the name Jude to our little boy as a testimony to God's faithfulness."
The entire family recently celebrated Jude's first 18 months with them.
The Kershes are but one of the families at Henderson Hills active in the developmental stages of a new initiative sponsored by the church —Engaging the Fatherless. Based on Isaiah 1:17 where the people of God are commanded to "bring justice to the fatherless," the new ministry involves key aspects of raising awareness of adoption in the church to create a culture of adoption whereby families might be able to have access to the critical resources required to adopt. The ministry involves practical help to parents and extends to the care of single mothers who bear the difficult burden of raising their children alone.
For more information about the ministry, visit www.hhbc.com/engaging-the-fatherless.