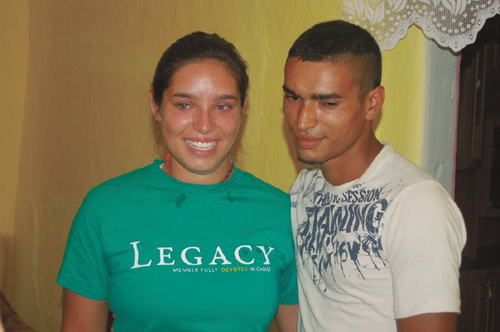 Falls Creek can add one more salvation to its numbers. At least technically, because the story began at Falls Creek Baptist Conference Center in the summer of 2007.
Kelsy Dowd and a friend from Ada, First, approached Mike Duncan, youth minister at Woodward, First, in the plaza area to ask him some questions about a game they were playing.
On the front of  Kelsy's T-shirt was "Ada Tennis Team." Duncan, who grew up in Ada, asked Kelsy if that is where she was from.
Usually Kelsy would have just said 'yes,' but uncharacteristically she said, "That's where I live, but I was adopted as an infant from a gypsy village outside Arad, Romania."
"That took me back," recalled Duncan. "For the last eight years, that's where we've gone a mission trip. I invited her to our cabin to look at pictures from a gypsy village outside Arad, and introduced her to an intern from Romania who had been with us two years."
In January 2009, as Woodward, First began preparations to return to Romania, Kelsy's mother called and asked if her daughter could go on the mission trip.
Kurt and Julie Dowd adopted Kelsy after watching a TV special in December 1990 about Romanian orphanages full of children who had been abandoned.
"We looked at each other and said, 'That's what we need to do,'" remembered Julie. "We started paperwork, and by April, I was in Romania searching for my child."
Julie said she located Kelsy after she heard about a baby girl who was sick, and whose parents wanted her to go to America where she could have American medicine.
"Kelsy was malnourished and had rickets," Julie said. "She had a low birth weight and was not gaining. They were afraid she was going to die."
There was also the story that Kelsy's birth father didn't think she was his child, and her paternal grandfather was interested in making money by adopting out the baby.
Julie was in Romania several weeks trying to get her new daughter out of the country, which was struggling to end a communist regime.
"We finally got her home at the end of May 1991," said Julie. She was born Dec. 20, 1990, about the time we saw the TV special."
When Kelsy left for Romania last July, Julie, sent along a folder that had the last known address of Kelsy's birth parents, her adoption papers, photographs and a letter to her daughter that said she knew Kelsy might not get to see her birth parents, but "God has you on this trip for a purpose."
Julie said Kelsy didn't really expect to meet her birth parents, but she still wanted to minister to the children there and see where she was from whether she saw any of her relatives or not.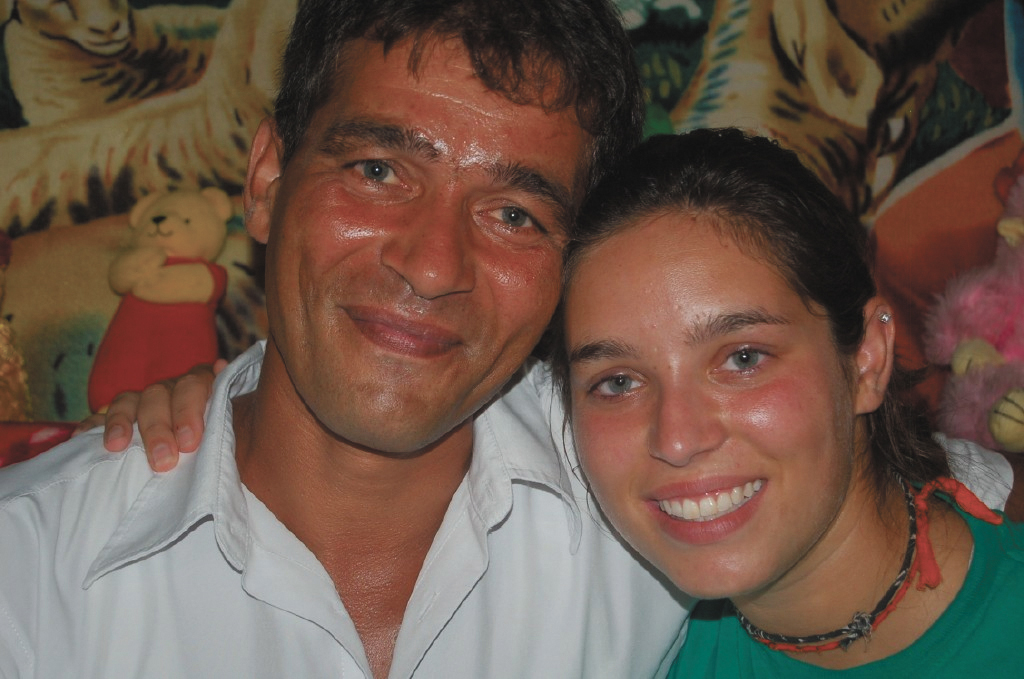 "If the opportunity came up, I thought it would be great to find my biological parents," Kelsy said. "Although I'd always wanted to meet my birth family, I thought there was a slim chance of them being in the same village 18 years later. I had just accepted the fact they gave me up for adoption to have a better life. But my main focus was the mission trip."
A few days into the trip, Duncan told Kelsy the village where she was born was only about 15 minutes away, and asked if she wanted to go.
"We drove about 15-20 miles, and the first person we asked about the family's last name gave us directions to go two blocks down, take a left and it was the first house on the right," Duncan said. "When we got there, there were some people in the yard who turned out to be Kelsy's grandmother and uncle. They told us Kelsy's mom and dad broke up shortly after she was adopted out, but said her dad was working in the forest and gave us directions to a village we had just passed through where her mom lived."
As they drove to the village where her mother lived, word of Kelsy's arrival has spread quickly, and her biological mother was waiting outside the house.
The reunited mother and daughter stood looking at each other, until the mother began crying, "My baby, my baby. I can't believe it."
Kelsy began crying as they ran to each other and embraced.
Her mother told Kelsy the story of why she was put up for adoption.
"I'd always known it, but hearing it from her gave me a sense of peace," she said.
The reunion was especially joyful for Kelsy's birth mother, because at the time she was adopted, a lot of Romanian babies were being bought for body parts to give to American children, and she thought that was what had happened to her baby.
"I thought she was dead, and I would never see her again," she said.
After meeting her mother, Kelsy learned she has a full brother and three half sisters.
"My brother and I both stand alike, shifting our weight on the same leg, and our knees are both double-jointed," Kelsy said.
When she traveled back to her biological father's house, he was waiting for her in the yard.
The first words he spoke to her were, "I'm sorry I ever doubted that you were mine."
"She definitely has his eyes," said Duncan.
The culmination of Kelsy's visit to her birthplace happened that evening during a worship service conducted by the mission team in the little community. Both Kelsy's mom and dad came to the service. Kelsy sang "Holy Is the Lord."
"When she sang, it got pretty emotional," said Duncan. "I was watching her parents, and her mom was obviously emotional. You can imaging thinking her daughter was dead and she would never see her again; then all in one day, they meet her and are watching her sing in a church service. It had to be overwhelming."
After the service, Kelsy noticed her mother crying and praying with a translator. When she asked what was going on, the translator said, "Your mother just got saved."
Kelsy said, "Wow, I just met her and now I get to spend eternity with her."
Duncan said there is no doubt in his mind this whole series of events as orchestrated by God.
"The way we met at Falls Creek, and then for all this to happen like it did, there's not way this could have been a coincidence," he said.
"It was a God-thing from the beginning," said Kelsy. "Out of the thousands of people at Falls Creek, I met Mike, the one person who had gone to the area where my birth family lived."
Julie said the trip was emotional for her daughter.
"When she came back, she had a little guilt," Julie admitted. "Looking at her brother and three half sisters, she wondered why she was the chosen one, why she was blessed to come over here."
"But, I realize it was God's plan," said Kelsy, who currently is a student at East Central University in Ada. "My mother got saved. My whole purpose for being adopted was to come to America, learn about Jesus and take it back over there.
It is no accident this came about, and I got to go back and minister to my family."