EDITOR'S NOTE: Jami Smith is a nationally-known Christian artist and worship leader. In commemorating the 20 years since recording her song, "Your Love Is Deep," Smith gives commentary and a brief history of how the song originated and plans to celebrate this milestone with doing a concert tour this fall. She continues to travel and lead worship at churches, conferences and camps across the country. Jami Smith wants to help others know God's love is real and available no matter the circumstances.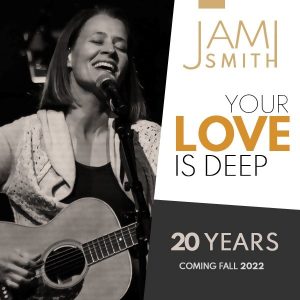 As a worship leader, I've always said that my success can be measured by one thing: "Did they worship Jesus?" Yes, it starts with singing, but what happens next is what I am especially watching and praying for. You can see it on their faces as they shift into worship. One of the most remarkable experiences in my life of ministry has been the honor of worshiping with you to a catchy tune that God decided to use called "Your Love is Deep."
In 1998, I was introduced to the song based on Ephesians 3. Even today, when I walk out onto the stage and sing the simple chorus, "Your love is deep, your love is high, your love is long, your love is wide…" there's a shift. A familiarity. I see faces soften. Eyes light up and some tear up. I feel the room.
It all started when I was asked to be the worship leader at a church camp in Texas. At a late night devotional, teenagers Susanna Bussey and Dan Collins sang the beginnings of a song they penned. I never forgot the song but felt like it needed a third section. A few years later, I reworked the song, recorded it, and it became part of my repertoire. We took that song all over the world before small church groups of 20 to large worshiping arenas of tens of thousands.
I guess you could say that this song became a sensation. It took hold in ways I never would have expected. Just now, I googled the song, "Your Love is Deep" and there are more than 250 million results. People have always just loved this song, and I am thrilled. I am not really sure most people realize they are singing Scripture for most of the song. What a bonus! Scripture and a catchy melody—and, the power of God.
I realize that generations now have been singing this song! Falls Creek comes to mind instantly…we led that song at the camp from 2003-2008 and again in 2019. Parents of kids that are Falls Creek age sang that song when they were in youth group!
We decided it's time to look back and applaud what God has done. We'll be on the road in the Fall 2022 with YOUR LOVE IS DEEP, 20 YEARS commemorating the 20 year anniversary of the recording of the song. My CDs "Home" (2001) contains a live recording of the song and "Wash Over Me" (2002) features the beloved studio version.
YOUR LOVE IS DEEP, 20 YEARS will explore the last 20 years of worship, not only how it has developed and changed, but also how our Lord and Savior is the SAME! We will do current songs, older songs, obviously "Your Love is Deep," and some of our beloved hymns.
Interested in Booking? We would be honored to serve you in Oklahoma. Contact us by email at jami@jamismith.com to discuss reserving this special time for your church.