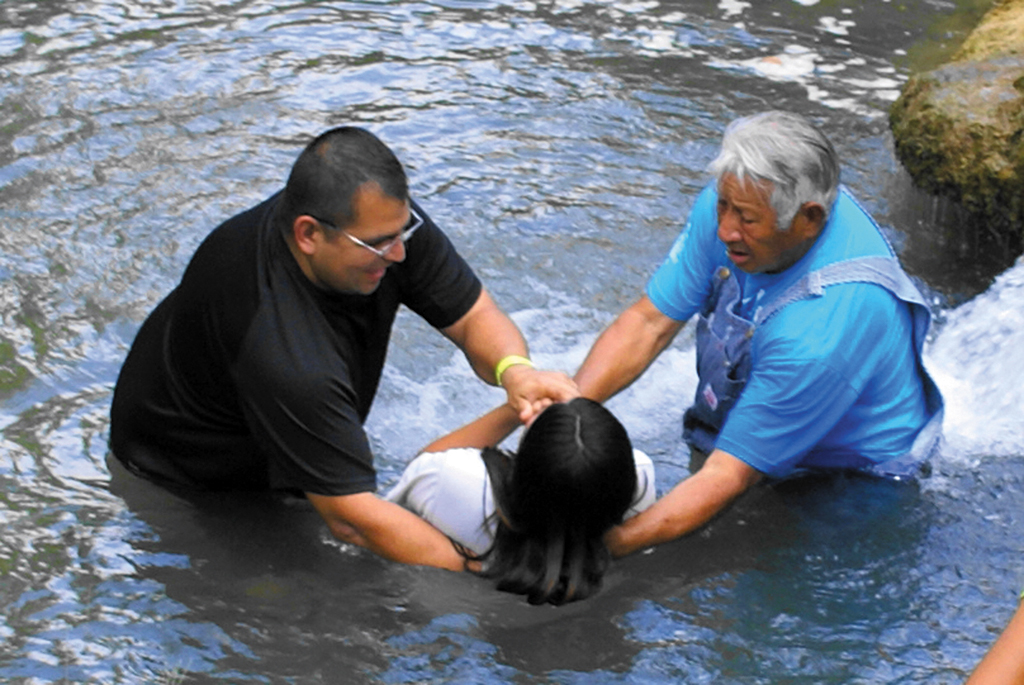 DAVIS-When Olelah Mae Morris mentions one of her Indian friends or acquaintances, the name is followed immediately by what tribe they belong to.
She's familiar with all the tribes in Oklahoma, and well she should be. Morris and her husband, Sam, worked with Indian congregations for 30 years. And although she's been retired since 1995, her husband died in 1973 and she now lives in Lawrence, Kan., Morris, whose mother was Cherokee and Seneca and whose father was Creek, still makes the trek to Indian Falls Creek, which met July 28-Aug. 1 at Falls Creek Baptist Conference Center.
Among his many other duties, Sam Morris was director of the Falls Creek Indian camp for two years. Morris said she marvels at the changes on the grounds the last few years.
"The tabernacle is beautiful and magnificent," said the 83-year-old.
She said she is delighted at all the Indian families at Falls Creek and all the activities they have for young people.
Morris' ties with Falls Creek actually go back to when she was in high school and was one of the first four recipients of the Woman's Missionary Union scholarships for Indian students. Other recipients were Victor Kanuebbe (Choctaw), Victor Paddelty (Kiowa) and Leota Black (Sac and Fox).
"J.B. Rounds (one of the founders of Falls Creek) was missionary over Indian work in Oklahoma at that time, and he encouraged me to go to Oklahoma Baptist University," Morris said.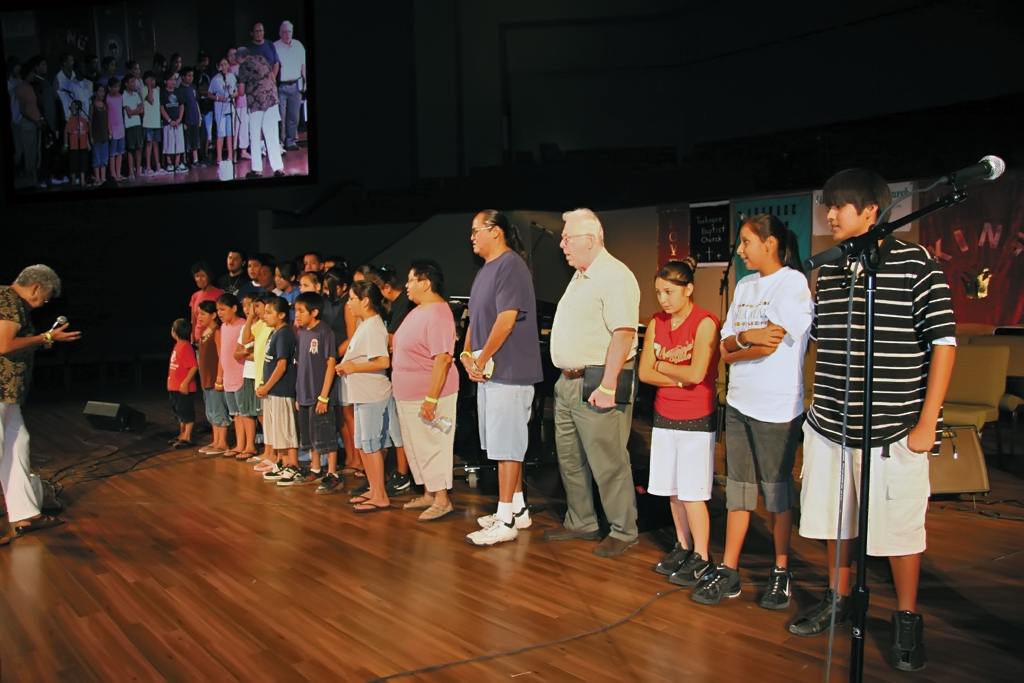 It was there that she met her future husband, and although the religious education/Bible major dropped out of school when she got married, she began immediately working with her husband as a missionary to the Indians.
His first pastorate was at Indian Center in downtown Oklahoma City, a mission of Oklahoma City, First.
"We had 13 different Indian tribes in that church," Morris proudly recalled.
Rounds was instrumental in securing funds for a building for the downtown church, and gave more than $800 to build a lounge in the church as a memorial to his wife "who loved Indians."
From Oklahoma City, the Morrises served at First Indian Mission of Ada, First; the Indian Mission of Shawnee, First and Bowen Place Mission of Tulsa, Nogales Avenue. They worked for 20 years as Home Mission Board (Now North American Mission Board) missionaries, serving part of that time as general missionaries in central Oklahoma, from Shawnee to the Kansas border.
"Sam said he would like to work with students before he died," Morris recalled. "And the call came to teach at Haskill Indian Mission in Lawrence, Kan. in 1969, the only federally supported school for Indians in the United States."
Morris enrolled in classes there and got an associate's degree. When her husband died, she was offered a job and worked in the custodial area for 21 years.
A learning center off campus, much like a Baptist Collegiate Ministries center, was named for Sam Morris in 1974. He had served as pastor of the Haskill Baptist Mission across the street from the college, which is now Indian Avenue Church.
The Morrises had three sons, Sam Jr., who teaches music in the public school system in Stilwell; David, who works at Haskill Indian Nations University; Joe, a student counselor at Salt River Reservation in Arizona, and John, a golf pro, who works with Christian athletes in Lawrence. Morris also has seven grandchildren and three great-grandchildren.
Morris said while she and her husband were working with Indian congregations, they always promoted all Baptist denominational activities.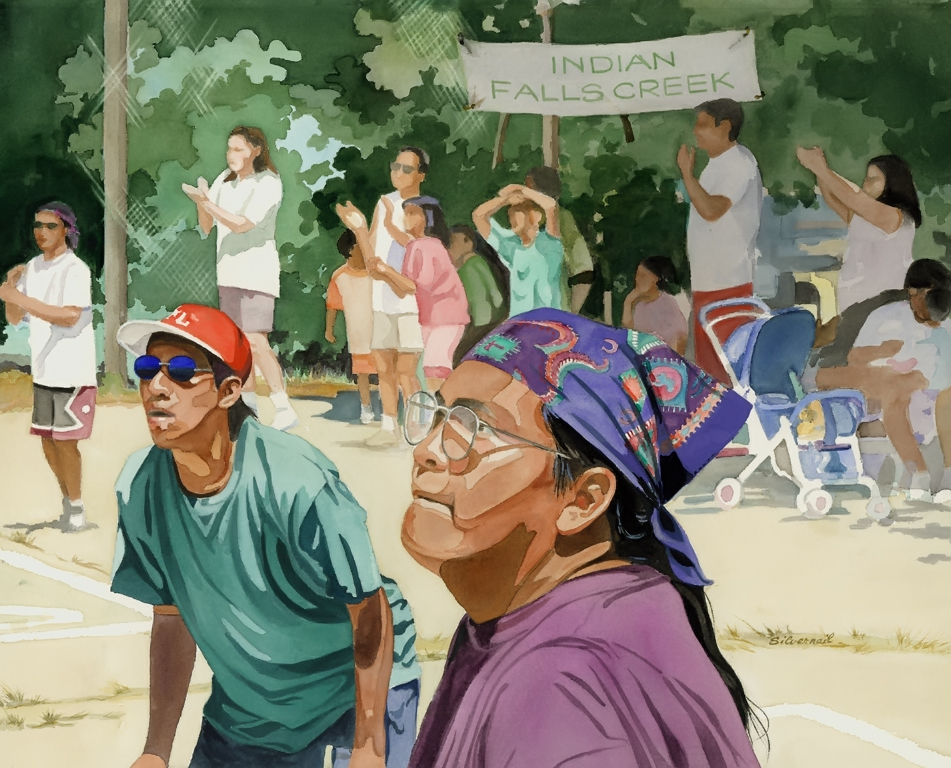 "We wanted them to know what the Cooperative Program is, about all the mission offerings, the children's homes, everything Oklahoma Baptists did," she said. "We tried to educate the Indian people on all these programs. And we tried to get all Indian churches to be self-supporting."
Morris remains active in Indian Avenue Church in Lawrence, and traveled to Falls Creek this summer with 17 members of her church.
Attendance at this year's camp was 2,551, with 131 professions of faith and 20 for special service.