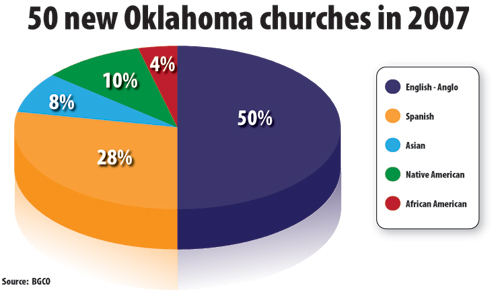 Bo knows churches. He's been planting them since he was a US-2 summer missionary in Oklahoma in the 1970s.
And, he even trained his predecessor at the Baptist General Convention of Oklahoma to plant churches.
Bo Holland was named to succeed Ted Lam as church planting specialist earlier this year, after serving four years under Lam as a church planting strategist.
It was while Holland was a jointly employed missionary with Tulsa Metro Association that he met Lam, who was attempting to start an international church in Tulsa.
"I was a church planter in the area, and helped him plant his church," said Holland.
Holland said when he was called to missions at age 16, the Lord gave him a mission statement-"go anywhere, do anything and tell others about the love of God."
That's what Holland has been doing for more than 30 years, and there are well over 100 new churches in the state because of his efforts.
After serving with his wife, Patsy, for two years as a US-2 missionary, Holland went to New Orleans to complete seminary, then returned to Oklahoma, working in East Central Association planting churches.
"While serving as a US-2 missionary, I worked with Native Americans," Holland said. "I built a strong relationship with them, and that is where my passion for language groups developed."
Before moving to Tulsa Association, he worked in 11 counties in Northeastern Oklahoma, planting churches and helping to facilitate new works.
As the new church planting specialist, Holland said he wants to keep the momentum Lam set for planting churches.
"We will focus on discovering, mobilizing, developing and maturing and multiplying churches," he said. "In the discovery phase, we are looking for planters, partner churches, places and people groups."
Holland noted mobilizing includes enlistment, recruiting and getting church planters on the field, while developing is training leadership.
Finally, he said, "We want healthy, growing churches. Every church that is planted should become a planting church."
Holland emphasized that his team doesn't plant churches, but helps facilitate those whom God is calling to plant churches.
He said he is often asked why new churches are needed. In Oklahoma, there seems to be a Baptist church on every corner, so why start new ones?
"Evangelism is one reason," emphasized Holland. "We know new congregations reach two and one-half times more people per member than older churches,"
Holland said there should be no worry about distance between churches, but about density of people in certain locations and different types of people moving into areas.
"If we're going to make an impact in Oklahoma, we have to go where the people are," Holland pointed out. "There was a day when we could say 'y'all come,' but that has changed."
Holland acknowledged that there needs to be different styles of churches.
"That's why cowboy and motorcycle churches are being effective," he said. "We are taking the Gospel to their lifestyle and culture, while not changing biblical truths."
Lay people, Holland disclosed, need to be encouraged to help start churches.
"Two men who influenced me most in church planting were laymen," he revealed. "Both started multiple churches out of their homes, store fronts, etc."
He said he believes there are lay people who want to get involved in starting churches, but they have to be encouraged.
"In our churches, we hear a lot of invitations to 'come,' but seldom do we hear 'go,'" he noted.
Holland observed that the history of church planting throughout the nation has involved lay people.
"We have to free up lay people and send them out," he said. "There's a mentality that they can't go."
He said his office sponsors a seminar called "Discovering Church Planting in Oklahoma" which explains the need, who God calls, how to get involved and the places needing churches.
"We have the best basic training process for church planting in the nation right here in Oklahoma," he emphasized. "We've seen several planters come out of that."
Holland said more partnering churhces for new church plants are needed, whether it is one church helping another or a cluster of churches aiding a new start.
"We still have a vision of planting 100 churches a year in Oklahoma," he said. "We will continue to set the strategy in place to get us to that point. But we want to be faithful in training to be the very best and make sure every people group in every place that needs a church will have one in their community."
Randy Adams, Church Outreach Team leader, said he is grateful Holland accepted this new responbility.
"No one has been more directly involved in starting more churches in Oklahoma than Bo," Adams declared. "Bo has been a part of the BGCO all these years and knows all the people groups well. He understands the biblical mandate of starting churches and the mechanics of how the mandate is accomplished. More than that, Bo knows Oklahoma Bapitsts, our culture and our ways."
Adams emphasized that the most effective churches in reaching lost people are new churches.
"They baptize more people per church than our existing churches do, and they are reaching immigrant, ethnic and growing areas," he said. "That's why Bo's position is so important."