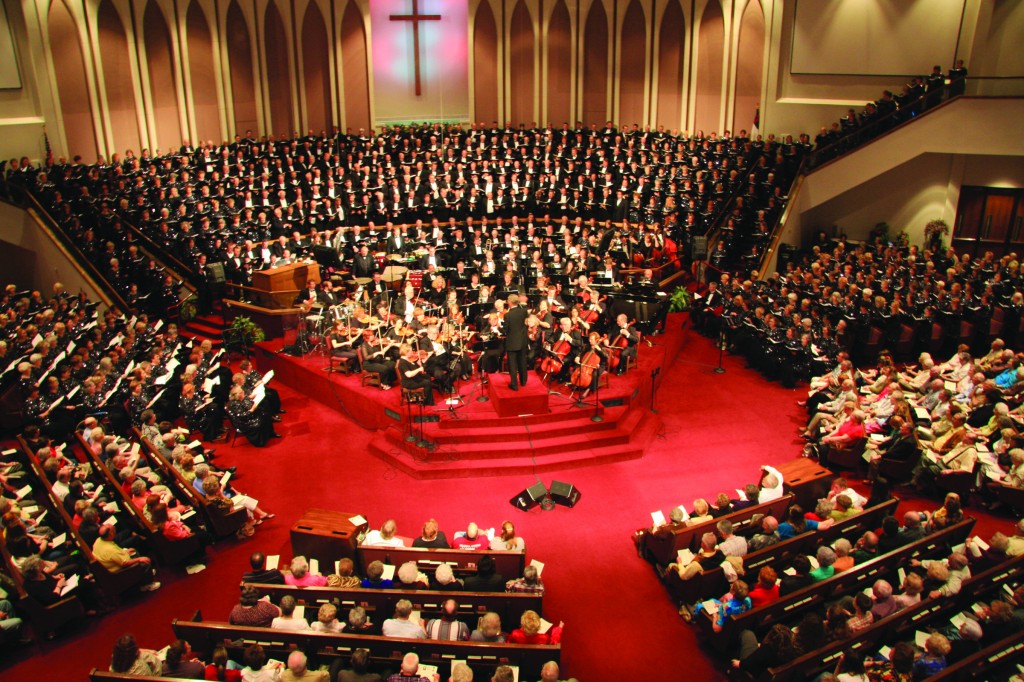 The Singing ChurchWomen of Oklahoma will premiere the new Baptist Hymnal during Music Week at Glorieta Conference Center on July 14.
The combined choir of 366 singers also will present a concert that evening in the Holcomb Auditorium at the center located near Santa Fe, N.M.
"We are really thrilled about being chosen to premiere our new Baptist hymnal," said director Bill Green.
En route to Santa Fe, the group will make a stop in Amarillo, Texas, where it will present a 20-minute "mini-concert" prior to the beginning of the play "Texas" at Palo Duro Canyon the evening of July 12, and then break into small groups and help lead worship in eight churches in Amarillo the following Sunday morning.
Green said those accompanying the singers will push the total entourage to about 450 people.
"We'll take about eight chartered busses, and then some will also will drive their personal vehicles and go on from there to other destinations on vacation," he said.
The new hymnal has 674 hymns and worship songs. "About 300 of these songs are new ones to our hymnal," said Mike Harland, director of LifeWay Worship, a part of LifeWay Christian Resources of the Southern Baptist Convention. "Of these 300, about 200 have been published in other hymnals and about 100 are brand-new hymns and songs that haven't been published in any hymnal before."
The full list of the songs is available at www.lifewayworship.com.
Jon Duncan, state music director of the Georgia Baptist Convention, served as leader of the theological overview committee for the new hymnal. Duncan formerly served as worship and music ministries specialist for the Baptist General Convention of Oklahoma. A group from Georgia will debut the new hymnal at Ridgecrest Conference Center in Ashville, N. C. later this month.
LifeWay already is processing orders for the new Baptist Hymnal and offering a discount to churches preordering the pew edition before its release. The hymnals will ship on or before Aug. 8.
_ Symphony to Release Christmas CD
The Oklahoma Baptist Symphony has just completed a new CD, "Celebrate Christmas," which is scheduled for release in August. The CD contains 15 songs, including traditional favorites such as "Sleigh Ride," "The Christmas Song," "Frosty the Snowman," "O Holy Night," "Joy to the World," "A Festival of Carols" and some newer arrangements. It concludes with the popular "Celtic Carol on Amazing Grace" by Phillip E. Allen.
Most of the music was recorded at Oklahoma City, Graceway March 7-8, with two selections, "Jesu, Joy of Man's Desiring" and "The Christmas Song," recorded live at Edmond, First on April 6.
The CD will be available by calling Jana Vander Took at 405/942-3000, ext. 4644.
_ Singing Churchmen near trip to Armenia, Israel
The Singing Churchmen of Oklahoma will travel to Armenia and Israel April 15-30, 2009, and Green said God is orchestrating a "wonderful trip."
"It's unbelievable the doors God has opened for us to go through over there," Green said. "We have had divine appointments one after another as we have planned our itinerary."
Green asked Oklahoma Baptists to pray for the group as they go through their final 11 months of preparation for the trip. More than 300 people will be making the trip, including 203 singers. The group will be based in Yerevan while in Armenia and then present concerts in Jerusalem.
More details about the trip will be forthcoming.