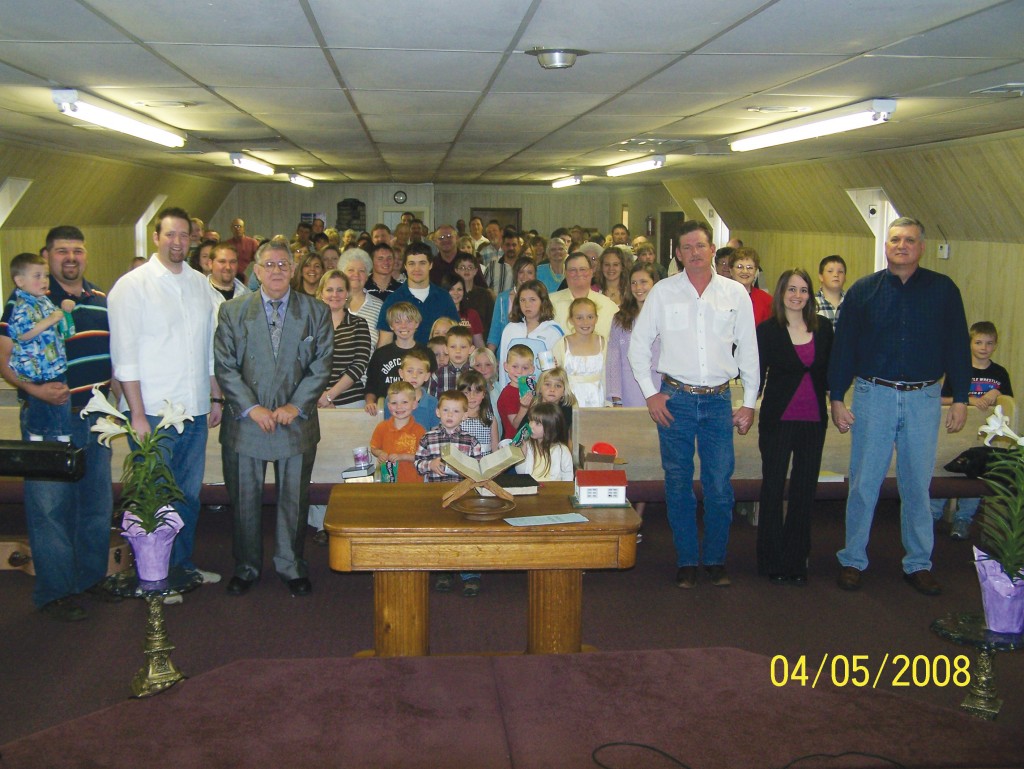 Everywhere Alex, Southern members looked, they saw the number 500. Pastor Don Chaffin cut out wooden numbers and posted them on every entrance to the church building. A large cross in front of the church had "500" inscribed on it. Prayer cards were posted on members' refrigerators and dining room tables.
And so they wouldn't forget what it was all about, a large 4′ x 8′ sign near the street said "Join Us For Easter."
The 2000 Oklahoma census lists the population of Alex as 635.
"I challenged our congregation to make 500 contacts during ACROSS Oklahoma," said Chaffin, who has been pastor at Alex, Southern for four months, that is if you don't count the time he was there more than 40 years ago.
Chaffin was actually the church's first pastor when it started almost 50 years ago with seven charter members. In it's peak, the church reached a high of around 130 in Sunday School. However, it had dwindled to about 30 when Chaffin came.
"We had worked our way back up to about 80 in Sunday School," he said. "But we put in an all-out effort for ACROSS Oklahoma and Easter Sunday.
The church did a mail-out to all members and as many prospects as they could find, made phone calls and had visitation on Saturdays.
On Friday night before Easter, about 60 youth, some from two or three surrounding communities, had an all-night lock in, participating in Bible study and games. The next morning, the young people gathered on the high school football field to pray in groups before joining a prayer march and leaving ACROSS Oklahoma packets on doors in the area.
The door packets contained material from the Baptist General Convention of Oklahoma, and the plan of salvation, plus a card about the Alex church which stated "We have prayed over your house."
The result was an overflow crowd on Sunday morning, reaching to a classroom and fellowship hall in the back of the auditorium.
"We had 240 people jammed into the auditorium," said Chaffin.
And although attendance fell somewhat the next Sunday, there were still 130 people in the worship service.
Chaffin said when he was first pastor of Alex, Southern, the town was much more active with two grocery stores, a lumberyard and other businesses. Today, there is only a bank, Post Office and beauty shop.
Soon, there will be a new building. The church bought property and has constructed a new facility, which is about six months away from completion, Chaffin said. The exterior is bricked, and air-conditioning and heating have been installed, but the inside is not finished.
Chaffin said a lot of the people have moved out in the country and built homes.
"There is still a lot of potential here," he said. "We just have to do a lot of hard work.
"It's like the converted bar owner, who opened a church in his old bar. It grew and grew and became a large church. Another pastor continued to come, and asked the secret of its growth. The pastor of the new church finally and softly said, 'The secret of our growth-,' then shouted, 'hard work!'
"That's what it takes."