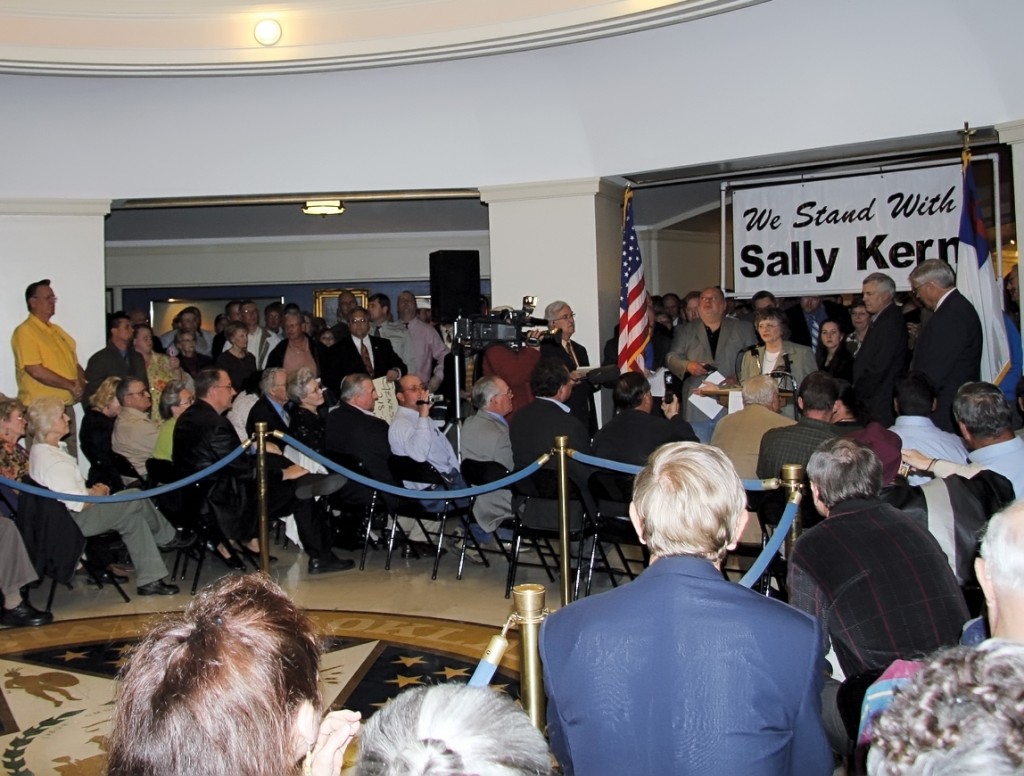 Nearly 2,000 supporters enthusiastically clapped and chanted "Sal-lee, Sal-lee, Sal-lee," during an energetic "Rally for Sally, Traditional Family Values and Christian Free Speech" April 2, which spilled over from the first floor rotunda of the Oklahoma State Capitol to the building's second and third floors.
The object of their affection and support, State Rep. Sally Kern, R-Oklahoma City, expressed gratitude for their endorsement of her secretly recorded comments against homosexuality, which had been posted on the Internet site YouTube in early March. Since then, the comments have been viewed more than 1 million times and Kern has received more than 30,000 e-mails, letters and phone calls, including several death threats. Several individuals and groups also have called for her resignation.
Kern has stood firm in the wake of the controversy that stemmed from the YouTube incident, and she stood firm again at the rally.
"I want to thank everyone for coming here today. This Freedom of Speech Rally for Sally is really about freedom of speech for all who want to stand for the truth of God's Word," she said. "This is not about me. It's about the Church having the right to speak out for the redeeming love of Jesus Christ Who died to set us all free from sin. The Lord gave me a verse I've been claiming. Philippians 1:12, "I want you to know that what has happened to me has really served to advance the Gospel.'"
As her husband, Steve, pastor of Oklahoma City, Olivet, stood nearby, Kern acknowledged that her e-mail in-box has been inundated of late.
"I've gotten lots of e-mail lately," she said. "Some good, some not so good. I've been called lots of names. I can't repeat most of those names. Some of the good names have been courageous, brave and hero.
"I want you to know I have more trouble relating to the good names than the bad," she added, her voice breaking. "I know I'm a sinner, but I'm not courageous, brave or a hero. I'm just an earthen vessel, and an old clay pot.
"II Corinthians 4:7 says, "We have this treasure in earthen vessels, clay jars to show that this surpassing power is from God." The last few weeks have been tough, but God's grace has been sufficient. So if I seem courageous, brave or a hero, it's not me, but God's grace.
"When I gave that now infamous speech, I was not putting down any individual. I believe each and every person is precious in God's sight. He loves us all. He loves us all equally, and He loves us regardless of our sin. Yet, God is not just a God of love, but also a Holy and Righteous God who sent His Son to die for our sin so we could have forgiveness and experience life abundantly. To have His forgiveness, we must first acknowledge our sin. We can't excuse it or justify it.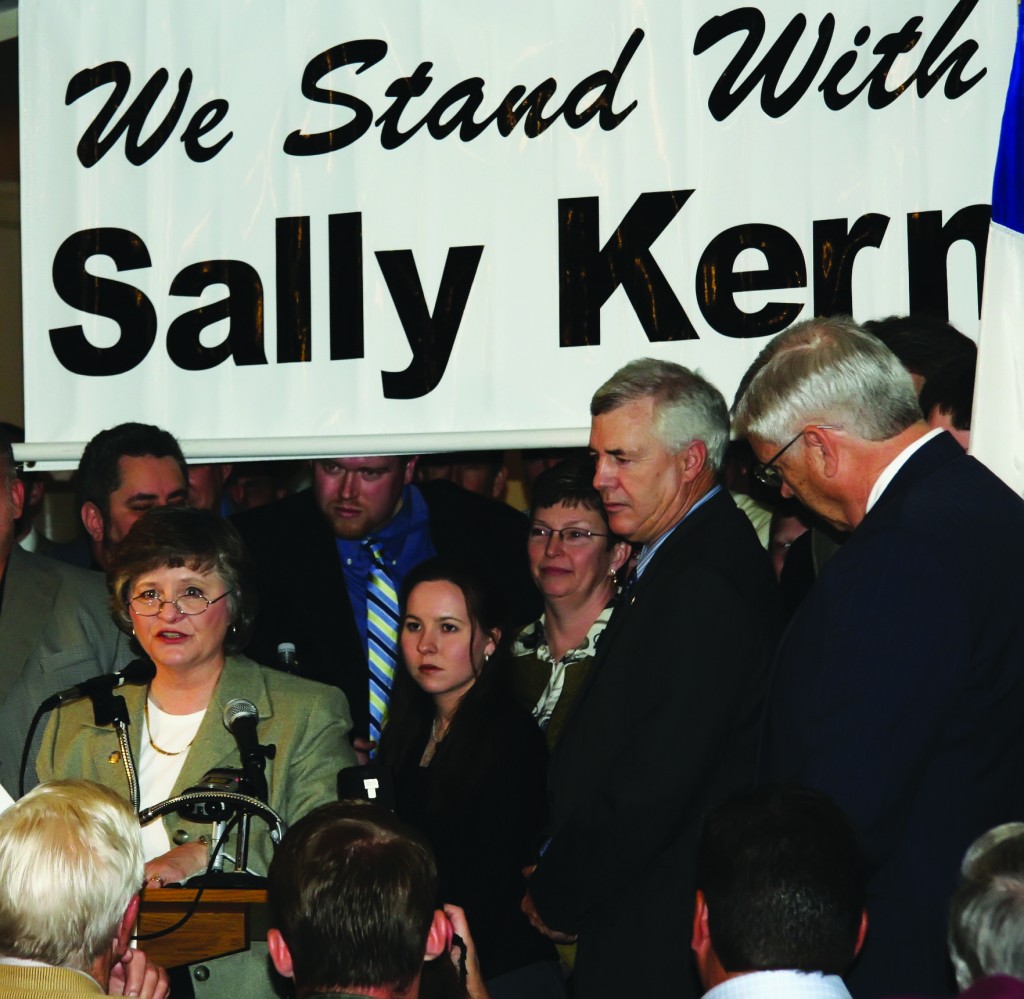 "Let me tell you why I will not, why I cannot, apologize for my comments. First, I believe God's Word. When God calls something a sin, then it is a sin. God never changes, and neither does His Word. My opinion doesn't matter. His Word is all that matters.
"Second, this nation was founded on Christian principles. We all know Patrick Henry's famous words 'Give me liberty or give me death.' He also said 'It cannot be emphasized too strongly or too often that this great nation was founded, not by religionists, but by Christians; not on religions, but on the Gospel of Jesus Christ.'
"Some say we should separate church and state, but Noah Webster said when writing to school children, "When you become entitled to exercise the right of voting for public officers, let it be impressed on your mind that God commands you to choose for rulers just men who will rule in the fear of God."
"Third, when I was running for office, I told the people I was running as a Christian candidate because I believed we were in a cultural war for the existence of our Judeo-Christian values. This situation is evidence that the cultural war is real. And it gives me the opportunity to keep my promise to those who voted me into office.
"Psalms 11:3 says, 'When the foundations are being destroyed, what can the righteous do?' We can remember that the foundation of society is the home as established by God-one man and one woman. Stand up for it. We can remember that the foundation of this nation was Christianity. Teach it to our children. We can remember that the foundation of the Church is God's Word. Believe it and practice it daily. We can remember that the foundation of salvation is Christ dying for a world lost in bondage to sin. Proclaim the Truth that will set people free.
"Thank God we still have Freedom of Speech in America. Let's speak out while we still can. God bless you, and God bless America."
Other speakers at the rally included Stephen Black, director of First Stone Ministries, and Peter LaBarbera, Americans for Truth about Homosexuality. Kern's husband, Steve, pastor of Oklahoma City, Olivet, helped to begin the rally with a few comments and led the crowd in the Pledge of Allegiance.
The rally was streamed live around the world at www.crusaderadio.com on the Wiley Drake show from Buena Vista, Calif.