2013 CP giving exceeds goal by 1 percent, State Missions Offering sets record
Oklahomans may have suffered in 2013, with May tornadoes and economic slowdowns highlighting certain setbacks last year, but God still blessed, as Oklahoma Baptists met and exceeded Cooperative Program (CP) allocation/budget with a total giving of $25,780,034.
"I am pleased and humbled by the way God has blessed our state through the generosity of Oklahoma Baptists," said Anthony L. Jordan, executive director-treasurer of the Baptist General Convention of Oklahoma (BGCO). "2013 was marked by tragedies and struggles due to storms, floods, and loss of jobs as major companies pulled back.  Yet, our people and our churches demonstrated a generosity that goes beyond our greatest expectations."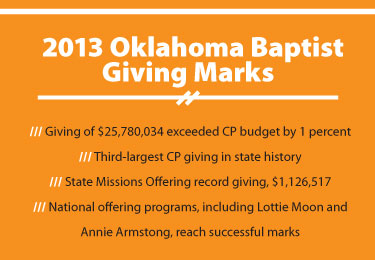 The giving total is the third largest in Oklahoma history. Kerry Russell said the BGCO was the only "large, mainline" state convention to finish over budget in the Cooperative Program for 2013. "That's an exclamation mark on what Oklahoma Baptist have done in 2013," he said.
"It's also heroic on their part because of inclement weather we experienced in December with Sundays being impacted in attendance," Russell continued. "Also, there is some slowdown in economy, even in 'the oilpatch,' that have contributed to some of the difficulty some people may have in certain regions of our state. But as always, Oklahoma Baptists step up, God leads them and they give generously."
The Edna McMillan Oklahoma State Missions Offering (SMO) for 2013 recorded giving of $1,126,517. This is a new record for the SMO, which funds more than 20 vital ministries in Oklahoma.
"Oklahoma Baptists believe in what we need to do outside of what the Cooperative Program is able to accomplish," said Russell. "These state ministries are vital, strategic and important, and Oklahoma Baptists want to give to SMO to see those ministries carried out and funded so people's lives will be changed."
Russell said much of the generous support could be attributed to heightened awareness of certain BGCO ministries such as Oklahoma Disaster Relief, which helped many Oklahomans recover from the May tornadoes and achieved a merciful reputation around the world, responding to natural disasters.
"I think it highlighted designated giving," he said. "Tornado funding exceeded $5.9 million last year."
The Lottie Moon Christmas Offering, which supports the Southern Baptist Convention's International Mission Board missionaries around the world, closes in April, 2014, but early projections appear to be on target. The Annie Armstrong Easter Offering, supporting North American Mission Board work, ended at $1,948,268 in 2013, which also is a new record for Oklahoma.
"We are so blessed as Oklahoma Baptists," said Jordan. "We are a united people around the advancement of the Gospel.  The BGCO and our affiliate organizations are healthy and strong and are making a difference in our state, nation and world. We are committed to give through the Cooperative Program because we have learned we can truly do more together than alone.
"Add to the strong Cooperative Program year, record State Missions and Annie Armstrong offerings and every indication points to record Lottie Moon offering as well.  It is amazing what our God has done through a generous and missional people.  Our giving extends our impact to the ends of the earth.  My heart overflows with thanksgiving!"