The Falls Creek "Road Show" is travelling across Oklahoma this summer. Because Falls Creek summer youth weeks were cancelled, regional and virtual events are now being offered. The Baptist Messenger recently sat down with Falls Creek Program Director Todd Sanders to talk about the upcoming plans for 2020.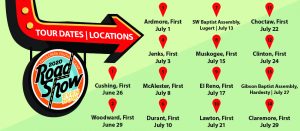 Baptist Messenger: For the Falls Creek Road Show, which will take place in multiple venues across the state, what will that experience look like for students?
Todd Sanders: Our goal with the Road Show is to create a Falls Creek evening service experience for those attending, as well as provide some other elements one would come to expect as a program of Falls Creek. Students can expect a fun atmosphere, vibrant worship, a focus on missions, an opportunity to engage with mission opportunities, Biblical teaching challenge, a Gospel message and a chance to respond to the Gospel. We are praying for the Holy Spirit's move in their lives.
Messenger: How many stops will there be, and what all is planned?
Sanders: We have 14 stops planned on our tour (see chart for dates and locations). We will be live-streaming from as many of those locations as we can. The night will include different elements we value as a part of a Falls Creek experience. We have some exciting things happening with original content as well as some powerful moments in the program each night.
Brian Mills and Stuart Henslee will be proclaiming the Gospel powerfully at each of the stops. Cody Dunbar and The Summit OK Collective will be leading us in worship over the tour. I am excited to show an original spoken word piece from Dillon Chase to our live participants and really thrilled to challenge students through Caleb Freeman's story of God's provision and purpose. It should be a great evening spent enjoying what we know and love in a Falls Creek service and, more importantly, responding to the powerful message of and move of God.
Messenger: What was it like trying to "export" some of the best aspects of Falls Creek on the road?
Sanders: It was a challenge but a great opportunity. Really, the challenge is in reducing such a large, multi-day, multi-faceted experience into one evening. We do know this, and I am happy to be able to confidently say, the centerpiece of a week of Falls Creek is the Gospel. We will definitely share the Good News, the life-changing message of the Gospel.
There are many other things we would love to be able to reproduce, but we are focusing on some targeted elements for the purpose of the Road Show. We are praying that the event itself will provide groups an opportunity to come together and build community and be an extension of the other things they are planning this summer. There is not a way this can be the one solution to replace a week of camp but certainly can be an important part of their experience and plans this summer.
Messenger: Can you talk about how helpful the churches and associations have been in planning this?
Sanders: Everyone has been so willing to be a part and to assist. We are excited to partner in this way. We have received positive feedback about the approach and the representation across the state. I wish we could go into every single church and association, but time and money all play into those realities and decisions in producing a series of live events like this.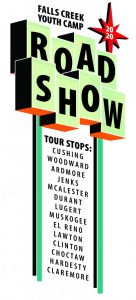 Messenger: Plans are in place for the Virtual, or online, Falls Creek. What all will students experience with this? Have many shown an interest?
Sanders: Virtual Falls Creek is available for groups to access and use according to their contextual needs. It includes group Bible studies, sermon and worship set videos, breakout video content, and more. As of mid-June, we have more than 2,700 students registered for The Road Show so far, and more than 100 churches have registered to use the virtual camp resources.
Messenger: Falls Creek reaches thousands each year with the Gospel. Do you anticipate the Gospel will be heard by many this summer?
Sanders: We do. I know it will be heard clearly through our road show events. And, as always, I know our church leaders will be advancing the Gospel with students in their areas. Before the situation handed to us by Covid-19, we had been praying for 3,000 students to come to faith through the ministry of Falls Creek services this summer. Now, I know the challenge of seeing that happen in a normal summer, at least through what we see recorded through our decision times. I am anxious to see what the Lord does in and through our churches doing camp at home this summer.
I believe we could still see that happen between the Road Show events, Virtual Falls Creek and the many camp alternatives our leaders have been so effective in planning and carrying out. With God, all things are possible!
Messenger: What are some things people can be praying for as these events begin?
Sanders: For God to do what only He can do. Save souls and change lives. I am praying for the summer of 2020 to be a summer we remember not because we had to game plan around the pandemic, but because God showed up and we got to experience that.
Visit oklahomabaptists.org/fallscreek2020 or skopos.org/fallscreek, for more information.