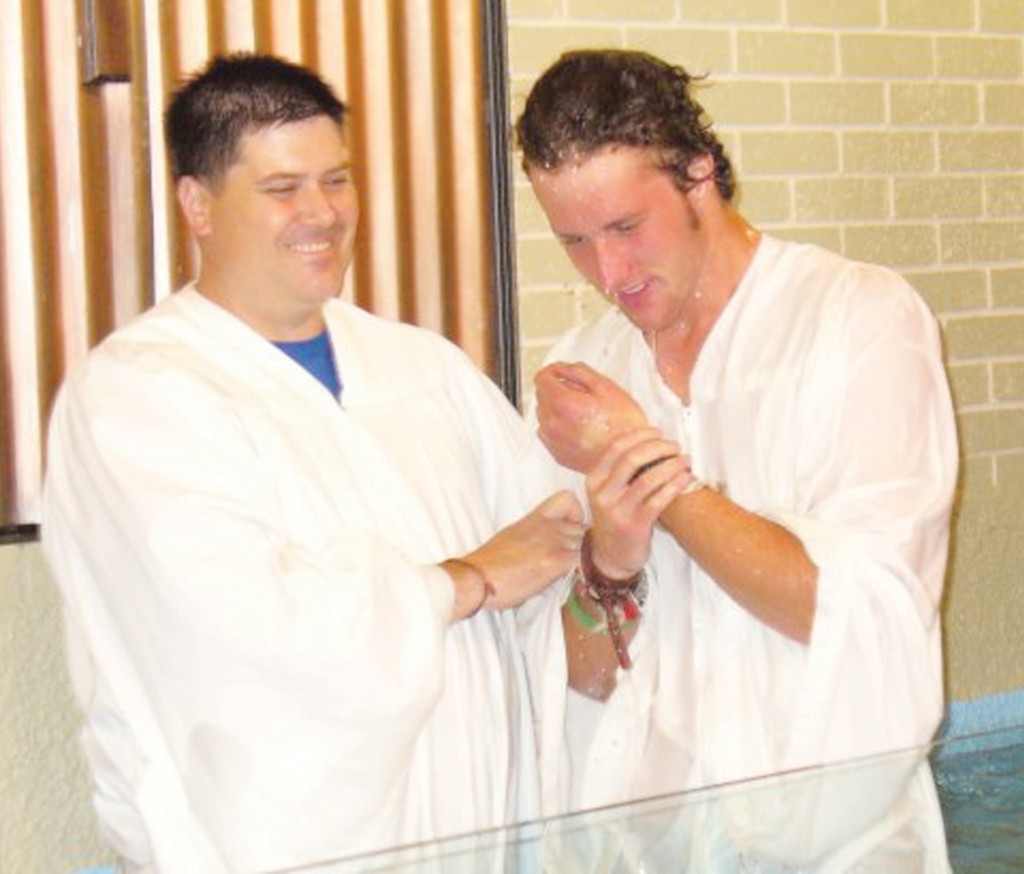 Glenn Hockley came to America to visit a friend. He is going home to England with the best friend anyone can have. Hockley, who lives in Kent, met Abbey Thomas through his cousin, Chelsea, who lived in Tulsa, but has since moved to Iowa. He visited with Abbey over the phone, and decided to come to Oklahoma to meet her.
He spent three weeks living with Abbey's parents, Steve and Phara Thomas. When it was time for Abbey to go to Falls Creek Baptist Conference Center for camp, she asked Glenn if he wanted to go also.
"I wanted to check it out and see what it was about, so I went," said Hockley.
Hockley said as he listened to the Falls Creek speakers, he started to think about his relationship with Christ.
"I didn't attend church much in England, maybe a Christmas mass or something at the Catholic Church," Hockley admitted. "I had heard about Jesus, but I didn't know I needed Him as my savior."
Hockley said he is extremely happy with the decision he made at Falls Creek.
"It is going to give me direction in my life," he said.
Hockley was baptized before he left for home by Todd Sanders, youth minister at Tulsa, Parkview, where Abbey and her parents are members.
Sanders said Hockley visited Parkview on Sundays and Wednesdays, but Falls Creek really opened the door to Christ for him.
"I talked with him on one of the days prior to his accepting Christ, and he was open to the subject, but very matter-of-fact, saying he didn't know at that stage if it was something he could believe in," said Sanders.
Sanders said Hockley came to America totally unchurched. His family, Sanders related, is very diverse with a non-Christian background, including atheisma nd Buddhism.
"However, through talking with friends, and listening to the messages at Falls Creek, he decided he needed to trust Christ, and it was something he believed in," Sanders said.
Sanders added being baptized was an important step for Hockley to do before he went back into his enviroment.
"It's also important we try to connect him with believers back home," he noted. "He needs Christians to walk alongside him and disciple him."
Sanders said the youth at Parkview are staying connected to Hockley through the Internet, including My Space and facebook.
"I think he had some scary moments before he left about heading back into his environment without support," Sanders related. "But he has a desire to grow deeper in Christ."
Sanders said at the beginning of the week at Falls Creek, Hockley told him that "people in my coutnry don't get excited about anything, much less about God."
"He saw an energy that comes from getting 5,000 teenagers together worshipping God," Sanders said.
Sanders said one thing that will help Hockley grow as a Christian is the Falls Creek devotional, "The Devotional to End all Devotionals." designed to help students keep gowing their faith, which he can download from the Internet.
Hockley has returned to England where he will be going to college, and plans to be a veterinarian or at least work in some capacity with animals.
He said there is a Baptist church just around the corner from his house, and he will be attending church there.
Hockley said he was excited to return home and tell his family and friends what happened to him while in America.
"Word already got back to my Dad," Hockley said, as he prepared to fly back home. "I will tell my friends about Jesus. I just hope they will listen."