SAN JUAN, Puerto Rico—Oklahoma Baptist Disaster Relief (DR) recently traveled to Puerto Rico to view damage and offer assistance to those affected by Hurricane Maria, a category four hurricane that wreaked havoc on the Caribbean Island country on Sept. 20.
Hurricane Maria knocked out power across the entire island, leaving many desperate for food, water and sustainable living conditions.
On Tues., Nov. 7, Don Williams, the BGCO disaster relief state director arrived in Puerto Rico, joined by Mark McClellan, BGCO ethnic evangelism specialist and Robert Haskins School of Christian Ministry dean and Mateo Perez, a Puerto Rico native and pastor of Tulsa, First Hispanic.
"There are about 60 Southern Baptist churches on the island of Puerto Rico and we're going to meet with as many as we can to discuss ways we can help," said Williams.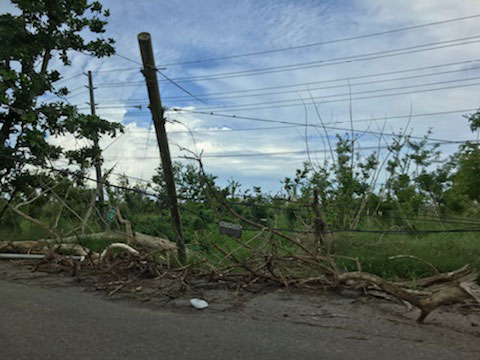 Williams and Perez distributed 600 "Water is Life" filtration straws to pastors, so they can give them to people in their communities.
Water is Life filtration straws are portable water purifiers, which can be used in any water source to provide clean and safe drinking water. All one needs to do use a Water is Life filtration straw is place the end of the filter into the water source and suck as he or she would on a regular straw. As the water passes through the filter, it is cleaned and deemed safe for consumption.
Williams and Perez also distributed gas generators to pastors due to the severe lack of electricity to the Island even seven weeks after Maria hit.
Williams and McClellan also helped in the form of $1,000 love offering checks on behalf of Oklahoma Baptist DR, to numerous Southern Baptist Convention churches in Puerto Rico, including San Juan, Oasis where Farlin Reynoso is pastor; Juana Diaz, Restoration where Ivan Rosario Torres is pastor; San Juan, Metro where Andres Lacuente is pastor; San Juan, Mission where Carlos Omar Mercado is pastor; San Juan, The Rock where Roberto Barreto is pastor; Catano, The Fundamento, where Fredy Toledo is pastor and San Juan, Isla Verde where George McKnight is pastor.
Generators and Water is Life straws were purchased with money donated from Oklahoma Baptists to DR efforts.
Williams said, "Once we met their needs, we talked with the pastors about how to minister to and move forward with their congregations after a disaster.
"We're bringing them things they need, but we're always trying to find out where there is a need and where we can be most impactful in what to do going forward with Puerto Rico relief efforts."
For those who wish to help with hurricane relief efforts, Williams says prayer is an important way that anyone can help with DR efforts. Additionally, relief efforts in Houston are ongoing, and tax-deductible donations can be made to DR by visiting www.okdisasterhelp.org.