MOORE— On Mon., May 6 at the Moore Warren Theater, both show times of fundraiser screenings for 'Caleb's Hope' sold out. Caleb Freeman, who was in a car accident in December 2017 that nearly took his life, has made it his mission to share God's transformation of his life since the accident.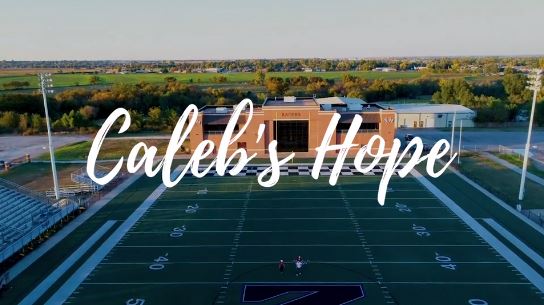 'Caleb's Hope' is a documentary created by Veritas Mission Films, a group of media missionaries from Stillwater, Hilcrest that tells the story of Caleb's accident and his and his family's journey to recovery.
"#butGod became a way on social media to connect all those concerned with Caleb's progress'" it says on the website for 'Caleb's Hope.' "His fight for life was chronicled and linked on social media and word spread virally to millions. The family shared if it were not for God, there would be no hope. Pray4Caleb messages also went viral and many continue to pray for a miracle as a massive vigil of intercession began. The epic journey of miracles and healing have all been woven like a tapestry in their lives and now you can help share their miracle story."
The 6 p.m. and 7 p.m. showings at the Moore Warren sold out prior to the featured evening. After the film finished, Caleb said a brief word and shared opportunities to help finish funding in hopes of the documentary reaching theaters across America.
Hance Dilbeck, executive director and treasurer of the Baptist General Convention of Oklahoma attended one of the screenings and said on Twitter, "This family honors Christ! Blessed to view 'Caleb's Hope' tonight. Let's get behind this film! #ButGod"
For more information, to view trailers and see the progress of funding for the documentary, visit calebs-hope.com.
To continue following Caleb's journey to full-healing, visit www.facebook.com/prayforcalebfreeman/.