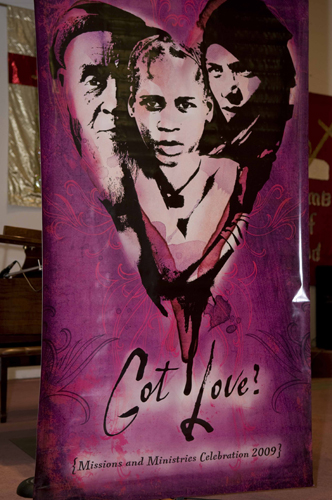 The starting point of missions is to be willing to risk life and financial goals for the Gospel, Charles Fielding* told about 300 people at the Missions and Ministries Celebration at Oklahoma City, Glorieta.
Telling about doing a Bible study with a young man who was planning to return to his country to tell his five brothers about Jesus, Fielding recalled he said a stupid thing.
"He was from a country that killed people who became Christians, and I told him he should think before he returned to tell his family," Fielding said.
I learned at that moment that we, as Americans highly value self-preservation and the pursuit of the American dream."
This kid, he said, had the right kind of Christianity—he was a disciple.
"I had an identity crises, and I didn't know what a Christian was," he explained. "The word 'Christian' is used three times in the Bible, and the word "believer' is used 27 times, but Jesus uses the word 'disciple' 295 times.
He noted the word 'disciple' is closely defined in Luke 14.
"We have to believe in our hearts we are disciples so it will overflow in our behavior," he said. "You cannot make disciples if you aren't a disciple."
He divulged that everything a person does is irrelevant if it doesn't involve the Great Commission.
"We want to be passionate about what Jesus is passionate about, and He's passionate about the nations," Fielding said. "There are 16,000 nations on Earth—ethnic and language groups."
He said 40 percent of the world is unreached by the Gospel.
"The purpose of every disciple is to advance the Gospel to the ends of the Earth," he acknowledged. "Pray your children will grow up to be missionaries. It's the best thing a disciple can do."
Fielding encouraged the crowd to become strategic in their prayers and in the way they give their money.
"Find out where those unreached people groups are and pray specifically," he urged. "And make sure your money is going where the Gospel has never been before. We have to put on the identity of a disciple and get on the agenda with God."
Debbie Webber, prayer strategist with the International Mission Board, presented a report on East Asia, which messengers to the BGCO annual meeting will vote on this week.
"Christian workers can attest that God is working in a mighty way among people groups and cities in East Asia," Webbier said. "After 12 years, a church was started in a particularly resistant group. In many instances, people recently saved have said they have been waiting their whole lives to hear about Jesus."
She said there are 1.6 billion people in the area and most are lost.
"There are 128 cities of more than 1 million people with no IMB workers," she said. "If you remove all churches and Christians from Oklahoma, that is something like what we are talking about. The East Asian people desperately need our prayers.
Daniel Goombi, a featured missionary in the Annie Armstrong Week of Prayer, said he works on four Native American reservations in Kansas.
"We  had 5-6 people in the first Vacation Bible School we did, which was the first ministry on the reservation in more than 50 years," he said. "Can you imagine going 50 years without being told God loves you or hearing the Gospel?"
He said several members of Oklahoma City, Glorieta came to help with that Bible school, and led a grandmother to the Lord.
"We have since led three generations of her family to the Lord," he revealed. "We now average about 35 children in six weeks of ministry.
Goombi told of the death of three family members when their van was swept into 10 feet of water during a flash flood in southwestern Oklahoma.
"My grandmother, aunt and cousin died in that accident," he said.
He told of the Christmas before the accident when his grandmother had given him a blanket that had been in the family for years.
"All I had was this blanket, and I could feel her in it as I wrapped in around me," he recalled.
He said tribes from across the nation came to her funeral where the Gospel was shared.
"It was amazing to see how the Lord worked in an accident like that," he said.
Just a short time later, a WMU director from Arkansas called and said WMU members wanted to do something, and asked if they could use blankets.
"The only thing I had holding myself together was my grandmother's blanket," he said. "From that phone call came a blanket ministry. There are lots of things you bless us with, and you don't even know it."
Pat Wagstaff, who served as WMU president from 1998-2002 and 2006-2008, said as she celebrated the 10th anniversary of the Native Praise Choir, which sang at the meeting, she thought about the 97 percent of Native Americans who are lost.
"What are we doing about it?" she asked. "Why haven't we told them?"
She said there are missionaries who are read to go to the field if money was available.
"Our Lottie Moon offering goal is $175 million," she said. "If every one of the 16 million Southern Baptists gave $11.37, we would reach our goal."
Wagstaff asked those willing to commit to go, give and pray to come to the altar.
*Names changed