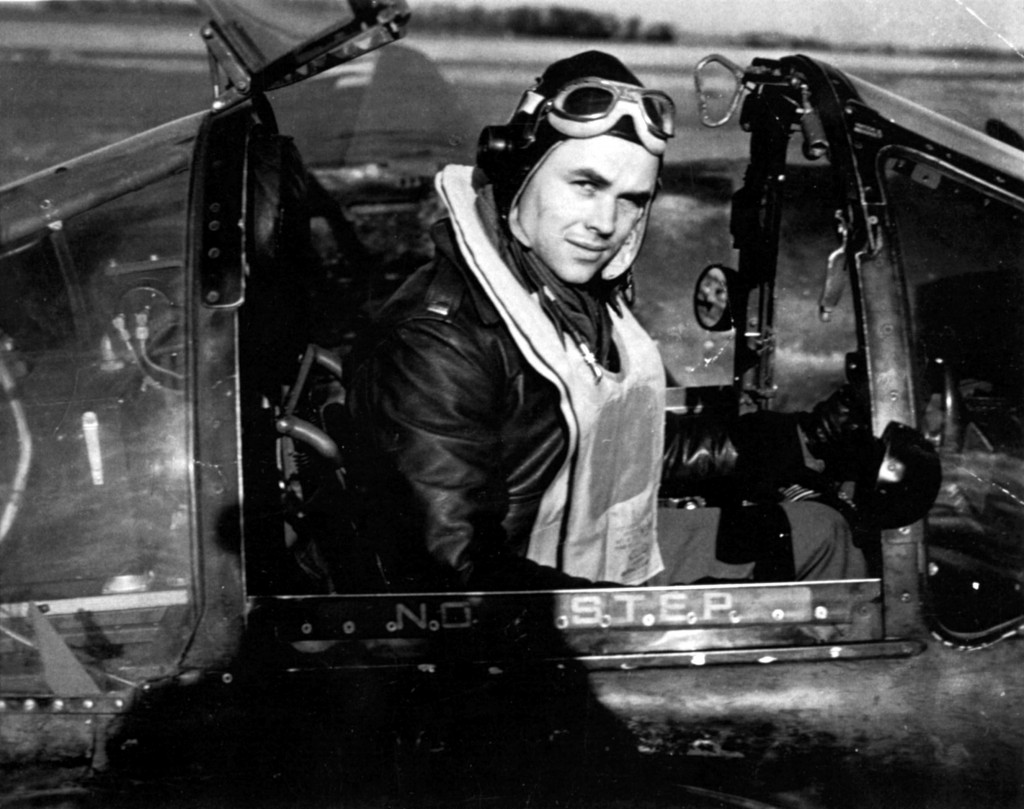 Irvin Jackson Rickey Sr. left the U.S. Army Air Corps as a highly decorated soldier, but while service to his country was of major importance to him, it didn't come close to matching service as a soldier in the army of his Lord and Savior.
A World War II veteran, Rickey was in the National Guard before enlisting in the Army and went from civilian to officer, which is very rare.
Born in Oklahoma City, he was one of seven children and a graduate of Oklahoma City's Central High School. He was employed by Capitol Steel and Iron Company before entering the Air Corps in August 1942.
A fighter pilot, he was headed for the Philippines to fight the Japanese, when he asked for an assignment in the European-African theater, where he was transferred to photo reconnaissance. He flew 30 missions, completing 27 of them.
On his mother's birthday, Nov. 26, 1944, he was shot down over Stuttgart, Germany, captured immediately and held at Stalag Luft 1 near Barth, where he spent the next five months, under brutal and torturous conditions. He was freed when the Russians liberated the camp May 1, 1945, and flown to the American camp near Dieppe, France.
A war hero, he earned the Air Medal with Three Oak Leaf Clusters, Purple Heart, Prison of War, European African Middle Eastern Campaign with three Bronze Stars, World War II Victory Medal, American Campaign Meal, Good Conduct Medal and 45-Caliber Marksmen Medal.
But through all of this, his greatest joy was serving the Lord.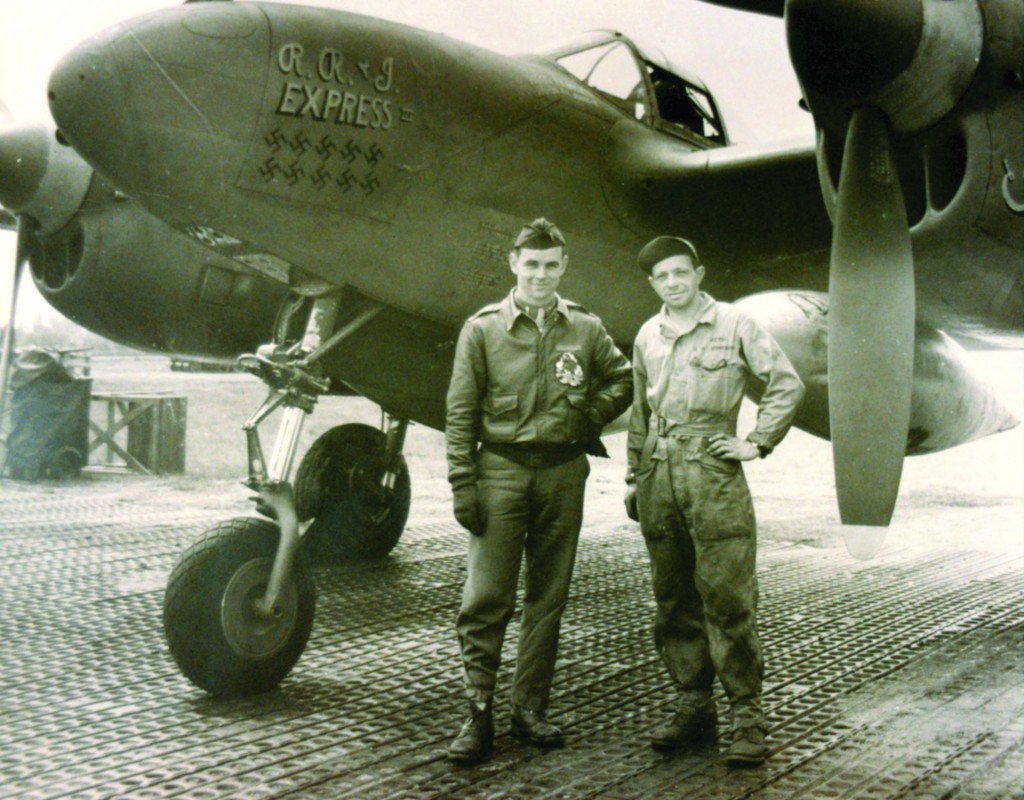 Rickey was saved as a teenager at a Hyman Appleman revival. He taught a young boys' Sunday School class at Oklahoma City, South Memorial, where several residents of Boys Ranch Town were in his class. Today, many of the boys who were saved in his class, are members of Oklahoma City, Southern Hills, where his son, Irvin Rickey II, is a member.
The younger Rickey's Sunday School teacher, Kerry Russell, knowing the history and dedication of Rickey Sr., is the one who suggested the class do something to honor the memory of Rickey Sr., who died June 3 at the age of 95.
"We wanted to do something greater than sending flowers," said Russell. "This man was a real hero, and hearing his story is just fabulous."
So the class decided to buy a seat in the Falls Creek Tabernacle to honor the war hero and one who was completely dedicated to God, and who had 27 years of perfect attendance in Sunday School.
"We collected the money ourselves and paid for the seat," said Russell. "We've had comments from others that buying a seat in the tabernacle would be a great way to honor the veterans in their families."
Rickey II said, while his father was a war hero, he would have much rather be remembered as a person who loved and was dedicated to his Savior.
"He loved the Lord deeply and served Him all of his life," Rickey II said. "He always prayed for those serving in missions around the world."
The year before his father's death, Rickey II accompanied him on an honor flight to Washington, D.C. with 99 World War II veterans. Fitted into 11 buses, the veterans visited the World War II, Vietnam and Korean Memorials, the Lincoln Memorial and Arlington Cemetery for the Changing of the Guards at the Tomb of the Unknown Soldier.
"Dad loved to write poetry," recounted Rickey II. "He wrote volumes, and some were read at his funeral service. One in particular, 'Fast Asleep in Jesus,' gives the viewpoint of someone who believes in Christ."
Rickey was married to his wife, Emma, for more than 50 years. Members of Oklahoma City, Capitol Hill and Walker Avenue before joining Southern Hills, they were parents of three daughters and one son.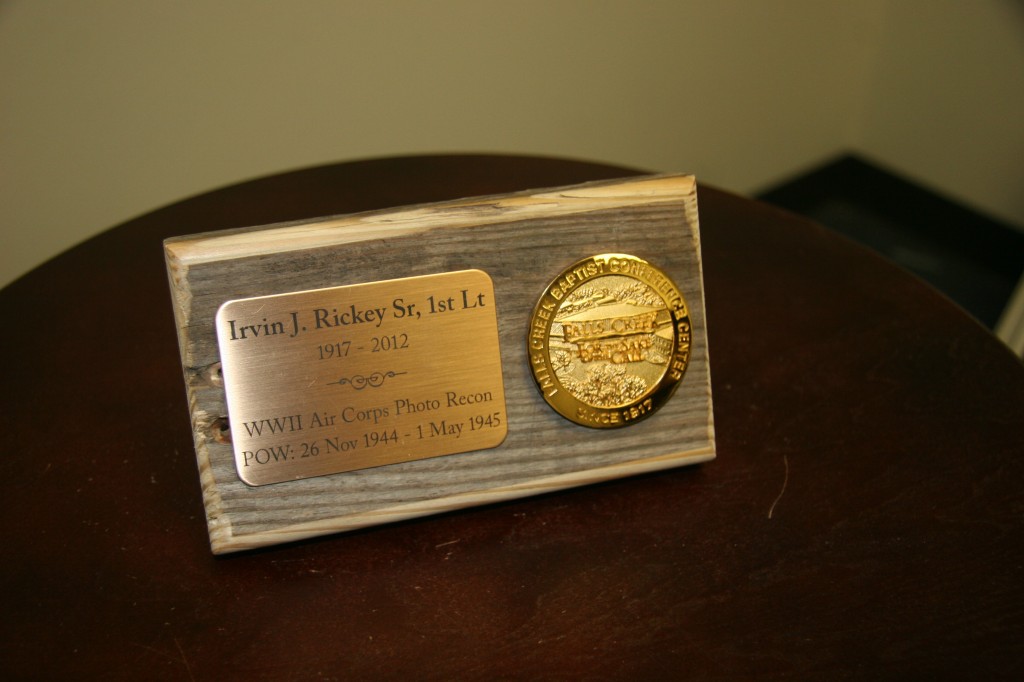 Marty Harkey said the Save-A-Seat program was a wonderful opportunity for friends to show the Rickey family the respect they had for Rickey Sr.'s sacrifice.
"Friends in their Sunday School class joined with them in remembering Rickey Sr. in honoring him and his sacrifice on our behalf," Harkey said. "Honored veterans need to know that we have not forgotten their sacrifice and truly thank them for that physical sacrifice for us. First and foremost, personally saying 'thanks' is the first order of business in showing honor to our veterans."
Harkey added that while flowers, cards and other signs of appreciation are appropriate, to be able to take a child or grandchild in years to come to a seat given in honor of their family member will last much longer than a card.
"Family, friends and church groups can show their appreciation for our honored veterans by sponsoring a seat in the tabernacle at Falls Creek to commemorate a special day in the life of a veteran," Harkey noted. "A birthday, Christmas or the anniversary of a veteran's homecoming are all significant days to be remembered. A sponsored seat at Falls creek will be remembered for generations to come, and for some veterans, sponsoring a seat may be the only outward sign that we really do thank them for their sacrifice and all they have done for us.
"John 15:13 says, 'Greater love hath no man than this, that a man lay down his life for his friends,' Just as Jesus freely gave Himself for us, veterans have been willing to lay down their lives, if necessary, for our freedom and for freedom for others the world over."
For more information on sponsoring a seat at Falls Creek, call 800/690-6933.