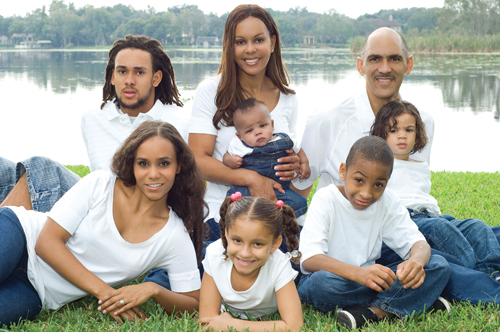 by Joni B. Hannigan
TAMPA, Fla. (BP)—Tony Dungy no longer needs the game-day apparel and gear of an NFL head coach, but that doesn't keep him from donning distinctively different attire when the occasion calls for it.
"They asked me to play John the Baptist," Dungy said of his church's Easter pageant, in which he baptized his 18-year-old son Eric, who was playing Jesus.
"It was just really moving," Dungy said. "I was just so proud of him." Smiling at the memory of the moment, Dungy credited his son with having "a heart" to practice and rehearse.
Perhaps Dungy's role as John the Baptist may be apropos to the prophetic voice the former Super Bowl-winning coach has been sounding for men to love and respect their wives and for fathers to be a down-to-Earth "Superman" to their children. And in a broader sense, Dungy's prophetic voice has pointed people toward living for Christ, indeed letting Christ live through them, as the ultimate success in life.
Since retiring from the Indianapolis Colts in 2009, Dungy has kept his pledge to spend more time at home with his wife Lauren and their six children as well as more time at Central Tampa (Fla.) Church.
It's the kind of commitment he promotes as a spokesman for All Pro Dad, a football-themed organization that aims to help men be good fathers.
At church, whether in teaching settings or just his attendance on Wednesday nights, Dungy has stepped forward.
It's been "fun," as he described it, "just being there and just being supportive and talking about what it means to grow up in this world, some of the pressures that you are going to see and how to handle them, and what the Bible says about image and decision-making and role modeling—just to be a sounding board for the young people in our church."
Being consistent on Wednesday nights was Dungy's intent in taking a weekend role on NBC's "Football Night in America" after retiring from the NFL. And it enables him to be involved with his kids' sporting events, birthdays and parent-teacher conferences.
"I feel like I'm more of a dad now," Dungy said.
In an interview with the Florida Baptist Witness during an All Pro Dads event in Tampa this spring, Dungy fielded questions about the challenges he's faced since retirement, his mentors in the faith and what's it's like to live in the limelight.
Even at this stage of his life, Dungy said time management is the biggest challenge he has faced. Accustomed to the structured days of practice, travel and games in professional football from July 20 until each year's playoffs and Super Bowl, Dungy now is learning to direct his own life.
"Trying to manage that and use the platform that God has given me and still be home enough to be effective as a dad, that's been a challenge," Dungy said.
In naming those to whom he looks for wisdom, Dungy said his pastor "in town" at Central Tampa, Jeffery Singletary, "has been sensational," and he still talks "all the time" to Richard Farmer, who was the pastor at Bethany Church in Pittsburgh when Dungy was newly married and playing for the Steelers.
Ken Whitten, another Tampa-area pastor, who was his pastor at Idlewild Church, which birthed the inner-city Central Tampa congregation, is another "great" in his life, Dungy said.
Whitten and Dungy have remained close, with the Dungy family continuing to be involved in missions and ministries at both church campuses, Whitten said in an interview.
"A leader has followers and Tony Dungy's leadership is measured by those who follow him both on and off the field," Whitten said. "Tony is well-respected and loved in this community. His personal relationship with Jesus Christ is what defines him.
"In a world starving for heroes, it is imperative their lives exhibit an attitude and actions that young men and women can emulate," Whitten said. "Tony Dungy is a man you can say, 'He is a role model.'"
Dungy said professional athletes and their families actually have something in common with ministers and their families: They live in the spotlight. He acknowledged it can be difficult and empathizes with pastors and their families who may feel like everyone is watching them.
"Your children do get a little stressed out because everybody's around you," Dungy said. "Sometimes it's a little hard to be out in public, but more than anything else, you realize you have a platform, can be a role model and can show people that Christ living through you is the way to go."
When the going gets tough and the kids don't want to live a fishbowl experience, Dungy said it's best to be straightforward.
"You just have to say it goes with the territory; it's part of the job," Dungy said. "It won't always be this way, we just have to bear with it."
While living in the spotlight is not without its "perks," Dungy reminds his family that ultimately God is watching.
"Really, you just say whether the spotlight is on you or not—whether there's 100 people around you or one person—you have to be who God would want you to be, and that's the way we try to live," Dungy said.
Quoting his favorite Bible verse, a rhetorical question, Matthew 16:26, Dungy asks: "What would it profit a man if he gains the whole world but forfeits his soul?" Dads can benefit by studying the "very short, very practical" New Testament Book of James, Dungy advised, for day-to-day life lessons, "things to do, things to avoid."
In a series of transparent blogs on the All Pro Dad Web site (www.AllProDads.com), Dungy talks about everything from teaching children how to be grateful for material things to how to avoid the dangers of alcoholism. He gives advice about the Tiger Woods situation, offers predictions on various NFL draft choices and reflects on choices made by pro athletes.
"Everything is a blessing and so you have to be thankful for what you have and not think about what you don't have," Dungy says in one video blog about materialism.
Dungy's overarching message, again and again, offline and online—at a prison in South Carolina where he spoke this year to 2,000 inmates, at the University of South Carolina, where he addressed the football team—doesn't waver: "I told them the best way to (take charge of your future) was put Christ in charge of your life and follow His direction and guidance."
Joni B. Hannigan is managing editor of the Florida Baptist Witness newspaper.