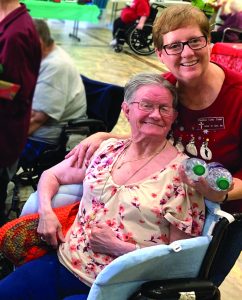 Cathy Tisher is a Mission Service Corps chaplain missionary through the North American Mission Board. For more than 16 years, she has led "Called to Care" ministry which ministers to residents and staff members of senior living communities in the Oklahoma City area.
Tisher, posing right with a resident, completed her seventh Christmas of providing a Christmas store for residents. The Christmas store allows residents the opportunity to provide Christmas gifts to caregivers and family members.
"The Christmas store shows the love of Jesus and gives the opportunity to share the Gospel with residents and family members," Tisher said. "It has happened on many occasions."
There are many stories of residents and family who have made professions of faith in Christ because of the Christmas store. One resident who had been closed off to Gospel discussions was open to a visit from Tisher after the Christmas store made a gift possible for her. The 93-year-old lady made a profession of faith in Christ.
Tisher said more than 500 gifts were provided this year through the Christmas store. She also said her ministry gave more than 350 Christmas gifts to residents.
A member of Oklahoma City, Southern Hills, Tisher had many Southern Hills members, including Pastor Doug Melton, help with wrapping the Christmas gifts.
In 2020, Tisher will be featured in different periodicals provided by the national office of the  Woman's Missionary Union.