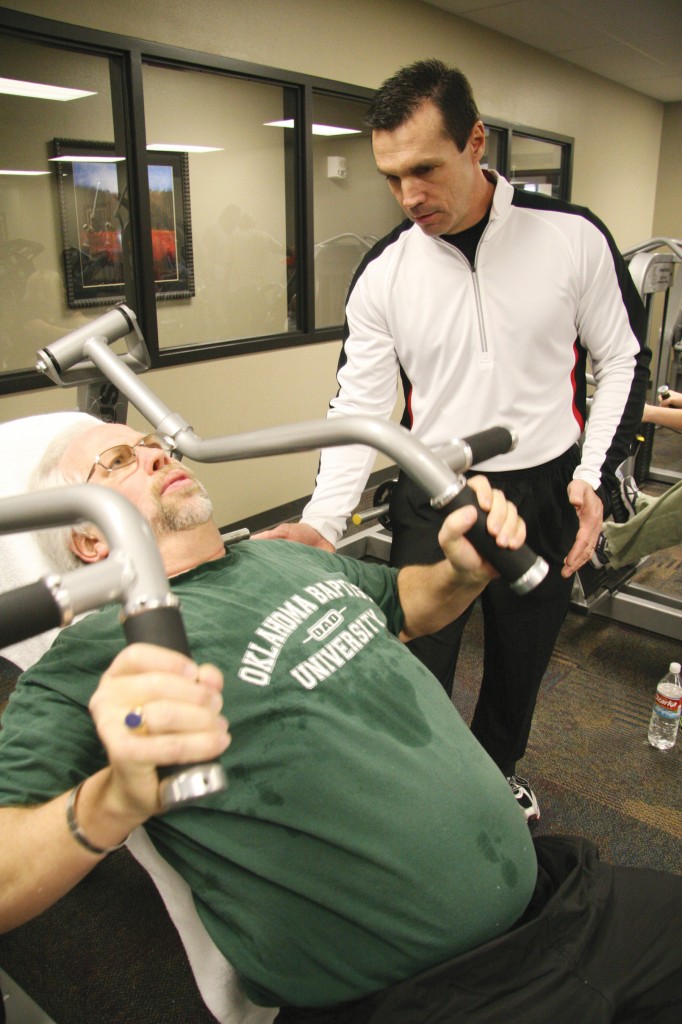 Fitness, health, nutrition. With the overwhelming amount of information circulating these days, where does one go to discover the secrets of a healthy lifestyle?
A recent survey done by Purdue University lists Baptists as most likely to be obese compared with those in all other denominations.
So, the Baptist Messenger is instituting a column written by Michael Smith, a fitness expert and member of Moore, First, to give advice on creating and maintaining a healthy lifestyle. The column will appear the first Thursday of every month on page 4.
Just a few years ago, Smith was 50 pounds overweight with high blood pressure and a high cholesterol count. This, added to the fact he and his teenage son were looking for more opportunities to spend time together, led them to a gym for workouts.
It took Smith about three years to lose the 50 pounds, but in the meantime, his son won a body building contest and was named Mr. Teen Oklahoma in 2006.
During this period, Moore, First was building a new family life center and atrium, which included a fitness center.
Smith said he felt like God was leading him to help others in the church who had weight problems, so he became a personal fitness trainer, in addition to his full-time job as a civilian employee of the Air Force and part-time work with the University of Phoenix teaching graduate business and management classes.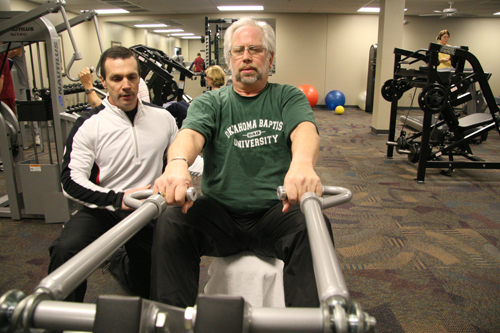 "I wanted to develop my skills so when we got our church facility ready, I could volunteer to help with weight and fitness problems at the church," said Smith.
Smith said when the church's gym opened, he started looking for a course to teach that would take people into the classroom and help them learn how to eat and the types of exercises they need to do.
"I want to help people get past a lot of the hype and confusion," he said. "There is so much information, if you aren't a student of it, it becomes overwhelming and people don't want to fool with it."
Because he couldn't find a course he liked, Smith decided to write one.
"Since I had been teaching Sunday School for years, I decided I should be able to develop a course," he said. "When I finally finished writing it, it was the fruition of about two years of work in course development, two years worth of being a personal trainer and several years of just study and working towards being healthy and fit."
Smith said, in his teaching, he tries to provide practical information people can apply to their lives right where they are.
"Suppose you need to lose 40-50 pounds. Do you want to go on a popular diet for the rest of your life?" he asked. "People have a hard time reconciling not wanting to go on any special diet and trying to lose weight and get healthy."
But Smith said he tries to help people understand that they can take their current lifestyle and the things they like to eat, and make some adjustments to those so they can begin a weight loss and a healthy lifestyle instead of having to be on a vegetarian diet the rest of their lives.
"I try to stay away from the word 'diet,'" he emphasized. "I hope people learn a little more about nutrition, why they need to eat right and what eating right means.
In his current class of 42, Smith said he has everybody from a 25-year-old lady who needs to lose 10 pounds to an 85-year-old man who doesn't need to lose a lot of weight, but has been diagnosed with diabetes.
"I have people who need to lose anywhere from 10 pounds up to 120-150 pounds, as well as a couple who are underweight because they are not eating nutritiously correct," he said. "Even underweight people need a healthy lifestyle."
Smith's course, titled "Fit Service," teaches the basics of nutrition and exercise, and leads participants through how to eat healthy and begin exercising to feel better and have more energy.
However, Smith says that more important than being physically fit, is being spiritually fit, so the course also introduces the basics of the Christian life and the purposes of the church.
"Many parallels can be drawn between the beginning and struggles of a Christian life and a life of trying to eat and live healthy," said Smith. "The first week of the course is like an evangelistic week. We make sure everyone is introduced to the Savior."
Smith's first column will appear in the Feb. 7 issue.