A new gift matching opportunity from The Baptist Foundation of Oklahoma promises to help churches multiply ministry funds and maximize Kingdom impact.
Thanks to a generous gift from a donor's estate, the Foundation has created a $100,000 gift matching fund for Oklahoma Baptist churches. For every $4 a church places into endowment, the Foundation will match $1, up to a $10,000 maximum.
"This gift match is a wonderful opportunity for the Foundation to come alongside churches and support the work they are already doing," said Foundation President Robert Kellogg. "It's a privilege to help churches multiply funds for ministry because it means they'll have the resources needed to help people who are hurting, to share the Gospel and make disciples."
Currently, the funds provided for the Foundation's gift matching program are capped at $100,000, which means the match is offered on a first-come first-served basis. To qualify, funds must be contributed to a new or existing church endowment with the Foundation.
Kellogg explained that endowment builds long-term financial stability while simultaneously meeting short-term needs. It is designed to multiply a gift far beyond its original amount, creating a perpetual stream of income by annually distributing a portion of the growth of invested funds while preserving the principal.
For example, if a church took advantage of the full match and placed $40,000 into an endowment, the Foundation would provide an additional $10,000, for a total of $50,000. In 25 years, that $50,000 endowment would grow to double its annual distribution from $2,250 to $4,570. Cumulative annual distributions over the 25-year period would total $82,000, more than $30,000 above the original $50,000 endowment.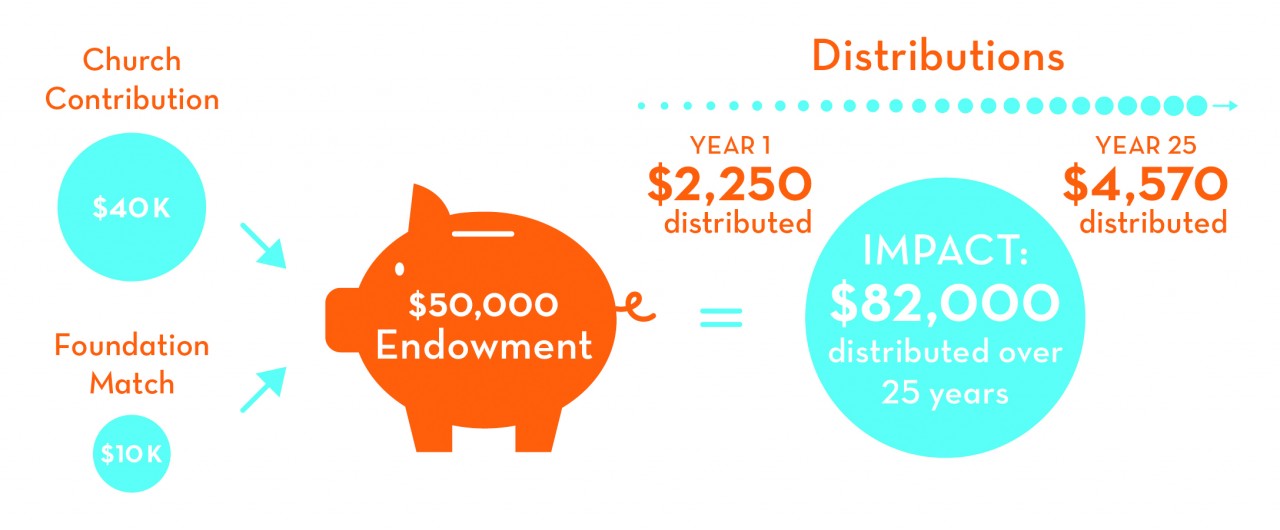 "This is our first matching opportunity, and I believe it's going to be wildly successful," said Mike Romero, Foundation chief development officer. "It's an example of one generation's opportunity to provide the resources needed to ensure that the next generation hears the Gospel. Those who came before us gave to create the church we have today. Now, we need to ask ourselves what we can give to grow the church of tomorrow."
To learn more about how your church can participate in the Foundation's endowment gift matching program, visit bfok.org/giftmatch.