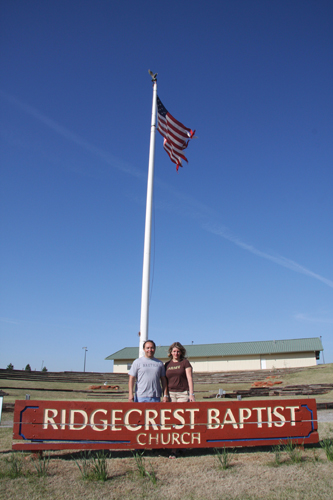 BRIDGE CREEK—This tiny Grady County town wasn't even incorporated until 2000, but that doesn't mean there wasn't a strong community present when the darkest day in its history dawned on May 3, 1999. Before the night was over, 12 persons in the area had lost their lives, and Bridge Creek was forever linked to the strongest tornado spawned in the history of the United States. The F-5 twister, whose wind reached a record of 301 miles per hour around 6:54 p.m. as it passsed over Bridge Creek, according to the National Oceanic and Atmospheric Administration, was one of 66 confirmed tornadoes to hit the Sooner State that day. It blew Bridge Creek away and along with it, Ridgecrest Church. The twister's total damage estimate was $1.1 billion.
On May 3, the members of the church will gather on the 10th anniversary of the storm—fittingly on a Sunday—to reflect, remember and rejoice over where God has brought them since that terrible day.
Ridgecrest has invited special guests to attend what they are calling a "Surthrivor Service," to be held in the church's amphitheater beginning at 10 a.m.
"We've titled it Surthrivor, because our people didn't just survive, they have thrived," said Pastor David Rivers. "We're having it outside to accommodate the large number of people we hope will show up."
The church mailed more than 200 invitations to those who responded with help after the tornado.
"We want to recognize our volunteer fire department, police and the sheriff's department, and the Baptist disaster relief volunteers, who will stay and feed us afterwards," Rivers said.
The recognition also will include teachers and school district personnel.
"We'll also want to remember those who lost their lives during that tragic event," the pastor added. "We just want to try to get the community together to reflect on where we were and where we are now and rejoice about how God works through that process with us and what we've learned through it.
"Our goal is to be upbeat and that's why we've called it Surthrivor."
Rivers plans to share a message of hope during the worship service.
"I'm going to focus on taking the things of life that are thrown at us and moving past them, using the life of the Apostle Paul as an example and all the tragic events that he went through, how he learned to be content wherever he was, how excited he was to see how God had worked in his life and how he had grown.
"I'm going to remind everyone how we were stretched (by this tragedy) and how we grow through difficulties and stuggles."
Rivers was associate pastor of the church on May 3, 1999. He has been senior pastor for the past six years, following Tom Duckett, who was pastor 10 years ago.
He said about a third of those who were a part of the church's membership as of May 3, 1999 remain.
"We lost better than half of our congregation right after the storm through folks moving; our older people especially because we were had to shift our meeting place around, meeting sometimes in a tent, sometimes outdoors and sometimes at a school. It was just very difficult for them."
Today, Ridgecrest runs between 130-150 on Sundays.
It took them about two years get a new building, and the church is in the process of erecting a new children's building, debt free.
"It was part of our master plan," Rivers said as he looked out over the church's 13-acre site four miles south of Hwy 37 on S. Sara Rd. "We began laying groundwork for the future immediately after we cleared the debris away. We're in the second phase of that."
The church's regular praise team will lead worship during the Surthrivor Service, featuring the song, "God of this City," by Chris Tomlin.
"Essentially, it says we're not done in this city," Rivers said as he scanned the horizon. "There's still work to be done here."