PUERTO RICO—Southern Baptist Send volunteers responded to a Jan. 7 devastating earthquake that struck the island of Puerto Rico. Southern Baptist Convention (SBC) leader and Puerto Rican pastor Felix Cabrera has been working to get much needed aid to the people affected by the 6.4 magnitude quake.
"We had been feeling tremors since November that increased in the past two weeks," said Cabrera who currently serves as SBC second vice president and is the executive director of the Convencion de Iglesias Bautistas del Sur de Puerto Rico.
Cabrera explained the conditions in a text message interview.  "The past two days, we woke up with strong tremors," he texted, "Monday with a 5.6 quake, and this morning at 4 a.m. with 6.4 and two hours later with 5.6. The major damage is in the southwest area of ​​Puerto Rico. The damage was unlike anything we had seen before.
"After a hurricane as devastating as Maria, we didn't expect something like this so soon. The sad and difficult thing is that we continue to have aftershocks every hour. The earth continues to move and that makes the whole population very anxious."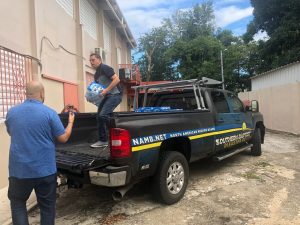 Hurricane Maria was a deadly Category 5 hurricane that devastated the island in September 2017, wiping out the power grid and much of the infrastructure. Now the island is once again without power.
Cabrera reported he and his family were safe. "There was no damage to the location where we meet as a church, thank God! We are in the metropolitan area of ​​the island, and there has not been much damage there so far."
Immediately after the quake, Cabrera began organizing initial relief efforts. "Crises are opportunities in the hands of God," he said. "That's how we saw it. We believe that all this will be used as evangelistic opportunities for us Southern Baptists in Puerto Rico."
The local North American Mission Board Send Relief unit and volunteers from Puerto Rican Baptist Convention churches began serving victims of the earthquake shortly after the quake.
"In the midst of the uncertainty brought by these earthquakes, our churches have been ministering and evangelizing in these communities," Cabrera said. "People have been receptive to us and grateful for the relief we have been able to provide. Volunteers from six churches in our convention came together to help. More than 900 meals were cooked and served at three different locations; 600 of the meals were delivered to people who were impacted by the quake."
Cabrera expressed appreciation for Oklahoma Baptists who have shown support and are praying for him and his family.
"We are very grateful for my beloved Oklahoma Baptist family," he said. "The (Oklahoma Baptists) executive director, my pastor, (Hance) Dilbeck immediately contacted me to see if we were okay. Not only him but also Harry Black (director of missions) of the (Oklahoma City) Capital Association, Mark McClellan (dean of Haskins School of Christian Ministry) and all our family from Quail Springs Baptist Church. Many brothers from other churches in the state. It has been a year since we left Oklahoma on this mission. I thank God for my spiritual family in Oklahoma, their support for us, in every sense of the word. Oklahoma Baptists put their actions where they put their words. We love and miss them."
Cabrera requested continued prayer for the people of Puerto Rico, who are reeling from the impact of two historic natural disasters.
"Please pray also for the safety of our family, my wife and daughters, for the church we are planting, our planters and pastors of the Convention," he said. "Pray that we can take advantage of the crisis to point people to Christ. Pray also for wisdom in case we have to face another strong event similar to the one we have had to face in recent days."