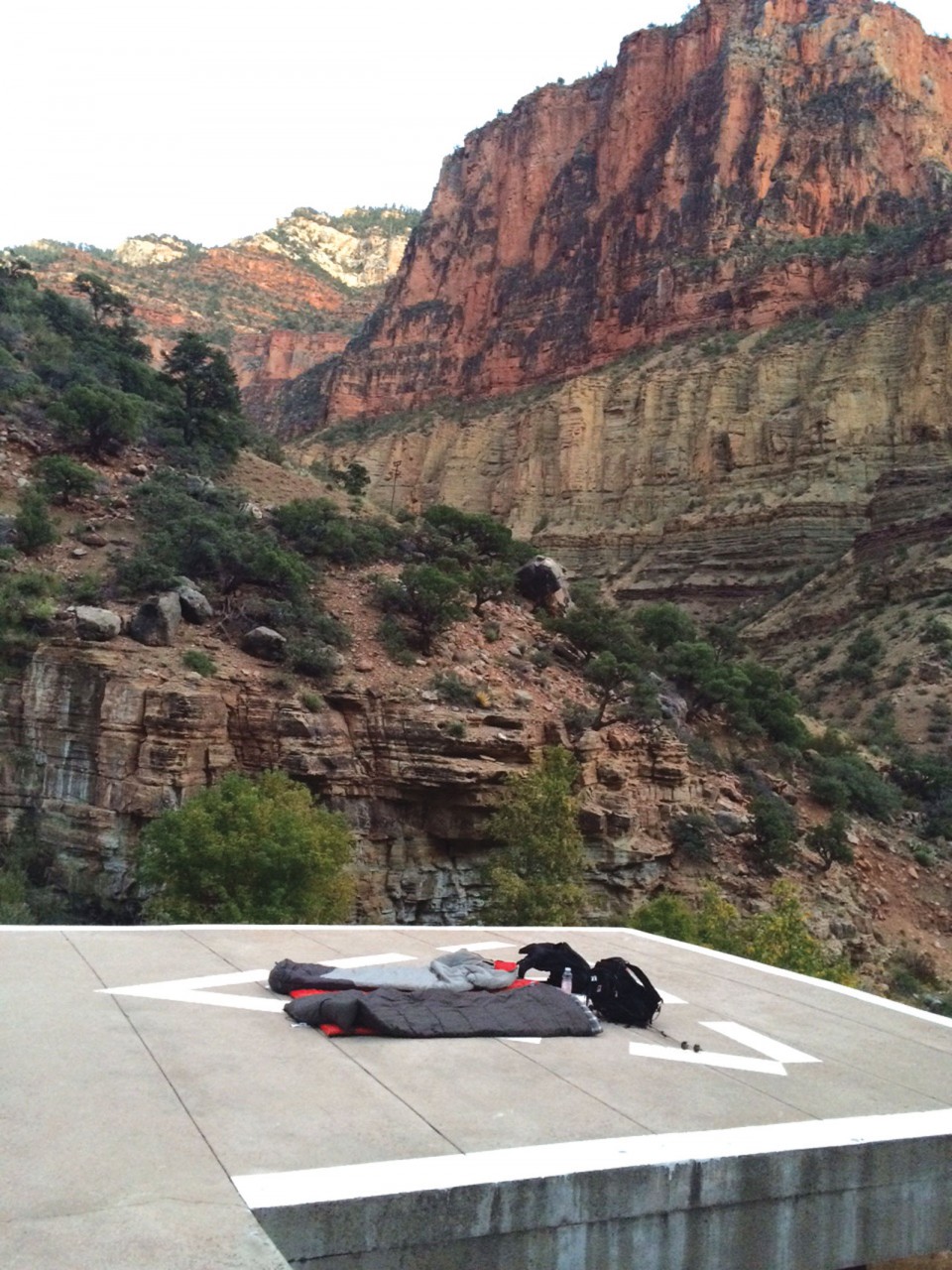 If you've lived long at all, you realize things don't go always as expected. Last week, I had my 64th birthday.
I wanted no other present than time with my family. Because my two grown sons have their own lives, it gets harder and harder to find that time.
A while back, Jeremiah, my oldest son, asked me if I would like to hike the Grand Canyon from rim to rim. We'd spend my birthday weekend together—father, son and a few other guests. Jeremiah is an extreme athlete who climbed Mt. Kilimanjaro with me, an incredible journey. He thought this new trip would allow us to make more good memories.
Hiking the Grand Canyon rim to rim in one day is no easy task. It's a 23.9-mile journey: seven miles down, seven miles along the canyon bottom and a nine-mile climb out. Descending the North Kalibab Trail is the steepest and most dangerous part of the journey. You walk along a narrow ledge with a 2,000-foot vertical drop-off beside you.
I have kept up my training since Mt. Kilimanjaro and am still in fairly good shape for a 64-year-old man. Before the trip, I asked God to give me many good discussions with my son. I wanted our journey to be more about the beauty of our relationship than the beauty of the Grand Canyon.
We set out at 6 a.m. on the canyon's north rim, and it was a beautiful day. The sun was just rising, a welcome crispness filled the air and I felt great. We took a break, and I began to feel strange. We got through the tunnel which opens up the trail to the face of the Grand Canyon. With the wall to my right and the sheer drop-off to my left, vertigo set in, and I couldn't find my balance. I stumbled several times as I lost my equilibrium.
Of course, my son grew concerned and started walking between the cliff and me. He later said, "Dad, you were walking like a drunk ostrich." I've never seen a drunk ostrich, but I don't think he was giving me a compliment. Hours later, we made it to the canyon floor. My son got on the emergency phone and called the park rangers. A ranger named Betsy showed up and took my vitals. Everything was out of whack: my blood pressure was off the charts, my heartbeat was too rapid and yes, I was walking like a drunk ostrich. She called the doctors and emergency personnel, who had a meeting. An hour later, she came back with a solution: put an ice pack on my right ear for 20 minutes and see what happens.
Betsy did just that, and when she took it off, the drunk ostrich had disappeared. I stood up and didn't struggle to walk. But I had expended so much energy coming down that I was exhausted. "You'll have to spend the night here," she told my son and me (the rest of the group had continued the hike). Giving us two pads and sleeping bags, she told us to sleep on the helicopter landing pad near the ranger station so they could monitor my progress.
We rolled out our sleeping bags on the big H, where we had one of the most beautiful views I've ever seen. And there, my son and I talked about life.
Earlier, he had asked me to tell him about my childhood. I told him about my growing-up years, sharing many things I never had before. I asked what he remembered about his childhood, and we shared our hearts there under the blanket of stars. I asked my son if he would pray for me, and he did.
One of the things he and I like to do together is watch movies. "Jeremiah," I said, "Do you want to watch a movie? I have some on my phone."
Snuggled up in our sleeping bags, we propped up the phone in a tennis shoe. He took one earbud and I the other as we watched the movie and fell asleep.
The next morning, I asked the ranger how long it would take us to hike back out. "On average, six to seven hours," she said. Jeremiah and I hiked out in four and a half.
I realized God had answered my prayer, but not in the way I thought He would. I had asked Him to give me a special time with my son, and He did.
Next time you see a helicopter pad with the big H, remember: H can stand for two things, "helicopter" or "home." For me last Sunday, it stood for both.
P.S. I have promised my wife to retire from my extreme adventure trips and spend more time at H.