I have been trying to think of what to write. When you have produced a weekly article for more than 21 years, sometimes you sit staring at a blank screen, and nothing comes to your mind. But two Facebook posts about my grandson, 3 1/2-year-old Cohen the Goodhearted, changed that in an instant.
The first one concerned his mom cleaning out the car. Cohen had a notebook lying in his car seat with scribbling across many of the pages. His mom held up the book and asked Cohen if she could move it into the house. Cohen told her he wanted to keep it in the car. "Why?" she asked.
"Sometimes I just need to write down my thoughts," Cohen said.
Recently, Cohen was scribbling on a chalkboard in his playroom at our house, and I asked him what he was drawing. "I am not drawing," he said. "I am just writing down some of my thoughts." I am not sure what thoughts a 3 1/2-year-old has, but somewhere in his little mind, he is thinking of something.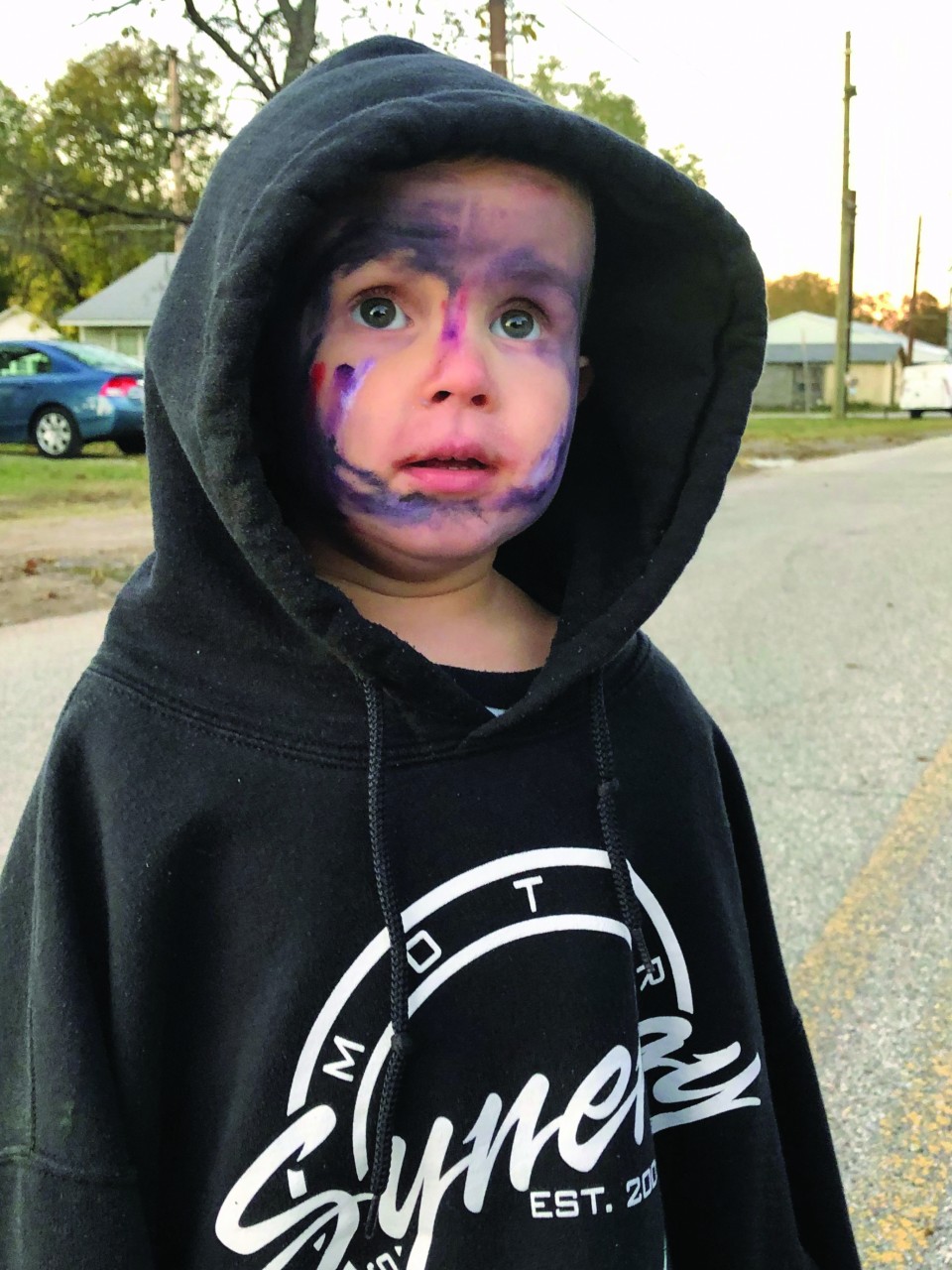 The second post concerned something that happened on Halloween night. Titus the Honorable and Cohen the Goodhearted went out in their neighborhood early and collected a good amount of candy. Because of the darkness, the cold and the fact that Titus had school the next day, they came home early. As the evening wore on, more trick-or-treaters came to their house, and each child received candy. But gradually, the candy dwindled until the last piece was given.
When Cohen's dad announced that he had no more candy, Cohen responded by saying he would give his candy to the children who came to his door. "You don't have to do that," Cohen's dad told him. But Cohen insisted they use his candy. As the children stood at the door with sacks wide open, he took the candy from his collection and gave it to them. He gave away every piece of candy until he had no more left, and he did it with great joy.
I don't remember what I was doing when I was 3 years old, but I sure wasn't giving all of my candy away to other children. So, my dear Cohen, I want to take a page from your notebook and write down some of my own thoughts.
First, I want to tell you how proud I am of you, because you didn't think twice about helping others with your own worldly goods. I know you are a typical 3-year-old, and I have seen you and your brothers fighting over a toy. But there is something special about you; you are growing into your name: Cohen the Goodhearted. Just last week, your Grammy gave you three M&Ms. You took those three little pieces of candy and gave one to your mom, one to me and the last one to Grammy. And you stood there with a smile on your face because you had blessed us with your candy.
Of course, your poppy gave one back to you, but you would have been happy even if I hadn't. You find joy in these little acts of kindness. I believe that God is going to bless you, my little friend, with much because He knows your heart is to bless others. "A generous person will prosper; whoever refreshes others will be refreshed" (Prov. 11:25).
Second, you have a gift to see what others need. I don't know how many other kids your age would take on the responsibility of feeling the plight of candy-less children. Cohen, you saw the need on one hand, and you looked into your other hand to see if you had anything within you to help meet that need.
Third, you didn't hold anything back. You didn't share part of your candy; you gave it all away. Even when your dad tried to convince you that you didn't have to give it all away, you still chose to give. I am proud not only of what you did but of how you did it: with a joyful heart.
"Remember this: Whoever sows sparingly will also reap sparingly, and whoever sows generously will also reap generously. Each of you should give what you have decided in your heart to give, not reluctantly or under compulsion, for God loves a cheerful giver" (2 Cor. 9:6-7).
So, my little buddy, I pray that God will continue to develop this gift in your life. What you are doing sounds a whole lot like what Jesus did. He saw a need and gave His all so that we might have life and life abundantly. And in the book called the Bible, He has written down His thoughts for all of us to see.
As you grow into your name more and more, I pray you will look more and more like Him.