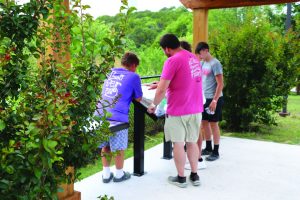 A sponsor and four boys gathered under a pergola to learn about a people group. They read the facts and statistics of the country where the group is located and found out that many in the country do not know about Jesus or His Gospel.
The sponsor helped the boys understand how important mission work is needed, not only in this particular country, but in numerous countries around the world. They prayed for the people group before going on to another pergola.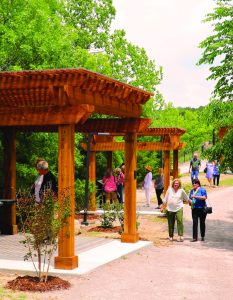 Scenes like this happened often this summer, as campers, sponsors and guests visited the new interactive Missions Trail at Falls Creek Conference Center, near Davis in the Arbuckle Mountains.
The Missions Trail officially opened May 10 with a special dedication ceremony. Erin's Hope Foundation, the International Mission Board (IMB) and Oklahoma Baptists worked together "to create an interactive prayer walk experience which encourages people to learn about, pray for and consider their calling to missions."
IMB writer Sue Sprenkle reported on the dedication ceremony and shared what representatives of the three contributing groups said about the importance of the Missions Trail.
Chris Swezey spoke how the trail means a lot to his family. He represented Erin's Hope Foundation, which honors his sister, Erin, who passed away after she was struck by a drunk driver in 2009.
Erin's mother Dixie gave details at the dedication ceremony about Erin's different camp experiences, including going as a young girl to the former Camp Nunny Cha-Ha, as well as when Erin was a seventh grader at Falls Creek, as she led someone to faith in Christ.
Months before her passing, Erin wrote in her journal, "My Message to the World," and penned how she wanted everyone to know the happiness that comes from a life lived under Christ. Her message is now featured on the entrance sign to the Missions Trail in Erin's handwriting.
"I feel like we've come full circle," Dixie said. "What started with Erin as a 6-year-old seeking God at a children's camp brought us right back to the same camp, praying the same thing happens for many more generations to come."
Ed Herrelko, IMB vice-president of marketing and communications, shared at the dedication ceremony the significance of lostness in the world and how the Missions Trail helps visitors to think how they can impact lostness.
The Missions Trail has eight wooden pergolas spread across the shaded walk, which is located near Falls Creek's Centennial Prayer Garden. Each pergola features information provided by the IMB about different regions of the world as well as prayer points for the trail visitors to consider.
"Our hope is that thousands of youth will start to think about how many people don't know our Savior Jesus Christ or how many people don't even have access to the Gospel," Herrelko said. "Our prayer is for a passion to ignite in our youth, and they will start to think about the lost and how they can impact lostness."
Todd Fisher, executive director-treasurer of Oklahoma Baptists, shared how the Missions Trail compliments Falls Creek's impact over the past 106 years, as the encampment is the location where many people came to know Christ and many also were called to missions and ministry.
"This trail brings a richness to this area of the camp," Fisher said.
And so many this summer experienced the richness that the Missions Trail brings.
"It's a beautiful location," said Joshua Brison from Verdigris, First. "It's peaceful and calm. It's easy to get connected here, plus it's beautiful the way it has been built. I love the structures. The trail definitely brings out the mission emphasis."
Cathryn Lewis, also from Verdigris, First, said she always would seek out the missions emphasis during Falls Creek's summer youth weeks and believes the Missions Trail is an excellent addition to the campground.
"I definitely like the prayer walk design," she said. "I've always enjoyed the way Falls Creek has promoted mission work whether it's with a missions village or other exhibits. Seeing this offers a quiet place to reflect and be in your own thoughts, getting into that missions mindset. You're reading about the people groups at the different stations, and God may be calling someone to serve in one of these places. I can definitely see how (the Missions Trail) could help somebody who is considering serving in missions."
Mike Wolff served as a sponsor with Oklahoma City, Quail Springs and enjoyed walking through the Missions Trail when he was at Falls Creek.
"I thought it was great, showing the different areas of the world and talking about where God is working through different missionaries," he said. "It was neat to be able to pray for those who are on the field leading people to Christ. It encouraged me to read how God is working all over the world, and it challenged me that we need to support and pray for these missionaries."
This is a sample of what happened during the inaugural year of the Missions Trail at Falls Creek. A sponsor led a group of boys through the trail and opened their eyes to see the lostness in the world. Others also were informed and encouraged to pray for people groups and missionaries. Some even committed to serve on the mission field.
And more will venture on the Missions Trail and have similar results in the years to come.