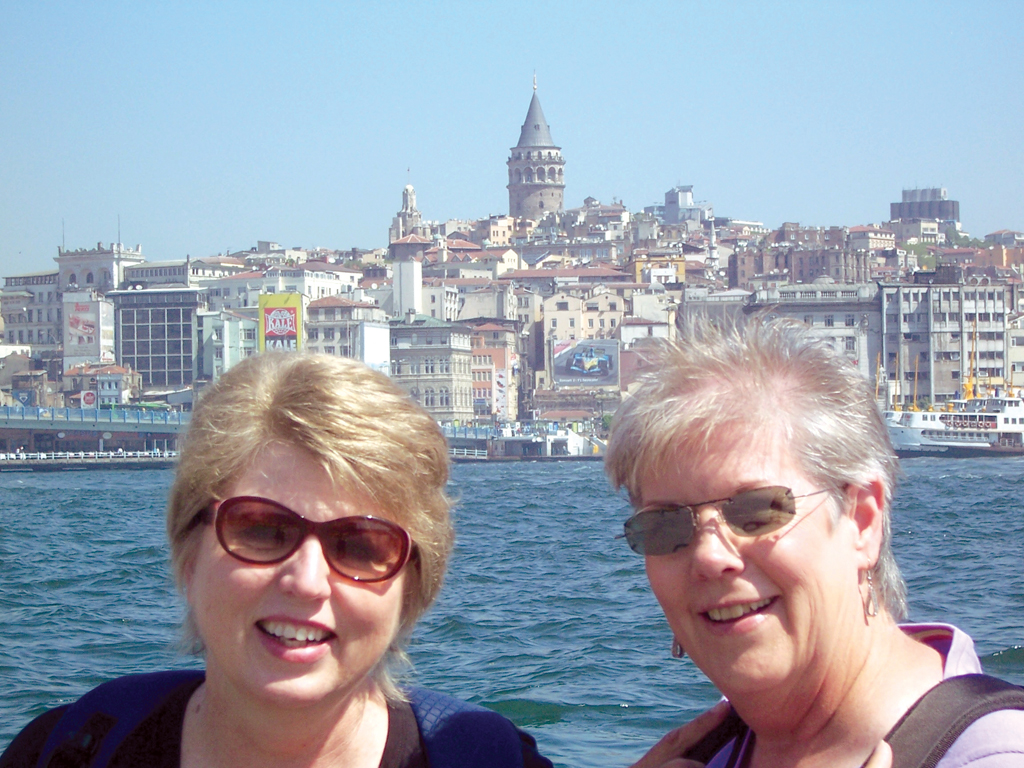 Following is the second of a two-part series by missionary Dave Cathey with testimonies of women who returned to Turkey to renew friendships and share Jesus. Sharon reports: "We returned to Gazligol, where we visited last year. The area is conservatively religious, but we were able to share with a number of people."
"We spent more time with the hotel management's family than with the workers. When we left, we gave a gift to a cleaning lady. She offered us a massage, carried our luggage to the car and stood at the door crying as we left. One of the team members felt compelled to run in and give her a warm embrace. Her huge smile was worth the effort! God showed Himself mighty in the details on this trip. We connected with people we met last year. We hoped to meet with a student, Jacob, who took many gifts to his college friends. The place where he worked was closed, so we traveled on wondering what happened to him. Some time later, we stopped at a roadside shop to look at the sapphire blue Mediterranean and drink tea. As we looked down the road, almost like a dream, we saw Jacob walking toward us out of the forest. We are still shocked as to how this was orchestrated by God. Jacob was as thrilled to see us as we were to see him. He is taking his final exams now, and we pray he is successful. I am sure the Lord is going to use this young man. We went to Antioch, where believers were first called Christians, and climbed the hill to have a snack at the old Antiochian castle above the old cave church. The restaurant was closed, so we enjoyed the view toward the sea and took pictures with a Turkish/Arab family. This family (25-30 people) was from the same Mosque and village and came with their Imam on a picnic. The women made a bulgur dish on rugs spread out on the ground. It was spooned on lettuce leaves or flat bread. It was wonderful! The most amazing thing was that the Imam accepted our Holy Book and DVDs. We have an open invitation to this village and Mosque to visit with some of the sweetest, fun people on Earth. Pray that they will be truly enlightened to know the greatest Prophet-Isa (Jesus) for who He truly is. Not only did God take us back to old friends, but introduced us to new friends while meeting the huge extended families. Pray that God will allow us to keep building on these precious relationships."
There is a need for people/churches to come annually to the same places to maintain relationships and keep Christ's love before our friends. It is necessary that our Muslim friends see the relationship we have with our Lord Jesus. These relationships open gates into the wider extended families and provide meaningful discussions about life and belief. While in Antioch, we met with old acquaintances and learned that the two families we connected with were the two largest families there. One is a family of great means and the other is just a great family, but both have enormous extended families. Undoubtedly, the Lord brought us into these families years ago without our knowing how vast and connected these families were. We praise our Lord for how He works these "accidents" into His plan. Clearly, the general attitude of the people is becoming more and more open to Christians. A new believer in Antioch explained how the Lord brought him to Himself. This young man is a famous Kurdish folk singer who has played the saz and sung in the luxury hotels and trendy bars of Istanbul, Poland, Italy, Holland and Germany and was doing quite well for himself. He decided to leave this hectic lifestyle and hopped on the bus to Antioch not knowing what was ahead. He stayed in a hotel for a few days wondering what he should do with his time. He walked to downtown Antioch and saw a saz in a window. Upon entering the small shop, he sat down and began to play while the owner gave him tea and something to eat. He was surprised at the warmth of the shop owner (a Christian) and told him he was on a pilgrimage and didn't know where he would go or what he would find. The man told him he didn't come to this place by accident since the shop owner's life had many similarities. The Kurdish pilgrim was surprised by what he learned about Jesus and became a believer. He abandoned his money-making profession in Istanbul and now lives quietly in Antioch singing in a small house church, plus doing the occasional small concert to make ends meet. The greatness of God's providence is beyond finding out.
At the local church I attend, a "hafiz"(one who memorized the Koran) became a believer, a dear Turkish Christian friend's wife is now a believer, two housewives now follow Jesus, a tough older boxer was persuaded by Jesus' love, a youngster from Ur now lives for Jesus and His church and our church family, and people are coming in off the street to ask for Bibles and DVDs. People are writing and calling after we have given them gifts asking for more information. The Lord has opened this door and is causing people to hunger for His word. Pray for those who participate and for your participation in this pioneer effort.
Dave Cathey is a missionary in Turkey.