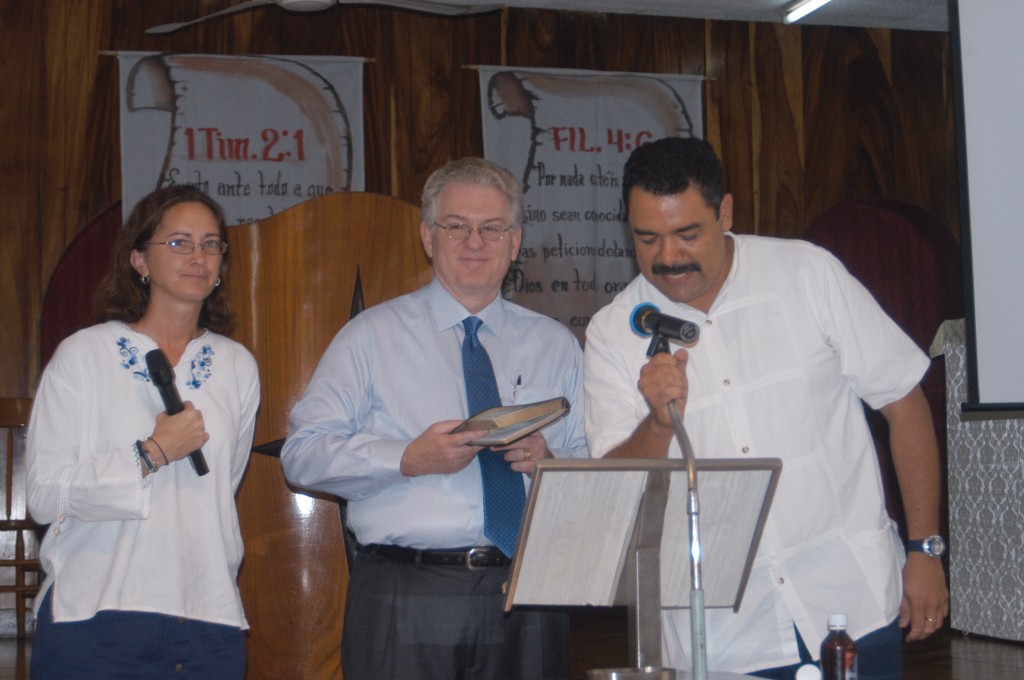 ACAPULCO, Mexico-Churches of the Guerrero Regional Baptist Convention (GRBC) and officials of The Baptist Theological Seminary of the South in San Jeronimito have proven that they have a vision for planting new churches and, as a result, Oklahoma Baptists are committed to helping them as they do so.
"The group here-the leaders of the convention and seminary-have a vision that is very clear. It is well articulated and planned," said Baptist General Convention of Oklahoma Executive Director-Treasurer Anthony L. Jordan on a recent visit. "We have the privilege of coming alongside them and helping them to achieve the vision God has put on their heart.
"It's always exciting to, as Henry Blackaby says, find where God is at work and to join Him, and it's very clear to me that God is at work in this place. It's a tremendous challenge; you drive down the highways of Acapulco and other major cities and think that we have perhaps two or three major Baptist witnesses in the midst of 4.5 million people."
To that end, Jordan said Oklahoma Baptists will focus the next three years at least on helping plant churches in this southern Mexican state on the Pacific coast.
For the past several years, Oklahoma Baptists have had partnerships with both the Mexico states of Guerrero and Guanajuato, with the latter concluding next year.
"Our partnership in Guanajuato has had a lot of success. Many of our churches have been there and done a great job," Jordan said. "But we have International Mission Board (IMB) missionaries there. And, the IMB has told us, 'we'd like you to take Guerrero and work with them.'
"So we really have become the face of the IMB in Guerrero-with their blessing-and we have a great opportunity here. So, this where we will focus our energies in Mexico the next few years."
The GRBC's vision was to plant 25 churches between 2006-2010. Part of that plan is the establishment of five new missions this year. To date, 12 new missions have been established, some with groups as small as 10 and one with 40 in attendance.
Seminary students also are encouraged to obtain their diploma in church planting.
In addition to Oklahoma, churches from the Phoenix, Ariz. area have caught the vision and are partnering with the convention and seminary.
Jordan said he is excited that the GRBC leaders and the Seminary leaders are united in their vision.
"The seminary has focused on training church planters and the convention is focused on church planting. Well, that is our heart; everywhere we have gone, our focus has been on planting churches," he said. "The reason we have that focus is because that's the focus of the New Testament. Paul didn't just go and preach, he planted new churches."
He pointed out that the goal is not for the "BGCO" to have a partnership with Guerrero.
"Our goal is not for the convention to have relationship here, but for our associations and churches to come alongside," he said. "Our goal is to invite Oklahoma churches to choose an area where they feel led by God to plant a church.
"The church would then come here, prayer walk, do Scripture distribution, work with that church planter to begin the process of gathering a group of people for Bible study and then stay with that group and witness and see that mission grow until it becomes a church. Then that Oklahoma church may even decide to help the new church find land and put up a building. That's not essential, but it's a possibility.
"That's the biblical model, churches planting churches."
Several Oklahoma churches already have been involved in Guerrero, including Edmond, Waterloo Road; Mustang, First; Mustang, Chisholm Heights; Edmond, First and Okmulgee, First. Others interested in becoming involved in the church planting movement there may contact Sam Porter, BGCO partnership specialist, at 405/942-3800, ext. 4337.